Podcasts have become the go-to medium for business people, entrepreneurs, coaches, and influencers to reach into their audience's mind and provide them advice, information, and entertainment. For many, their podcast has become an integral part of their content marketing campaign and through interviews and content allows them to reach new markets and audiences. If you're wondering what a podcast is and how to get started you may want to check our Ultimate Beginner's Guide, as well as 2019 Podcasting Setup, but if you're wondering how to get your podcast heard, read on!
Step 0: What is iTunes Connect?
iTunes Connect is a service developed by Apple that enables content creators to publish their work on Apple platforms (such as iTunes and Apple Podcasts). Your very first step is owning what is known as Apple ID. Only then you are able to access iTunes Connect account – without the account there it will not be possible for you to distribute your podcast to Apple platforms.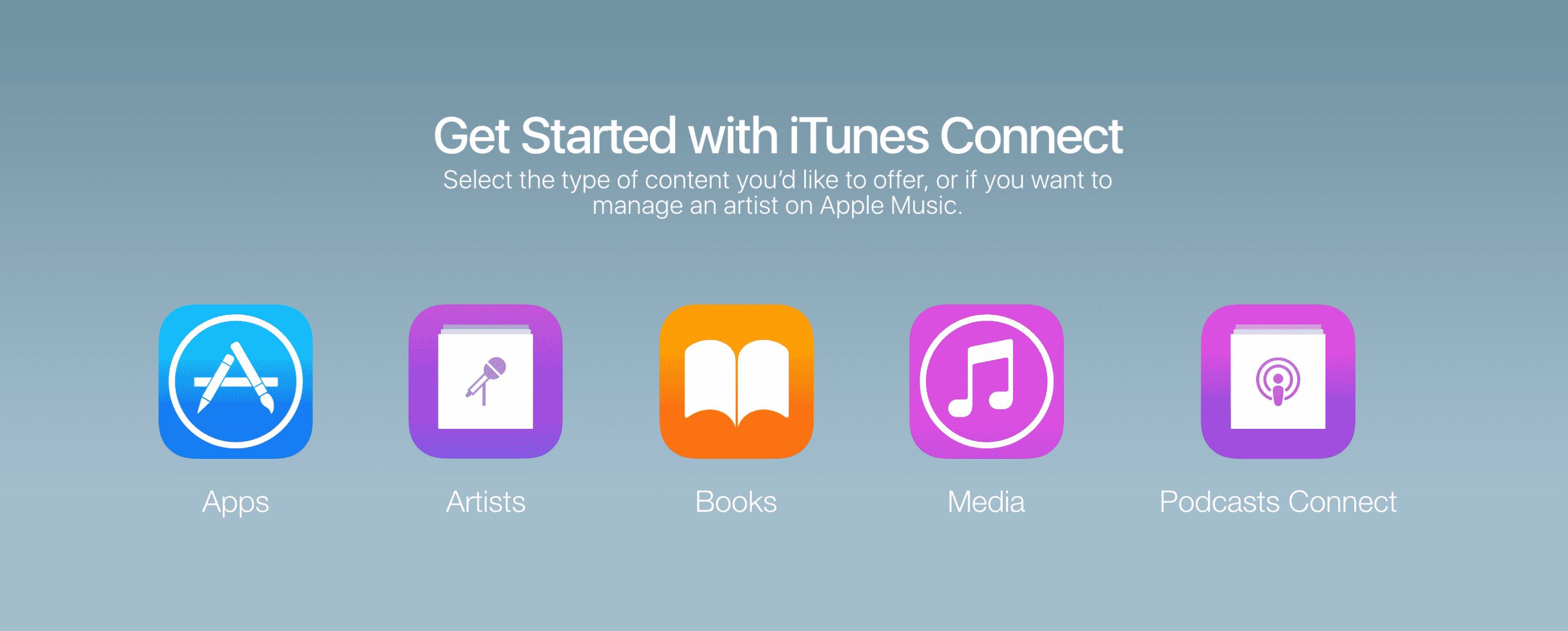 Once you set up account on iTunes connect – you will be asked what type of content you would like to offer. Select Podcasts Connect. This will re-direct you to another area where you will be able to add a new podcast RSS feed – this is something you will get once you set your podcast up with your choice of a podcast host. It is a fancy name for a link that points to the place where all the audio you upload is sitting. This way Apple knows where to get your episodes from.

Step 1: Have a Recorded Episode
Before you can think of linking your podcast with iTunes Connect, you must have a recorded episode. Some podcast coaches even advise to have at least 3 recorded and ready to go before hitting PUBLISH. This is important as your podcast will not be approved by Apple if there is no content showing up.
Step 2: What's In a Name? And Other Important Items
Before you can submit your podcast to Apple, you need to have the following:
Show title — It has to be unique and cannot contain any explicit words. We advice you to do some research. Google is your friend. You do want a name that is unique and not already associated with another brand or project. You also want to make sure that the name you have chosen is not protected by any trademarks.
Show description — take your time creating the description. The description should tell the world what your show is all about. Also think about keywords specific to your niche. It is worth to include those in the description as this is going to be the first thing people come across when looking at your podcast. We recommend description to be no longer than 50 words in length.
Artwork — this needs to be a square image, minimum size 1400×1400 pixels, and maximum size 3000×3000 pixels, 72 dpi, either in PNG or JPEG format, and in RBG color-space. It cannot contain any images of Apple products or any explicit images. Create a vector image so that the image looks good large and small because your artwork is used to create thumbnails along with cover art.
Show category — You get to choose three show categories that best describe your show and the content. If appropriate, choose a general option and see if any of the subcategories also apply. If a subcategory does apply, your podcast will then be found in the general category AND the subcategory!
Language — You have to select the language your show is recorded in.
Explicit — Yes or No — If you use profanity in your show, then you need to mark the episode as explicit.
Once this information has been clarified and created, and you have your show recorded, it's time to take the next step!
Step 3: Hosting Is a Priority
Pick a hosting provider based on your needs. There are several free hosting platforms that allow a limited amount of monthly storage. Depending on the length of your podcast episodes, you'll want to pick a hosting provider that provides you an appropriate amount of storage with the least out-of-pocket cost initially. We often recommend Anchor for those starting out. Their hosting is 100% free and makes distribution to platforms such as Spotify, Google and iTunes very easy. Setting up an account with a chosen host is very easy. The experience will be unique to the host you decide upon. Follow all the steps (You will be asked questions related to Step 2 above). Once you set up your hosting site, it will provide you with an RSS feed. This is the link I mention in Step 0. This feed is how platforms such as Apple, Stitcher, and Spotify know that your podcast exists and where to find it.
Congratulations! You've completed the grunt work needed to get your podcast submitted to Apple Podcasts. Each of these steps has to be taken prior to submitting your podcast, because your hosting site will need it to create your RSS feed, and the information is also required by iTunes to validate the show. Let's get that podcast submitted.
Step 4: Provide Your RSS Feed to Apple
The RSS feed for your show can be found within your account on your hosting site. You will copy the feed URL from your hosting site and after clicking on the + in the top left corner of your Apple Connect dashboard (after you've logged in), paste it into the "New Feed" section of the Podcast Connect site.
Next, you need to validate your feed. Click Validate to confirm that there are no errors in your feed. If there are errors, review and correct them before clicking submit.
Now, click submit. (Breathe out!) If everything went well, you will see a prepared for submission heading within your Apple Connect account, and so long as you followed Apple's rules to the T, you will have yourself an Apple Podcast approved in a few days to a few weeks. There are no rules how quickly you will get approved – we have seen the process to take anywhere from 1h all the way to 2 weeks. I personally think it depends on how busy Apple is with submissions. They are hand approved by a human.
If your podcast is rejected, Apple will provide you with a clear explanation detailing what must be fixed. This will come in an email to the account provided in your Apple Podcasts account. Fix those data elements and resubmit the feed. This process can be tedious and takes time, but once your podcast is accepted, you never have to submit the feed again. Whenever you add new content to your hosting site account, your Apple account will be updated as well.
If you have given a set launch date to your audience, be sure to start this process at least two to three weeks in advance. That should be enough time to get all of your data elements created and submitted. While you have to have one episode recorded and ready to go, Apple recommends that you have at least three episodes loaded into your hosting site. This way, your audience can listen to several episodes without waiting a full week for new content.
Resources:
Podcast data/analytics were found at Music Oomph and generated by:
Nielsen