You have an awesome podcast. Your downloads are steadily increasing, and social media engagement is impressive. You want to increase your reach … and your audience. It's time to add advertising to your podcast. But where to start?
If you are a podcaster looking to explore podcast advertising, here are your options.
Monetize with Your Podcast Host
The simplest way is to look at monetization features offered by your podcast hosting platform. Libsyn, PodBean, Spreaker, and many others incorporate opportunities for monetization in their premium plans.
For instance, this is how Blubrry monetization works. To get started, sign up for free statistics. You can then apply for advertising (50/50 revenue share) and, if you want, become a priority partner (70/30 revenue share). Podcasts work within the community and partner networks. And you decide who to work with. CPM, flat rate, CPA and hybrid-based campaigns.
Anchor also connects podcasters with brands. You approve the brand, read the ads, and decide where to incorporate them in your episodes. Note: there's another option, beyond advertising, though: Listener Support. Add a button to your podcast that enables listeners to donate to your podcast on a one-off or month basis. This is part of monetization options – not strictly advertising so we will not cover this in detail in this article.

Podcast Matchmakers
Podcaster marketplaces also match "qualified" podcasters – those with a certain numbers of downloads and social cache – with advertisers. If you have the numbers, it may be worth exploring podcast networks, such as AdvertiseCast, Archer Ave, and MidRoll from the Stitcher podcast listening app.
Seek Advertisers
Want to go old school? Develop relationships with advertisers and bring them onto your podcast in more traditional ways. Prepare a pitch deck with details about your podcast, as well as rates and what they get for their ad investment. Factors to include are below.
But how to find them?
Sales Calls: Make a list of ideal advertisers, and write a pitch email to send. Be sure to check your LinkedIn to see if you have any common connections who will make intro.
Post Opportunities: Put an ad on your podcast and/or professional website that says you are seeking sponsors for your podcast. Have a reply letter with options ready to reply.
Network: Ask your profession contacts for advertiser recommendations. Post on social media, have conversations. You never know who the people in your online and offline network know. And peers are usually happy to facilitate mutually beneficial situations.
However you seek advertisers, create a document that tracks inquiries throughout the process. You may eventually want to start a database, but you can start with a spreadsheet. Include tabs such as Date Contacted, Date Replied, Name, Social Networks, Network Size, and Rates Offered, as well Notes from any communications.
Let's Talk Ads
Whether you get "match-made" or make your own match, there are certain things to consider with your podcast ads.

Who is Your Advertiser?
Ideally you want to find brands that complement your podcast, are within your niche, or both. The smaller the niche, the easier it is to see the match. You may also consider advertisers whose serves relate to your niche. For instance, if your podcast is about All About Dogs, a pet store would be a good advertiser; it's on the fringe of your niche. But a dog trainer, dog supplies, dog hotels, etc., would be a GREAT advertiser; it's right on point.
Plus, you want advertisers with complementary audience and social media size… and that's what they want too. A small, but growing podcast will likely attract smaller advertisers, since you grow your audience bases together. Note: You may be able to offer a deal for ad space to entice an advertiser with a larger base. Show the potential through your social and download growth over time.
Where to Place Ads? How Many Ads? How Many Advertisers?
In general we have seen and would recommend to insert your podcast ads in three places:
Pre-Roll: After a short introduction from the host
Mid-Roll: Somewhere in the middle of the podcast
Post-Roll: At the end of the episode
Two 30-second ads in one roll are probably the most optimal. Any more ads will distract from the content, and can be annoying to the advertiser, as well as potential listeners.
Bonus recommendation: Limit advertisers to no more than two per episode. That keeps advertising space at a prime and makes the advertisers feel special. You want to keep everything fluid and everyone happy.
Costs and Factors
Rates range as much or as little as you want, depending on the niche and size of your podcast. The more targeted and niche your podcast, the more you could probably charge for ads, since the listeners are uber-relevant.
Recommendation: Charge more for one-off ads, and offer a discount in a series of at least 10 episodes.
While you can set your own ad price, here are some guidelines:
According to John Lee Dumas' EonFire podcast, industry standard rates for podcast advertising are:
A 15-second Pre-Roll commands $18 per 1000 CPMs (listens).
A 60-second Mid-Roll commands $25 per 1000 CPMs (listens).
A 30-second Post-Roll commands $10 per 1000 CPMs (listens).
*CMP is the model that refers to cost per thousand impressions or as in the case of a podcast – 1000 downloads.
MidRoll has a Podcast Calculator that will get you started on setting rates with these numbers.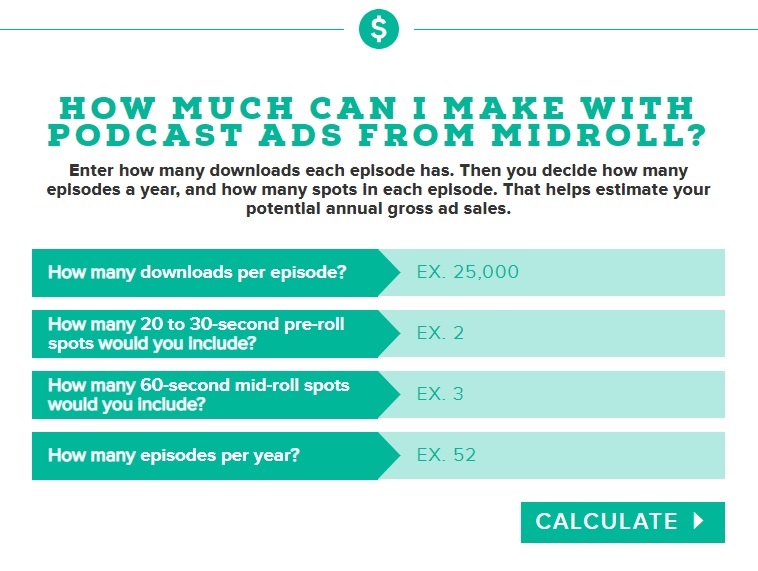 AdvertiseCast shares more of a sliding scale, and is based on ad length alone.
A 30-second ad cost is $18 per 1000 CPMs (listens).
A 60-second ad costs $25 per 1000 CPMs (listens).
AdvertiseCast shares their average ad rates on the website, as well as a price calculator.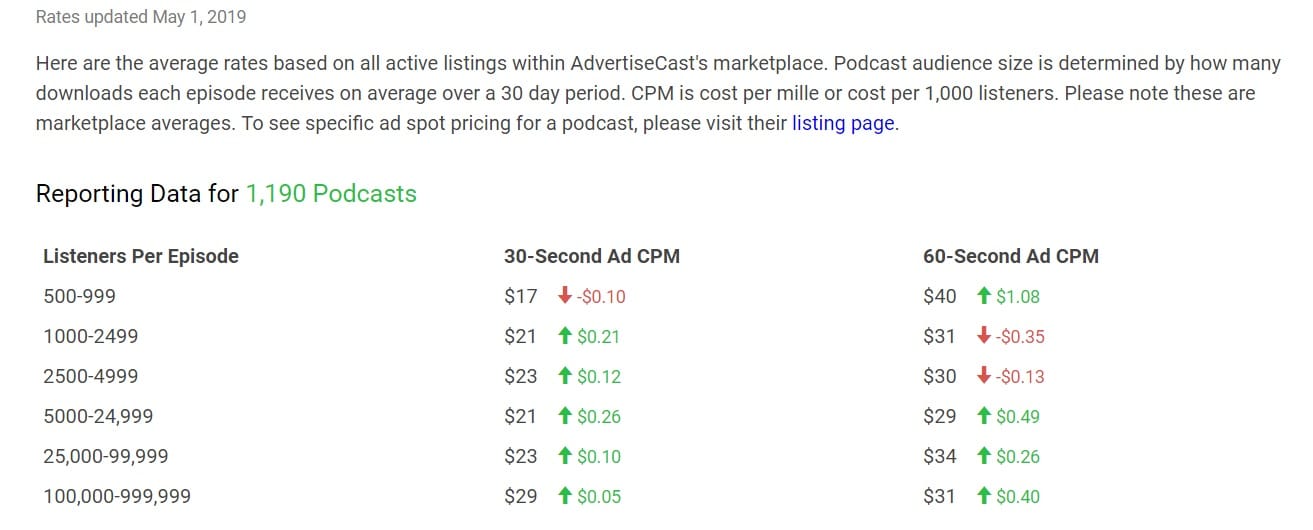 Podcast Advertising for Podcasts with Small Numbers
Are you a newer, smaller podcast, seeking advertisers? One way to work-around the numbers is to set a monthly price that includes a package of options such as podcast mentions, a website ad, and social media promotion.
Regardless of your podcast's size, consider sweetening any deals by inviting the advertiser to donate samples of the product or service to you and/or your listeners for a giveaway. This is a huge benefits for the brand, since they can develop advocates in the podcast host and winning audience members. For a minimal cost the product or service will be involved in conversations – on the podcast and online – that goes beyond the paid advertisement. In fact some podcasters use this as the only way to work with advertisers – simply due to far more organic nature of the relationship presented to the audience.
The Contract
Get a simple, signed contract and deposit up front with your advertiser. It should highlight your responsibilities and the responsibilities of the advertiser, and include rates, as well as content and payment deadlines. This will protect your business, your time, and your interests. As a side benefit it will also showcase your professional approach to the exchange.

Who Creates the Ad?
In many cases, the advertiser provides the audio for the host's ad: a simple 15-, 30-, or 60-second ad clip to insert into your show at the times determined in the contract.
Alternatively, sometimes the podcaster will record the ad that gets inserted into the show. In these instances the podcast host and brand work together until they agree on a script. The podcast host then records it, and sends it to the advertiser for approval. Once it's clear, the ad goes into the podcast.
Note: Even though they are recorded as clips, ads read by the podcaster seem much more integrated, since the voice blends in.
One other option, especially for larger podcasts with a higher rotation of ads, is to have a dedicated voice over artist for the show. This person could read the intros and outros, as well as the ads, for a single "voice" or the show. It separates the host from the ad and makes for perfect audio branding.
Conclusion
Podcast monetization has been a hot topic for years! In our opinion the ads should never be the primary focus or aim of the podcaster. When you start your show – work on integrating it with your overall brand and marketing plan. If done well – benefits will go way beyond the immediate monetization from ads and sponsorship. Keep in mind that there are numerous benefits to working with advertisers, beyond the monetary. Find the right fit, determine the best course for a mutually beneficially ongoing relationship, and build on each other's visibility for years to come.
* * *
Podcasters, what are your thoughts on Podcast Advertising? How do you find advertisers and develop ads? Please share in the comments below.
Further Reading