You're ready! You've decided what your podcast is going to be about, you have refined the message that you want to share with the world, and you have even reached out to people that you would like to have as guests on your show. Then you step back and realize podcasting costs money…
Or does it?
The short answer is, no, it doesn't have to cost you any money to start a podcast. There are free options for hosting sites, recording software, editing software, and everything in between. We've compiled a list of some of the best FREE resources you can use to get your podcast ready for the world to enjoy. We do want to point out at this stage that free isn't always best, but it will get the job done. We have included here a bare minimum you need to get to have the podcast out there. Note – we didn't include a podcast website in the list. Whilst there are free options available – podcast website is not essential to get you started. All in aid of progress over perfection here. Once your podcast is up and running, looking into some of the paid options mentioned below can help bring it to the next level!
Podcast Hosting Services
There are many hosting sites available that have limited free plans and some that even remain free, even after you've uploaded your entire show. We won't go into every single hosting service available in this article, but we have listed several that have great options for free hosting. (Some even offer free recording tools!) For a full list of available options check our article that compares podcast hosting companies in a great detail.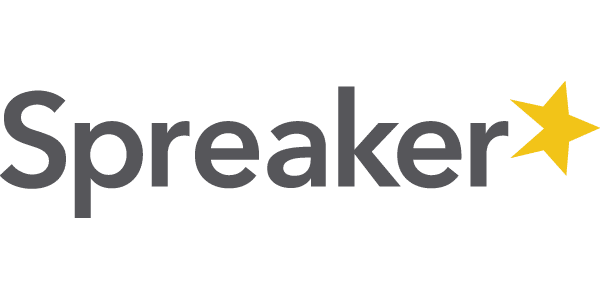 Free plan starts with 5 hours of storage space (that's 10 x 30 minute episodes) but only allows for 15 minutes of live podcast time (important to note if you plan on doing live shows). You get your own RSS feed for each show and they provide you with very basic statistics on your plays and downloads. The lowest paid plan is $6/month and allows for 100 hours of audio storage, 45 minute live episodes, and monetization.

The basic plan starts with 5 hours of storage space and 100GB of monthly bandwidth. You also get your own podcast site, RSS feed, iTunes support, and a podcast theme. The first paid plan is $9/month and allows for unlimited storage and bandwidth.

This service is COMPLETELY FREE! You get unlimited storage, can feed your podcast to all of the major podcast apps, and you can monetize your podcast with their service. They also provide analytics to track the number of downloads and plays your pod has. At this point, they have no intention of charging for their services, ever! They don't even take payment information, so you can be sure that you won't be charged anything without your knowledge.
Recording Apps and Equipment
Now that you know where your podcast will live, it's time to record. Several of the hosting services also provide free recording and editing tools. You can also use apps that are built into your phone and that integrate well with the hosting platforms. The headphones that come with your smartphone can also double as your microphone for recording. There is no need to purchase mics to start out if you don't have any budget. Be advised however that if you have any budget to spare – microphone is definitely your very best investment. We have a list of various microphones with samples of audio quality here.
Podbean, Spreaker, and Anchor all have recording applications that allow you to record directly onto their platforms. Anchor, in fact, makes it very easy to record not only you and a guest, so if you have a co-host, you will still be covered.
Voice Memo on iOS – if you are an iPhone user, you can use the built-in Voice Memo app to record your episodes. You can then edit them in free editing software that we will discuss in just a bit.
Soundcloud – Soundcloud also allows you to host your podcast, but we didn't include it in the hosting services because they only allow 3hrs of uploads before you have to switch to a paid plan. They do, however, have a recording application that is free and also allows you to do some editing of the audio.
Intros and Outros – a.k.a Podcast Audio Branding
This is undoubtely our teritory! Are you looking to make your podcast sound more professional? You can source free music for your intros and outros from a variety of sources. We even found free fully produced intros and outros. Customized production can also be created for your intro and outro, which is highly recommended once you've gotten the pod up and running, but this article is all about podcasting for free and there are plenty of options to get you started.
FreeSound.org – This site is great to find free music clips and sound bytes. The platform is fairly clunky, but still easy to use and the music can be used for your intro, outro, even sponsorship clips if necessary. There is a requirement to credit the compositions – so please pay attention to licensing and its requirements.
Music Radio Creative open library – You can find a wide variety of ready-made music and fully produced jingles here. There's a clip for every personality, genre, style and language. In addition every two weeks we send out free music, voice-overs, and jingles to our amazing subscribers – if you are not on the list yet – subscribe now. We also specialize in full branding packages and 100% custom solutions. When you are in a position to set a budget for intro and outro – let us know – we would love to help with that!
YouTube Audio Library – library that's absolutely free to use in any of your projects (YouTube and others). All you need is a YouTube channel to access the library. There is a really decent selection and library is constantly updated. This is our favorite way to get a free royalty free music track for your podcast!

Editing Software
Many of the hosting sites also allow you to edit your audio. If however, you've chosen to create audio in a different recording platform, then you'll need separate editing software. There are some really great free editing platforms out there that are great for beginner editors.
Audacity – This platform is a basic free software. It allows you to add and edit multiple tracks, fade tracks in and out, has a suite of audio engineering options, and is extremely easy to use, even for a complete newbie. This software is also available for Mac, PC, and Linux. We've created a whole host of training videos for Audacity. Check them out on YouTube!
Ocenaudio – Like Audacity, this software is available across multiple operating systems. It is somewhat newer than Audacity and is beginner friendly, but it doesn't have quite as many features. The interface is very easy to use however and is aesthetically pleasing.
Hya-Wave – Unlike the prior two, this is an online based editing platform. You edit directly from your Chrome internet browser. This allows for greater flexibility in the type of files that you edit, but it does have a limited number of features. It is still completely free however and is a great option for a true beginner.

Podcast Artwork Creation
To make your podcast really stand out, you need a good show image. You can easily make graphics in several different platforms that offer free plans. You can create templates and even make social media graphics to promote your podcast on social media channels. Remember that recommended podcast artwork size is 3000×3000 pixels.
Canva – this is likely the most well-known platform. You can make templates and make sure that every image stays in line with your brand. You can even create templates for each different social media platform.
DesignBold – this is very similar to Canva, but has a greater variety of stock photos and even more template options. The free plan is very robust, but there is also a paid plan if you want more options.
Snappa – another free platform, but this one allows you to make vector images. The platform is very similar to Canva and DesignBold in use and also has free and paid plans.
Ready to Get Your Message out There?
I hope that we have proven here that podcasting for free is certainly possible. Starting a podcast does not have to cost you an arm and a leg. As long as you know what message you're trying to bring to the world, and you're willing to do some of the leg work yourself, all the tools you need to get your podcast up and running are available for FREE. Don't let the fear of having to spend money stop you from creating your dream podcast! Keep in mind that at some point, you'll likely need to invest in your show if you are using it to further your business ventures. Getting good branded music, having studio quality voice-overs for sponsors, creating your own website, and upleveling your hosting are all areas that you may want to spend money in the future. Keep in mind, that to get a podcast off the ground and into the ether, you only need your will and the ability to search through Google and YouTube.
If you are considering podcasting or have just started you may be interested in the other posts in our "Start with podcasting" series.