Thinking about starting a podcast? Want to test the waters before you really commit? Try podcasting from iPhone.
In this technological day and age almost everyone has an audio recorder, video recorder, and camera at their fingertips on their smartphone, whether it's an iPhone, Android, tablet, etc. While podcasting from iPhone is probably not best for long-term, it's a great solution for testing out a podcast, recording a podcast at an event, or meeting someone for a podcast interview.
First things first, before you start your podcast, you want to figure out the basics. What is your podcast about? What is the style and format? Are you a solo show, co-host, or interview? What is your name, branding, and frequency? Is this a business podcast or a personal podcast that's free and fun?
Once you have a plan – or an idea of a plan – here are a few more things to consider.
Pros and Cons of Podcasting from iPhone
We've already touched on the most valid reasons to podcast from iPhone: ease and accessibility. In theory, you can literally press record on your audio recorder or podcasting app – more on that in a moment – upload, and voila, you are a podcaster. However, if you want to be taken seriously as a podcaster, you should strive for a professional product. That means you'll have to step up your game.
The biggest cons for podcasting from iPhone is sound quality. Listeners will quickly tune out if the audio is unclear and/or competing with too much background noise. You don't want to have to scrap an interview just because it sounds like you are recording in an echo chamber, a nightclub, or a rally. Granted, you may actually be recording at an event, located at a nightclub or a rally. Best case scenario, you want to record in a quiet space. But that's not always feasible. If you do nothing else, at least use earphones with built in microphone. Recommendation: Apple Earpods.
Tools for Podcasting from iPhone
Want to go beyond the basics, here are some tools for minimal podcast set up.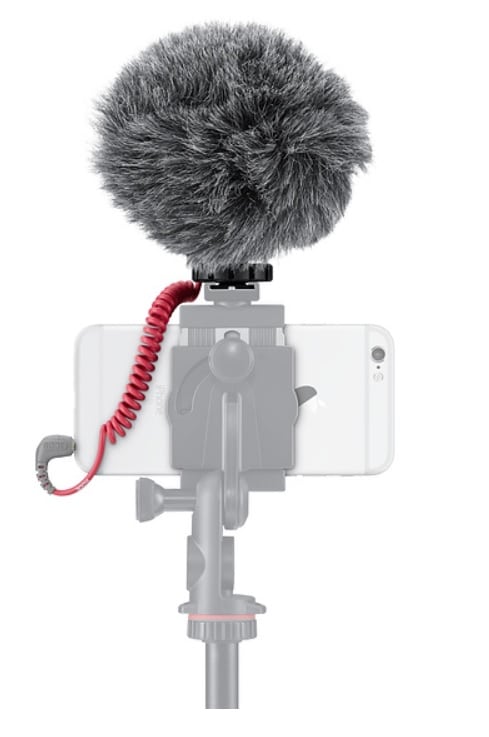 Microphone. The more you pay, the better the mic. While you can get decent quality mic set-ups – with tripod – on Amazon, my recommendation is Rode Mobile Microphone. It's light, compact, and comes with a fuzzy windscreen to reduce extra noise. This is especially helpful when recording outdoors.
iPhone Stand. Especially if you are going mic-less, at the very least purchase a cellphone stand. This will keep you phone in one place and eliminate any sounds that come from phone movement.
Split Jack. If you are doing interviews, a split jack is a must, especially if you are going with less expensive mics. It enables you to connect two microphones to you phone, for optimal sound quality from both people. This Movo set comes with two lavalier mics and a split jack.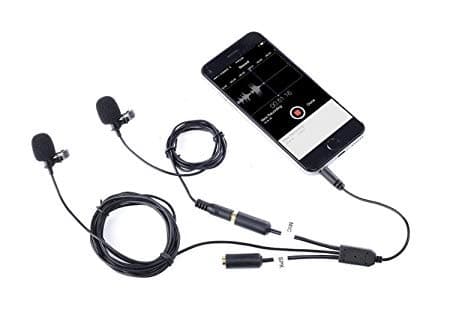 Apps for Podcasting from iPhone
There are several apps that make podcasting from iPhone – and podcast hosting – easy.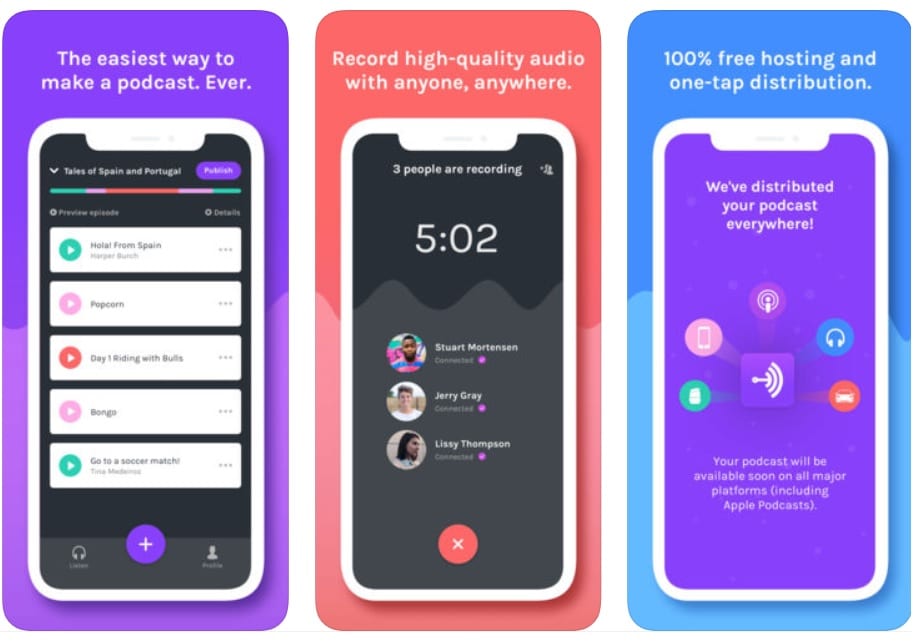 Anchor is a completely free podcasting solution.
Import audio or record your podcast within the app. You can also add voice messages received from listeners.
Edit, build, and arrange recordings with user-friendly mobile tools
Add audio from tracks from the Anchor library
Distribute and share your podcast within the app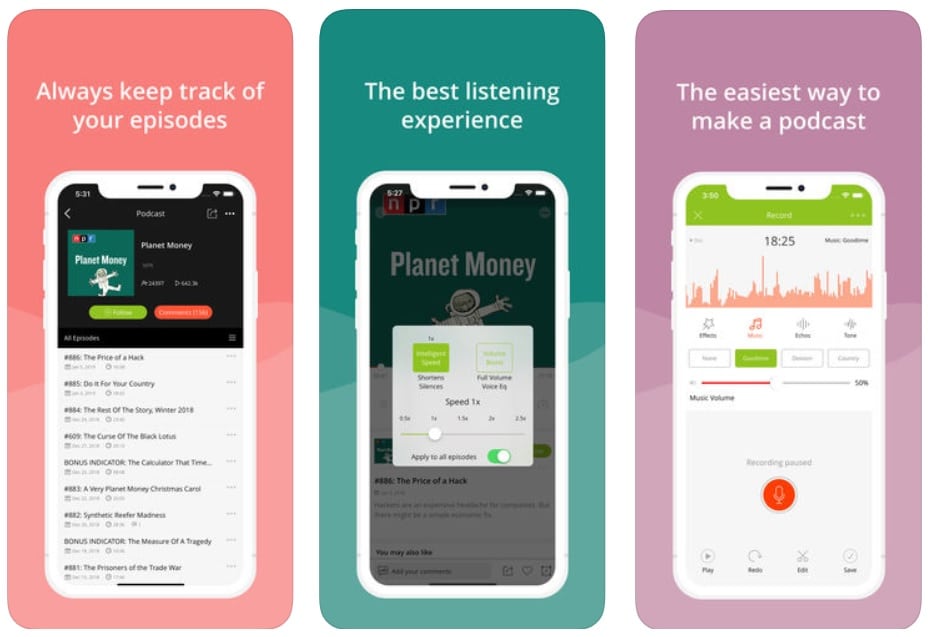 Podbean has a free starter service, and then monthly plans.
Record audio with easy-to-use interface.
Use post production tools to edit, split, merge, and export your clips.
Add background music and sound effects
Share and embed your podcast.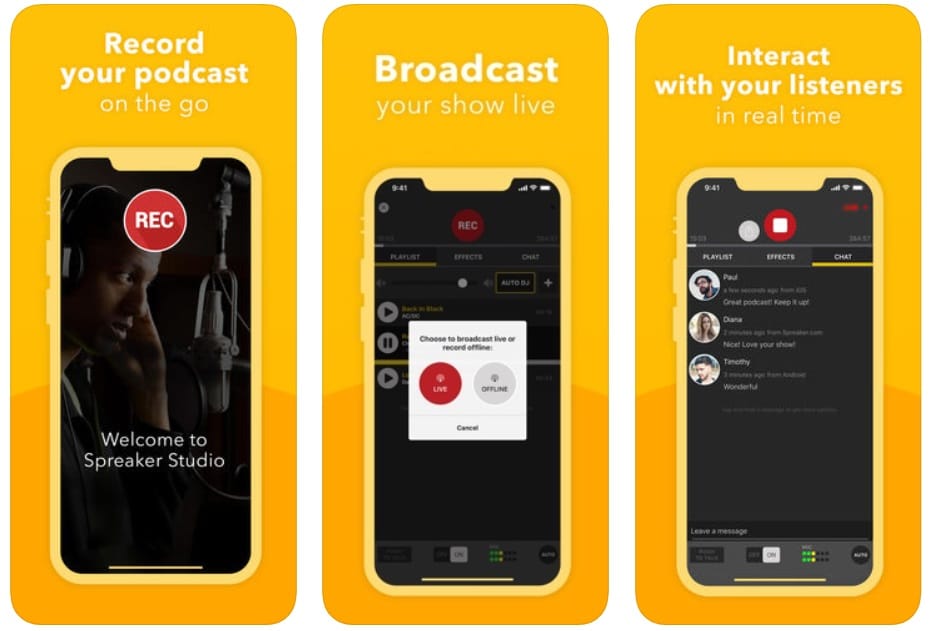 Spreaker Studio is also free to start with upgrade options.
Record podcasts ahead of time or broadcast live.
Chat with your audience in real time
Create and edit with their user-friendly interface
Mix your voice with tracks and sound effects; utilize their FX library
Auto-post to Twitter and Facebook
Final Thoughts
Have you have been thinking about starting podcast for a while, but haven't pulled the trigger? What's stopping you? Go for it already.
By Podcasting from iPhone you have everything you need in your pocket or at your disposal. Test the different tools and apps. Try different formats. And see what works for you.
* * *
What are your thoughts on Podcasting from iPhone? What tools and apps do you recommend? Please share in the comments below.
If you are considering podcasting or have just started you may be interested in the other posts in our "Start with podcasting" series: