We've had a chance to chat with Rick Calvert the CEO and founder of NMX on this podcast episode. We talked to him about what he calls the "new media revolution" and the upcoming New Media Expo 2014.
What is New Media?
The simultaneous reinvention of books, newspapers, magazines, radio, television all happening at the same time where we use the internet to deliver our content. New media can be blogs, podcasts, web TV, it's everything we use in social media to amplify our messages just like Facebook, Twitter, Pinterest, Google+ and the new ones that seem to be added every day. We call it new media because it's new but the traditional media uses these platforms now as well.
New Media Revolution
It is so easy now to start your own podcast or your own blog to talk to hundreds, thousands maybe even millions of people around the world through new media but it wasn't always that way. Control of media before was confined to the few who had access to the traditional media tools like a printing press for newspapers and magazines or you had to own a television station or the like. But now, with this revolution, millions of people around the world can create media and for some of us it's even free.
Message To Radio Broadcasters Not Podcasting
You have to do it now. It's not true that you're too late because others are already established in this new media. The beauty of new media is anybody can enter the market. If you're good, your content is good, and you're professional you can succeed in new media. Even if you do it next year you can still succeed because we are still at the beginning of the new media revolution.
Is There Still Space For Old Media?
There is still space for the traditional media but people nowadays tend to use it less and less. Rick watches television less, reads papers less, he used to have subscriptions but now they're more like a last resort as in you only use them when new media is not accessible. Norman Pattiz, the founder of the company Westwood One, who pioneered syndicated radio is now also investing in podcasting with a service called Podcast One. And if a person like that is  interested in podcasting then you should be  too!
Is There Money To Be Made In New Media?
There's so many different ways to create a living doing this unlike in traditional media where you create content and sell advertising. In new media we create content and also have a product to sell it's absolutely different.
Yes there are podcasters who make a decent living as good or better than what they made in traditional media before or who have replaced their real jobs. Rick mentioned that around 90% of the podcasters speaking at NMX are earning a full time living as a podcaster. Rick goes on to say that new media is a meritocracy and not anyone can be a great podcaster. It takes a lot of time, hard work, discipline, commitment, and you have to dedicate yourself to learning more. So yes, there is money to be made but it doesn't happen overnight.
Traditional Media vs. New Media
In new media, the creators, the podcasters, bloggers, almost all of us create a little bit of everything. We've got some still photos, we've got some videos, we've got some audio, we've got some text but if you narrow it down each individual would say, "I'm a blogger or a podcaster or I do web TV". It's actually more of a trans media universe where we're using all of those tools at the same time. In new media we're more than content owners, we're also the producer and the publisher of that content and we have to think of that as a business.
New Media Expo 2014
This year's New Media Expo is grander as there'll be over 4000 people attending, there's an exhibit floor, there's a huge conference with 300 speakers, you'll see the podcast awards, the web TV awards and so on. If you're a content creator, you really have to think about the fact that much of what you'll learn is not just in the official sessions but in the opportunity to meet your peers in this business, build your network and potentially build your business. The opportunity in new media is wide open for anyone as long as you are talented, you have that drive, determination and passion it can absolutely happen for you.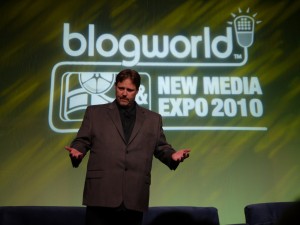 We have a real life example of how New Media Expo 2013 influenced and created an opportunity for Music Radio Creative on episode 25 of The Podcast Report where Izabela and I talk about first meeting Cliff Ravenscraft. There are actually so many moving parts at New Media Expo and you can do a lot, even enjoy the parties and more as we've said on why we loved NMX 2013 during episode 50 of the Music Radio Creative podcast. Izabela added how NMX 2014 Is a great investment because you have 4000 attendees, 300 presentations, and just the fact that there is no other place in the world where that happens. If you are interested in the topic it is THE place to be.
What Are Your Thoughts On New Media?
Are you still waiting to join the new media revolution or have you started already?
Podcast: Play in new window | Download