Podcasting has been widely popular as a medium to share information, ideas, and stories. While the content is the most important part of any podcast, the quality of the audio holds a big contribution to the success of the podcast. With that being said, editing the podcast should be learned by the creator.
Fortunately, tools like Adobe Audition makes it easy to edit and produce professionally-sounding podcasts. In this blog post, we'll cover the basics of podcast editing in Adobe Audition, from recording and editing to mixing and adding effects.
What is Adobe Audition?
Adobe Audition is a digital audio workstation that allows you to record, edit, mix, and master audio files. It offers a wide range of tools and effects that can be used to create high-quality recordings like podcasts and music.
Honestly speaking, there are many different audio editing programs available and free alternatives like Audacity. However, nothing beats this software when it comes to features, usability, and functionality.
Now, how does Adobe Audition work? Read along.
How to Record and Play Audio
One of the very first things you can do in Adobe Audition as a podcaster is to record your voice. To do this, just click the Record button (red circle) in the Editor window. After you record your voice, you can playback the audio by pressing the Play button (green triangle).

How to Cut and Undo
If you want to remove a section of your recording you can simply select that portion and then press the Delete key on your keyboard. If you made a mistake, Adobe keeps track of the edits you perform so you can undo the things you did. To undo any changes you've made, simply press Cmd/Ctrl+Z on your keyboard.
How to Mix Tracks
Mixing tracks is an important aspect of podcast editing especially if you have a lot of audio files. To mix tracks, enable or create Multitrack and then simply drag-and-drop the recordings into each track.
For example, you can record your voice on track 1. Then on track 2, you can add sound effects. And then on track 3, you can bring in some music.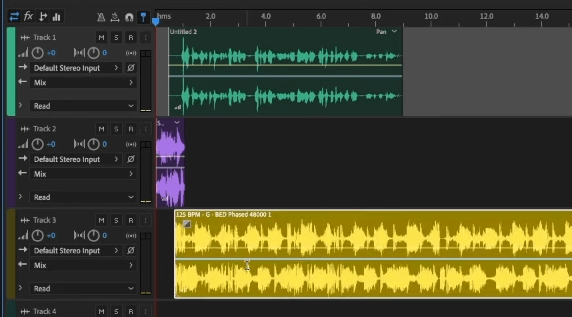 Adobe Audition makes it easy to manage each track. You can make separate adjustments on each track separately such as adjusting the volume.
How to Synchronize Volumes
To synchronize the volume levels of multiple tracks, highlight all the tracks you want to adjust, right-click, and then select Match Clip Loudness. This effect ensures that a track is not louder than the others.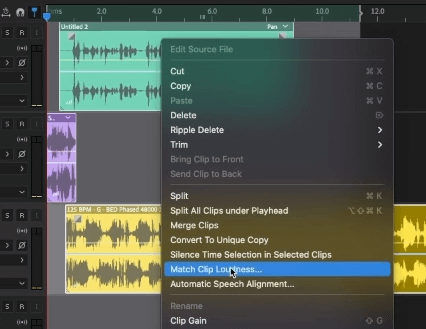 How to Use Noise Reduction
The presence of background noise can make your podcast hard to understand. Fortunately, Adobe Audition offers a lot of noise reduction features. These include DeNoise, click remover, DeHummer, DeReverb, and phase correction.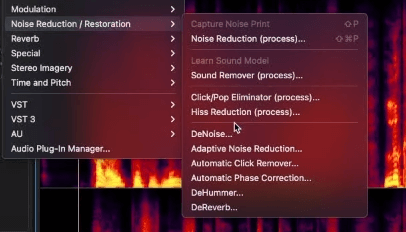 The Noise Reduction effect dramatically reduces background and broadband noise with a minimal reduction in signal quality. This effect is perfect for removing any noise that is constant throughout a waveform.
To do this, highlight a portion of the noise in your timeline, then go to Effects > Noise Reduction/Restoration > Noise Reduction (process).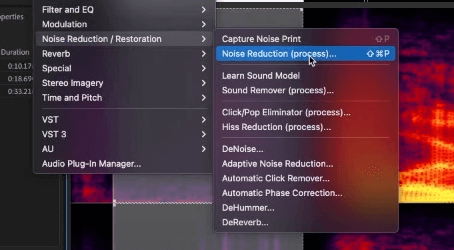 On the Noise Reduction panel, leave the preset to Default and then press the Capture Noise Print button. And then increase the Reduce Noise percentage and the Reduce by dB level. Preview the changes made to the audio and if you are satisfied with the result, click the Apply button.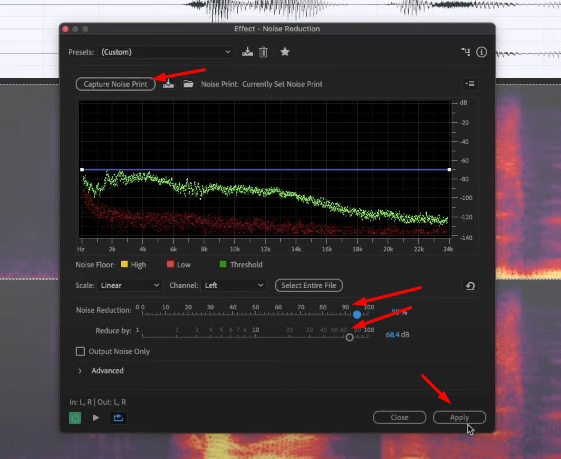 If you want to learn how to remove certain background noise such as police sirens, birds' tweets, and electric saw sounds, read this blog post about How to Remove ANY Background Noise from Your Audio File Using Adobe Audition.
Final Thoughts
Adobe Audition is a powerful tool for editing podcasts. You can use it to record, edit, mix, and master audio. By following this guide, you can be able to cut a portion from your recordings, mix tracks, synchronize volumes, and remove unwanted noise. Whether you're new to podcasting or an experienced podcaster, Adobe Audition is definitely a tool worth checking out.
Custom Podcast Editing For You
Need help editing your podcasts?
The Music Radio Creative team of audio engineers can provide high-quality audio production and editing for busy podcasters. Save your valuable time and leave your podcasts to the experts.
Let us help you take your podcasts to the next level with our high-quality editing services!
Further Reading