In this blog, I'm going to explain how you can legally use copyrighted songs on YouTube.
Usually, you'd spend thousands to license music, especially chart music. Thanks to a service called Lickd, this is no longer the case!
Lickd has a great website with chart hits and better-than-stock music. No, it's not free (artists do deserve to get paid for their work too!) but it can be extremely affordable (prices start from as little as $6 per well known track, at the time of writing).
Most creators still don't realise it's possible to use famous music in their videos. Lickd have done deals with big labels like Universal Music Group, Warner Music Group, Sony Music, BMG, and Empire, to make it a reality. I am excited about this service as truly there is no other service like this for content creators. I have worked with team Lickd from the very beginning and am a huge advocate for their offering. You will often find that I license music for my own YouTube channel there.
With Lickd, you can put content up on Facebook, Instagram, YouTube etc and the licensing is all taken care of.
Creating An Account
First, sign up for an account using Google. This is partly because it's connected to your YouTube account to let Lickd know roughly how many views you get, so that it knows how much to charge you. But most importantly, it's so that Lickd can clear any copyright claims on your channel.Make sure to sign in with the same account you have linked to your YouTube channel!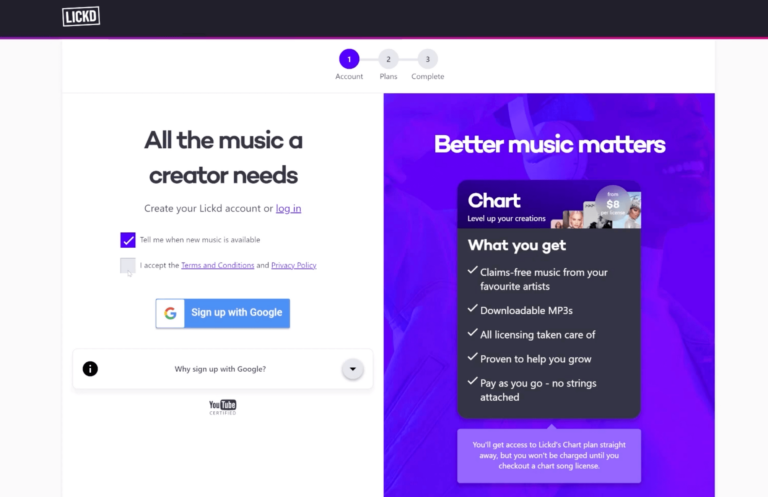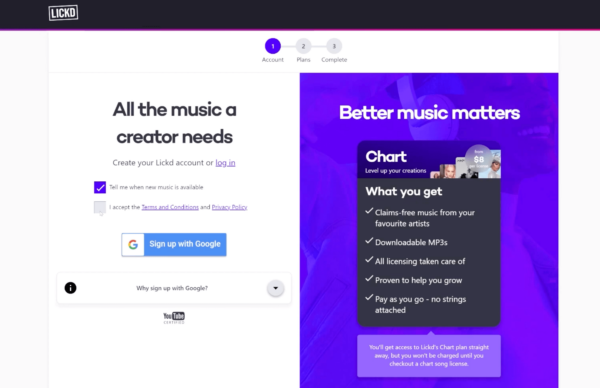 Licensing With Lickd
Once you've set up an account, you can search for music or check out its great curated playlists. Lickd features lots of well-known popular artists and around a million chart hits and Lickd Essentials – it's 'better-than-stock' music.


If you want to search for a specific track, just type the term into the search bar and it will bring up all the matches.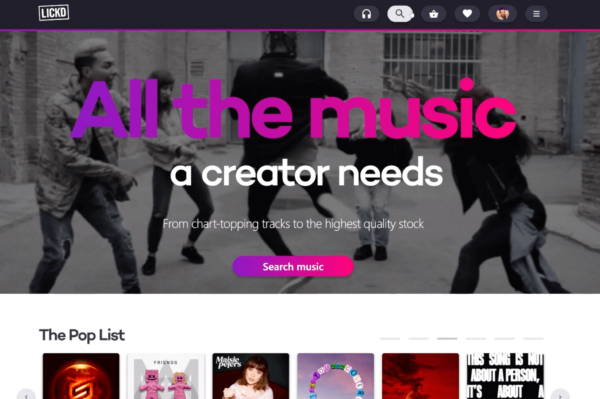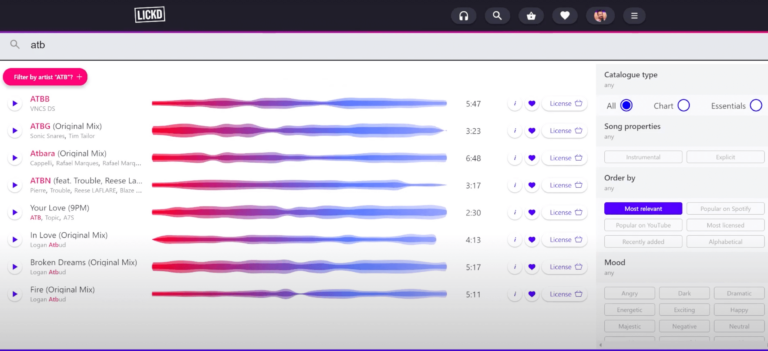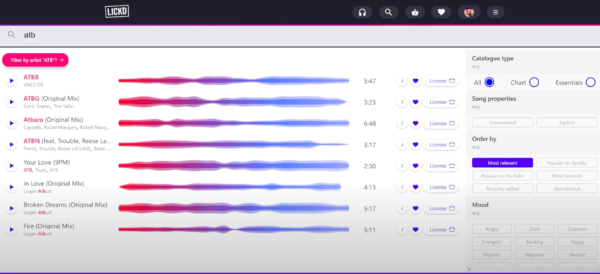 Then, just click on the title of the song you're looking for and you'll be able to preview it. Next add it to your favourites, and, by clicking the License button, license it for use on YouTube, for example.


The Standard license is based your geographic region and the size of your YouTube channel. If you have a huge channel, with millions of subscribers, it makes sense that you'll pay a bit more. The amount is based on the size of your channel, the revenue you'll be generating and the number of people who will be playing the song you're licensing.
For some songs there's also the option for Brand Sponsored licensing. If you are going to be featuring a brand or doing a sponsored video, that's the option to go for if it's available.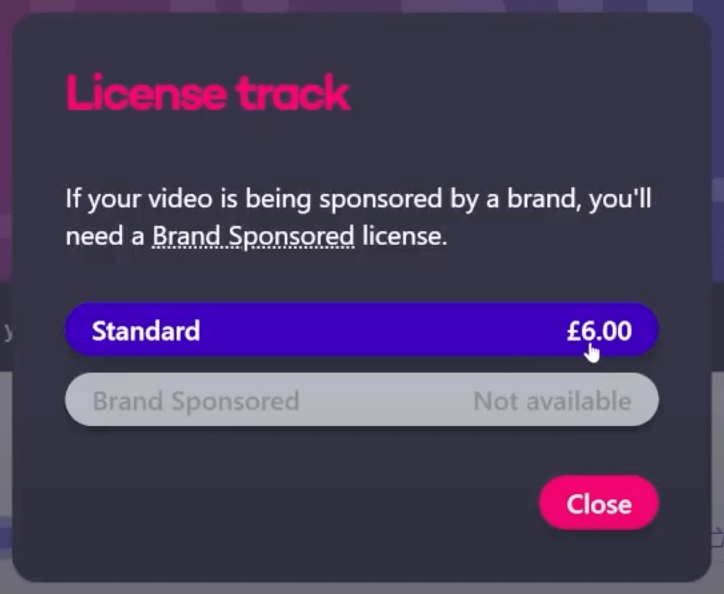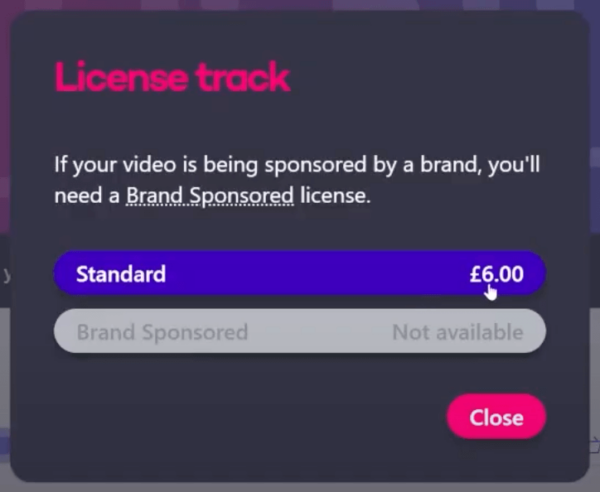 The song will now appear in your basket,. You can go to the checkout, make sure you're happy with the license agreement and additional rights holder terms.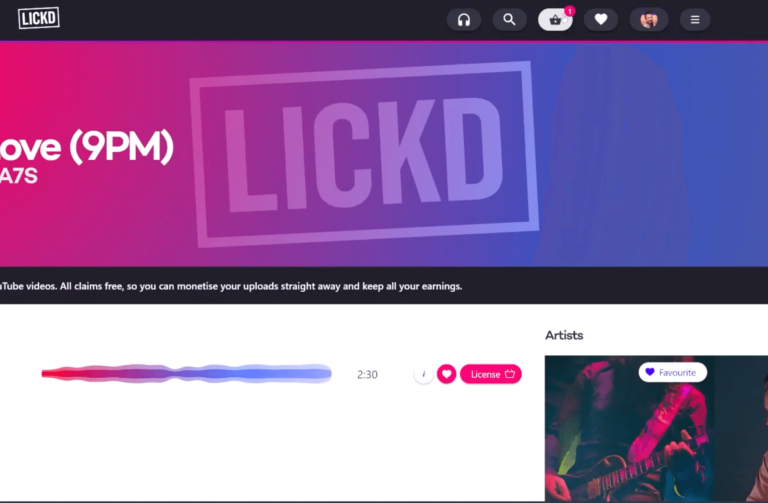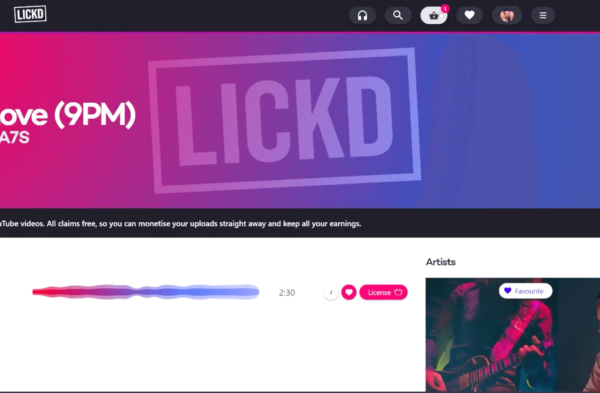 You'll see the amount to pay and then it's just a case of going through the checkout like you would for any other online purchase. It's as simple as that!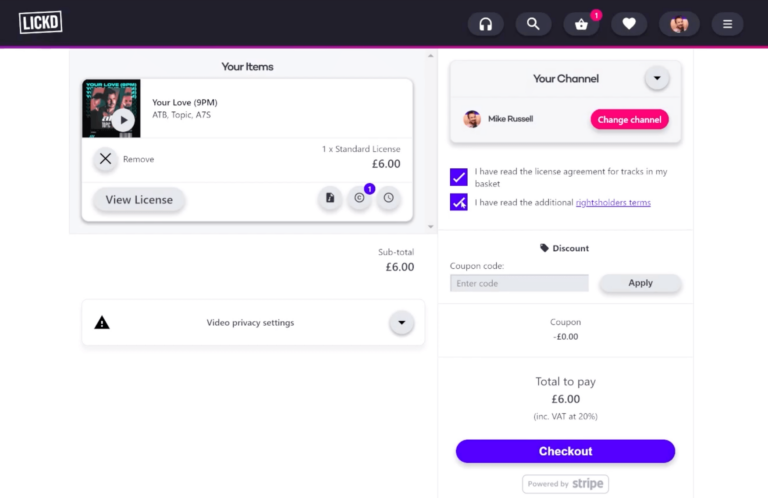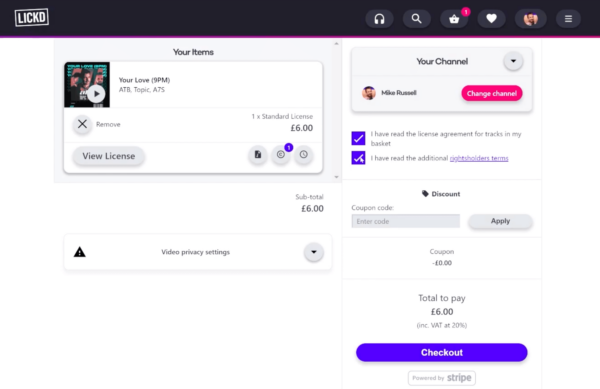 From there, you'll have the ability to download your track if you want to. You'll just need to tick the box to say you understand that you must add the Lickd licensing attribution to your video description. So, tick that box, click download, and you'll get an MP3 file that you can import straight into your video editing software.
You can always come back to your account and view your licences in the future if you need to.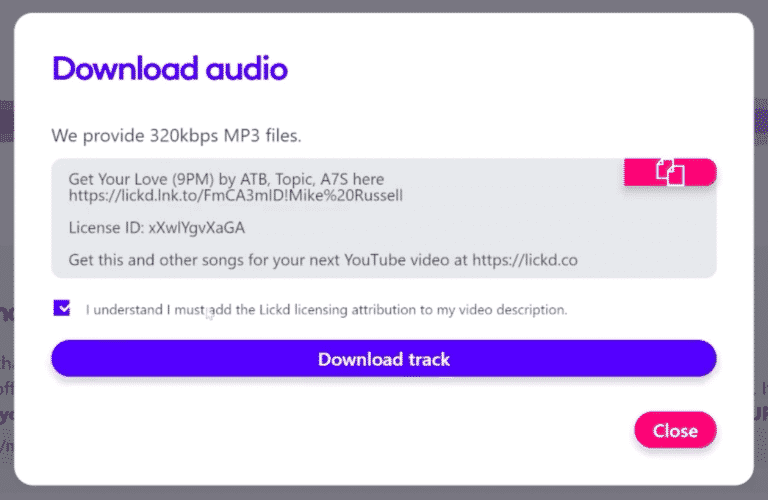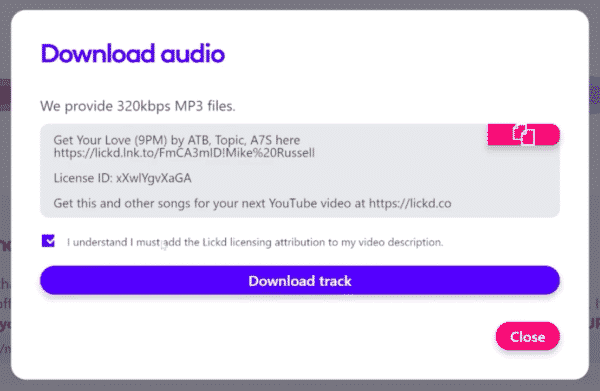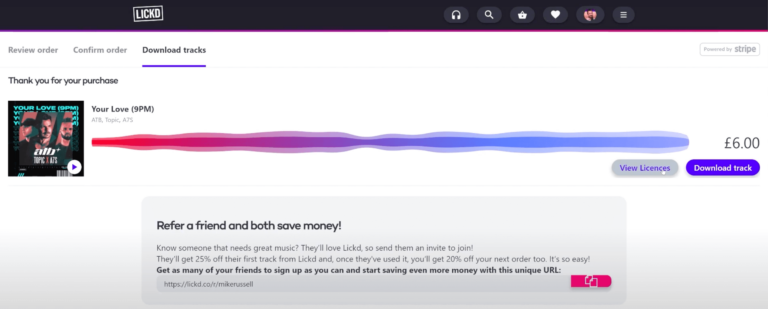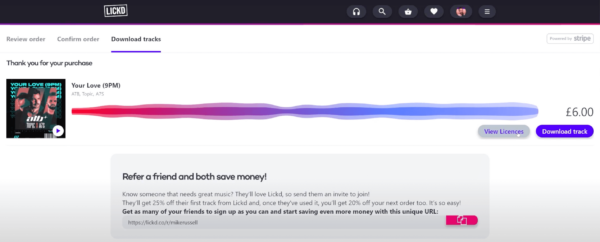 Lickd Essentials
Lickd Essentials is an ongoing subscription service full of Lickd's 'better-than-stock' music tracks. Including background tracks and tracks with vocals in – all high-quality, library-production music.
When I was working in radio, I had access to many production libraries, and this is on that level and above, unlike many other royalty-free sites I've experienced in the past.
To use Essentials, hit Search music on the homepage, then select Essentials. This will bring up all the tracks in your subscription – there's music for any kind of scenario. You can even search for something like 'sting' and get all kinds of stings that you can use as intros and outros to your videos – all part of the Lickd Essentials library!
You can sort tracks by popularity, mood, theme, genre, length, tempo, usage, and target platforms. There are loads of options available to help you get the exact right track for the video you're creating.
If you like a song, simply hit License, and go through the same checkout process as explained earlier. The difference is that there will be no charge this time as you're already subscribed.
Lickd Essentials is £10 / $15 per month, but you can get a whopping 60-day free trial if you sign up to Lickd with my link!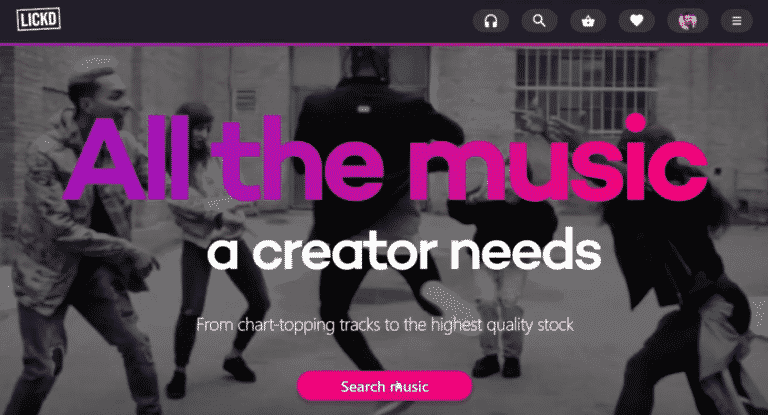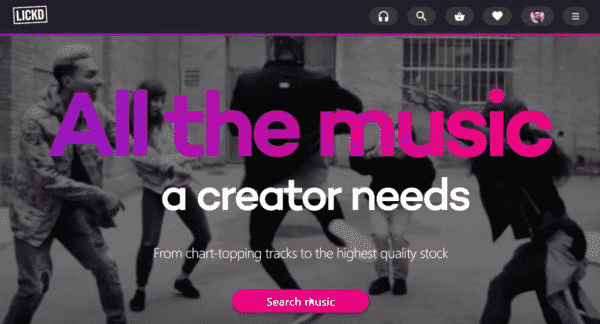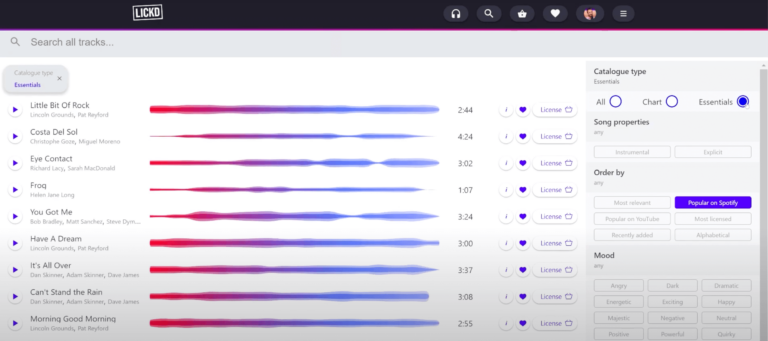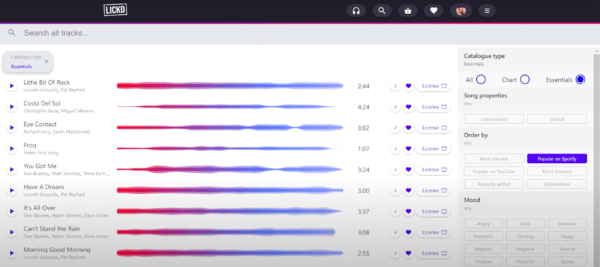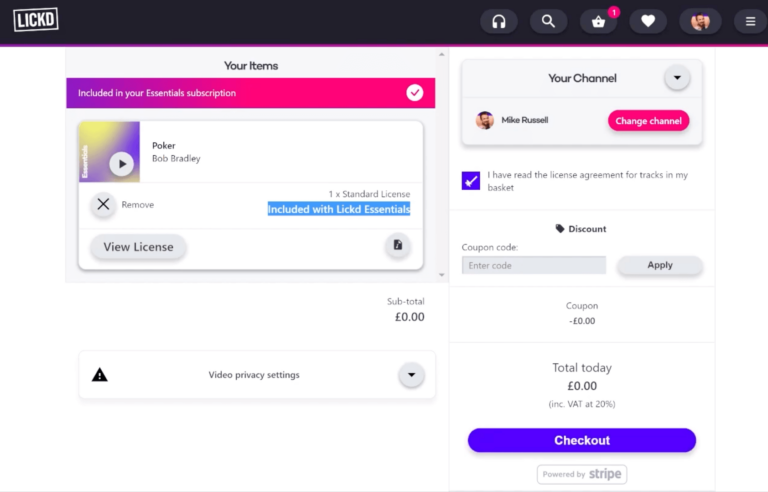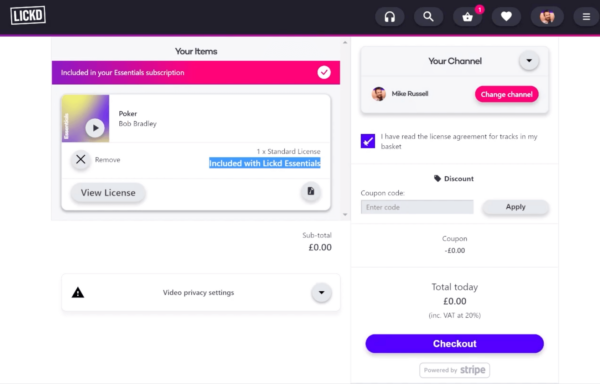 We have been supporting Lickd from day one and are 100% behind their cause, which is all about getting creators like you and I awesome, known music tracks available to use on our videos!
Get licensing with Lickd here and you'll get a 60-day free trial and 50% off your first chart track!
Learn More About Using Music In Your Videos
Improve Your Audio In Premiere Pro
If you want your videos to sound great – this is the solution you need! Check out our great Adobe Premiere Pro Audio Presets here.