YouTube Video Marketing Tips
We talk about how broadcasters or voice over talent can use YouTube to market themselves. YouTube is another platform you can use to promote yourself or your business. If you want to succeed on YouTube you need to tell your listener to do something after watching your video. You'll hear much more about our own video marketing tactics on this podcast episode.
This Episode Is Sponsored By i-jingle pro
This iPad app is perfect for internet broadcasters and those who are podcasting. i-jingle will give you lightning fast access to music beds, jingles and sound effects all with a beautiful user interface.
Listener Feedback
Thank you to Taylor White from the IRELpodcast.com real estate podcast for your fantastic listener feedback on the podcast intros and outros that we created for you. Your words are greatly appreciated!
Video Equipment for YouTube
You don't need amazing equipment to get started recording your own videos that can help others and market your services on YouTube. I started my channel by using screen capture software such as (Mac & PC) or Screenflow (Mac) and recording my voice. Later, I first put my face on screen using an iPhone 4S which could record me in full 1080p HD resolution. Now I use a Canon 60D DSLR camera to shoot top quality videos.
UPDATE (18/06/18) – I have now switched to Sony Alpha 6300 Digital Camera – 24.2 Mpixels – Black for all my video productions.
The most important thing (apart from the video quality) that you need to get right is the sound and the lighting. I get the sound right by using my own studio microphone and the lighting issue is easily solved with a couple of well priced box lights. The box lights I recommend are not extremely portable but if you're using them in a studio environment they are perfect.
YouTube for Voice Overs
You can put your voice over demo up on YouTube but you don't want to put the audio alone or the audio along with a logo. Izabela questioned that many voice over artists may not enjoy putting their face on a YouTube video but I argued that you must do that if you wish to succeed on the platform. If you continue to create great content with your own face your viewers will form a better connection and you may even be recognised at an event or convention!
Give your knowledge away, it's all about content marketing, tell your potential clients what they want and need to hear. It's all about educating your potential clients and not others in the same industry as you. I had an interesting conversation with voice over artist Darren Altman the other week about this. He'd like to start a podcast or YouTube tips but doesn't want to target other voice over artists as that won't bring him new voice over jobs.
You want to find your clients and those interested in the product or service you provide. If you're a voice over artist, unless you want to be a voice over coach, don't target other voiceovers. Consider your clients – who have you worked with? Find your best clients and ask them questions to find out what they'd like to know about when they hire a voice talent. Educate your customers.
YouTube for Radio Stations
It's all about entertainment. If you do a funny bit on the air make sure you record it with a camera and upload it to YouTube. Radio is theatre of the mind but a YouTube video is very complimentary and deepens the connection to your listeners.
One of the biggest pains I've heard from other on air radio personalities is that they could upload a video to YouTube but they're concerned it'll only get 30 or so views and make them look like they've got no listeners. The answer is that it's not enough to just upload a video and mention it on the radio. You need to actually market that video on social media, get the correct keywords into the video title and description and make it shareable. Run a giveaway on the air and tell listeners they could win if they share your video.
YouTube for Podcasters
Podcasters can create videos to compliment their podcasts. If something you discuss in an episode has a visual element then create a video to compliment it. This episode, for instance, is sponsored by i-jingle pro and I plan to make a screen capture video to show it in action on YouTube in the near future. If you're podcasting about real estate you could visit properties and make a video with tips on what to look for in a new home.
YouTube Video Views
You can't just put a video on YouTube and expect it to get thousands of views instantly. It very rarely works that way. Some of my oldest YouTube videos (from 2009) have hundreds of thousands of views but these built up over time from providing quality content and not in a couple of days or weeks. If you want to hold a loyal audience on YouTube be consistent – but don't put rubbish out there – plan ahead and record videos in batch that you can release over a week or a month.
How We Use Our YouTube Channels
We have two different YouTube channels. My own personal Mike Russell YouTube channel which I use to teach Adobe Audition and promote products I believe in. It has been online for many years. The second is our, relatively new, Music Radio Creative YouTube channel which we started to build at the end of 2013.
We wanted to make sure the channel would bring value to customers and followers of Music Radio Creative. That's why we have worked on building partnerships with well known experts in radio, in podcasting and in DJing. The first of these experts in Robin Banks a well known UK based radio personality and talent coach who was on episode #70 of this podcast. He's providing radio and podcaster hosting tips on a weekly basis on our new YouTube channel.
We make all our videos short – 1 to 2 minutes each – intentionally as people don't have time for a 10 minute video. Short and easy tips seem to work the best on YouTube.
How To Make Money On YouTube
The first thing you can do is apply to become a YouTube Partner. It's pretty easy to do this and once you're approved you can link your YouTube account to Google AdSense and make money from adverts Google places on and around your YouTube videos.
I'm releasing videos on a regular basis on my YouTube channel and get a monthly payout from Google of around £350 ($500 USD) every month.
The Music Radio Creative YouTube channel is not making any money right now. The priority for that channel is to bring value to the viewers with good quality content and then the money will follow. The value in the short term using the Robin Banks tips as an example is that Robin gets new subscribers to his email list in exchange for the free content on YouTube (these subscribers can eventually turn into clients). The value to us is that we'll get viewers and people into the MRC brand who may buy audio from us eventually. Izabela also adds that once you have one high profile person on your channel there is more chance that you'll be able to find more talented people who will be happy to work with you.
John Lee Dumas On YouTube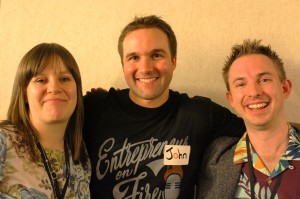 The next world class expert to appear weekly on the Music Radio Creative YouTube channel will be podcasting expert and host of Entrepreneur On Fire – John Lee Dumas. John is one of the leading podcasters in the world right now who is making a six figure monthly income from his podcast. He set up with a plan in 2012 to start a daily podcast with amazing content from the world's most prolific entrepreneurs and sharing their stories. Many said that John was mad to attempt a daily podcast but he's now at over 460 episodes and is rewarded with lucrative sponsorships from leading online companies.
John knows a great deal about starting a podcast and the correct process to follow if you're thinking of podcasting. He's very committed and disciplined in his podcasting work too. John's partner Kate is also very passionate and involved in the Entrepreneur On Fire brand and Izabela and I encourage you to find out more about John and Kate at EOFire.com.
Podcasters' Paradise is an online paid community for podcasters who want to reach the top of their game which is managed by John and Kate. John's podcasting tips which will start soon on our YouTube channel will have an affiliate link to Podcasters' Paradise and that is essentially one way we can potentially create some income from these videos. John provides great content, we edit and host the videos, some viewers may choose to join Podcasters' Paradise (for which we earn a commission) and everyone benefits!
Your Comments On YouTube
We'd love to hear your thoughts on YouTube video marketing. What has worked for you and what didn't work? Share your story and tips in the comments to this episode.
UK Podcasters Update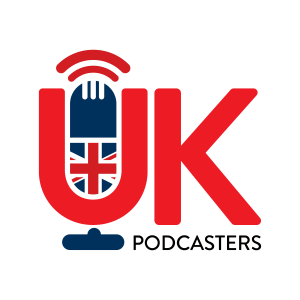 In other news it's only been a week since we started a community for UK podcasters online. Already we've had 100+ UK based podcasters sign up to our email updates. We've got an active Facebook Group for UK podcasters and there's a first meetup taking place in London on 29th March 2014 – the early bird tickets all sold out within 24 hours!
Spreaker Announces Scheduled Podcasts
Spreaker, the host we use for this podcast, is getting better and better. They just moved their office (in Europe's startup capital of Berlin) and now have a great view of Alexander Platz. Add to this that they're consistently adding new features and I'm so excited to see a scheduling feature on Spreaker! This means you can pre-record episodes and release them at another time in the future.
BBC College Of Production Podcast
The BBC College Of Production release a weekly podcast and this week I was a guest talking about starting your own internet radio station.
Podcast: Play in new window | Download