As the popularity of podcasts continues to soar, so does the demand for efficient and user-friendly podcast editing software. Finding the right editing software can make all the difference in crafting a professional audio experience for your listeners. One contender that's been generating buzz is Adobe Podcast. In this blog post, let's see if Adobe Podcast is truly the game changer for podcast editing by exploring its features.
Introducing Adobe Podcast
Adobe Podcast is an AI-powered cloud-based audio production tool specifically designed for podcast creation. It offers various features such as Mic Check and Enhance Speech, making audio recording and editing seamless.
Before it was named Adobe Podcast, it was known as Adobe Shasta. This software is still in Beta (August 2023) so you'll need to apply for access. If you are wondering if it is worth it, I'd say this is the best beginner software for podcast editing.

How to Check Microphones
Great podcasts start with quality recordings. Adobe Podcast has a feature that analyzes and optimizes microphone input. It checks background noise, echo, gain, and distance to the microphone. Moreover, it provides instructions on how to fix issues on these.
To check the quality of your microphone input, scroll down on the Adobe Podcast website, find the Mic Check feature, and click the Try For Free button.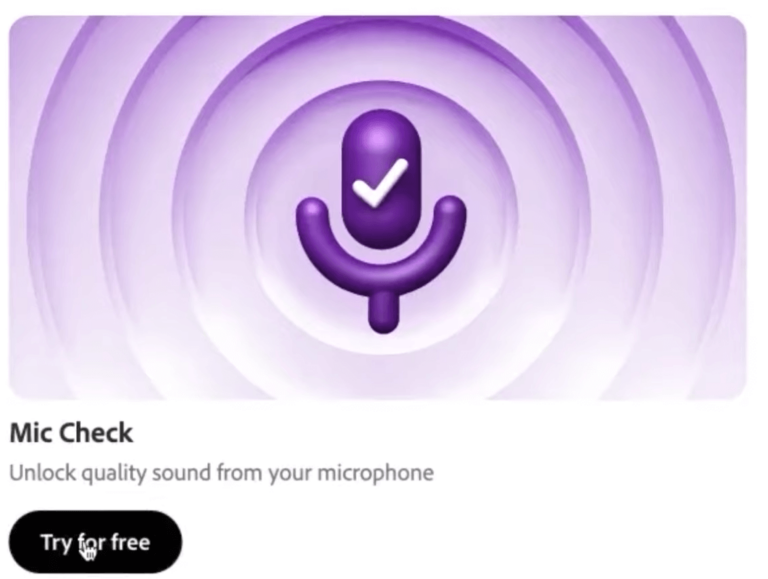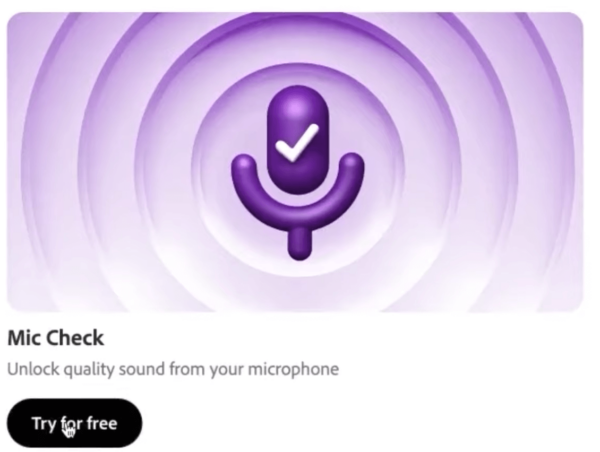 Now, click on the Test Mic button and then start talking on the microphone.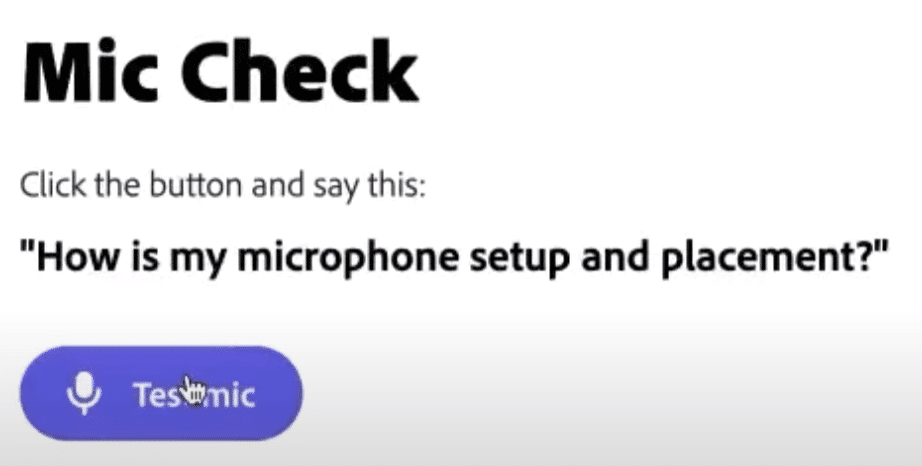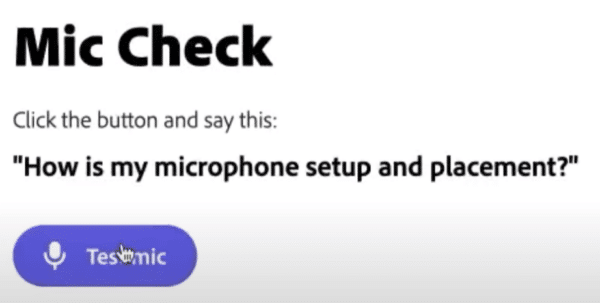 After you say a few words, click Stop Mic.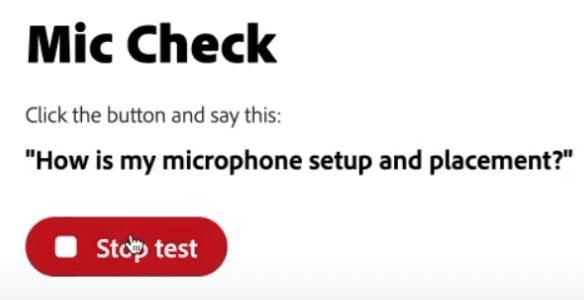 Adobe Podcast will then analyze your voice and give you results in less than a minute. The ones with the check mark (blue box) mean that those are fine. On the other hand, the one with an 'x' mark (red box) means that you need to improve that attribute. Moreover, it even gives you tips on how to fix the issues (green box).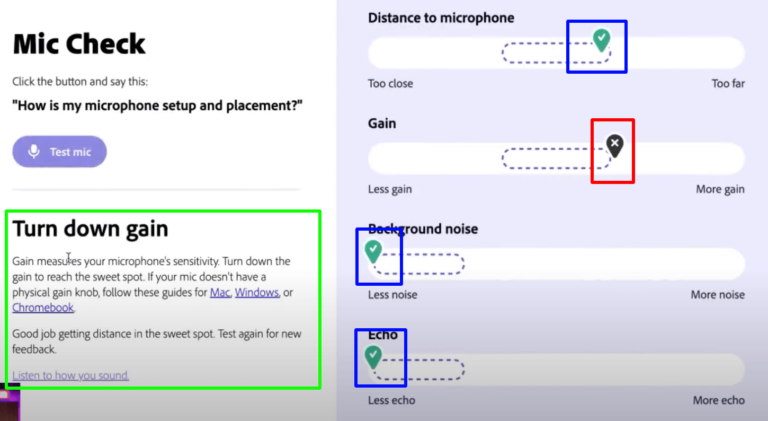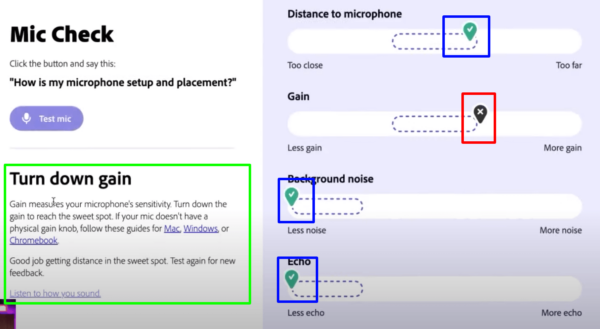 Overall, the Mic Test feature on Adobe Podcast helps make sure that your recording is optimized and crystal clear.
How to Add Remote Guest
Remote interviews are common in podcasting. Adobe Podcast's remote guest feature allows you to invite guests seamlessly.
To do this, click the Invite Guests button at the upper right side of your workplace. Then type in the emails of your guests on the blank button provided and click Invite.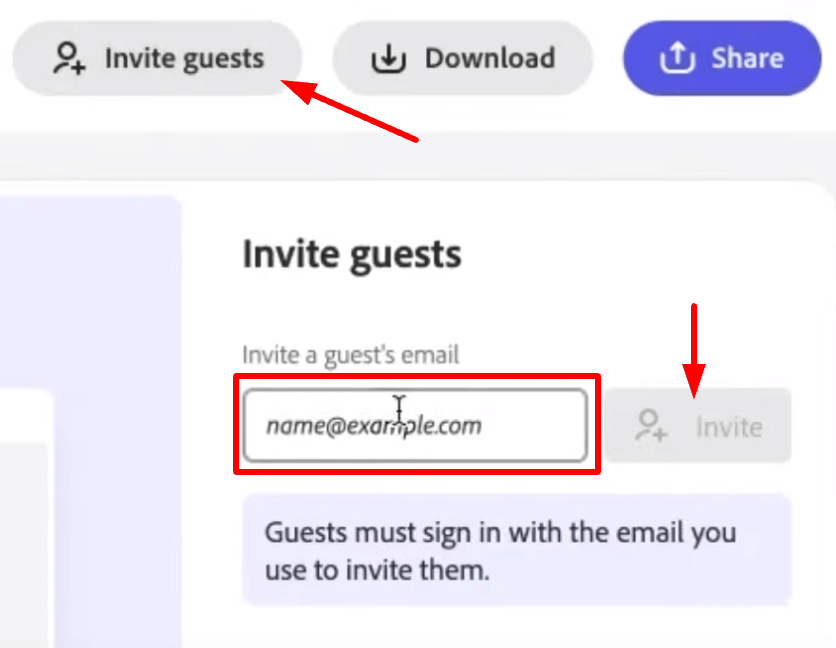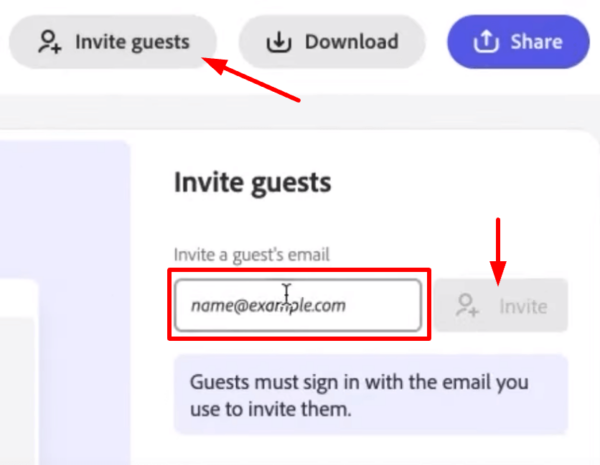 Your guests can then join you remotely on your podcast. Overall, this feature is crucial for seamless conversations with participants from around the world.
How to Insert Music
Music can set the tone for your podcast and adds identity to your brand. Fortunately, Adobe Podcast simplifies the process of adding music to your episodes.
To insert music, click the Musical Note icon on the left side of your workspace.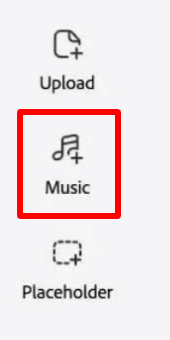 Adobe will then provide a collection of their pre-edited royalty-free music. Or if you like, you can also upload audio files directly from your computer.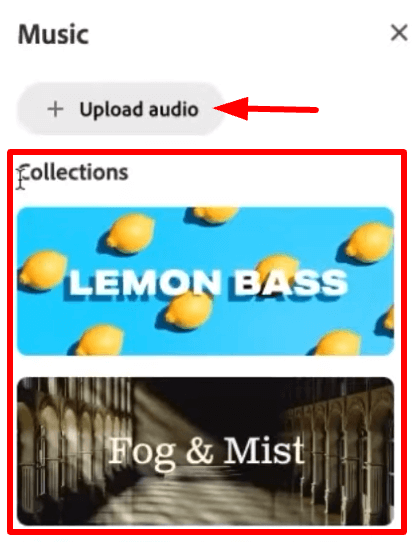 After adding music to your recording, you can further manipulate it. You can move it wherever you want it to be. For example, if you want to add it as an outro, then move it at the very end. Moreover, you can also set it as background music, split, add fades, transcribe, and delete. These options are all available by clicking the three dots beside the music waveform.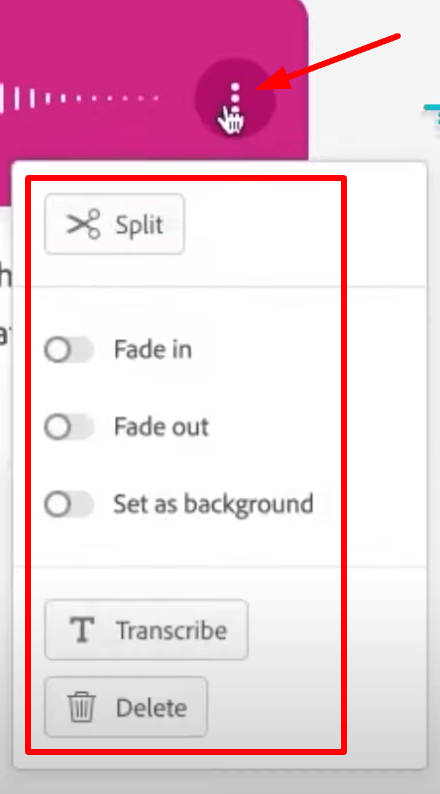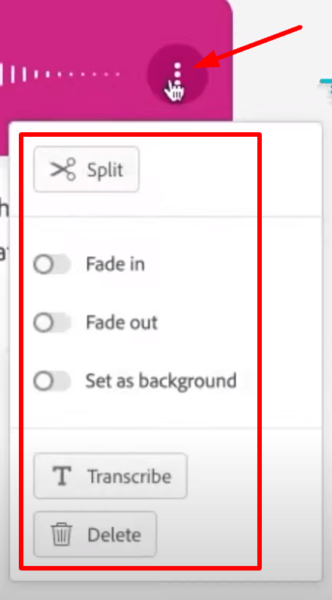 With this simple way of adding and editing audio files, and a collection of royalty-free music, it is even easier to create podcasts.
How to Record Audio in Adobe Podcast
Let's proceed to the actual way of recording audio in Adobe Podcast. Just like the other tasks above, Adobe makes recording audio straightforward.
To do this, just click on the Record icon on the lower side of your window. Read your scripts or talk on the microphone. Once done, press the Stop Recording button.


Pro Tip: If you make a mistake during recording, don't stop. Continue talking and then just edit out those parts later. This can save you hours of recording.
How to Edit Your Recording
One of the best features of Adobe Podcast is that you can edit your recordings by editing the transcribed text itself. If you are a beginner and you do not know how to edit audio using software like Audition, this feature is perfect for you. You can highlight, delete, and copy/paste words on your recording.
To do this, Select the transcribed word/s and then choose the action you want (Delete, Copy, and Paste).


This feature allows you to edit precisely at the word level and makes Adobe Podcast the easiest beginner podcast editing software.
Furthermore, just like editing music, you can also split, add fade in and out, set as background, transcribe, and delete your recorded audio. These options are also available by pressing the three dots on the right end of the waveform.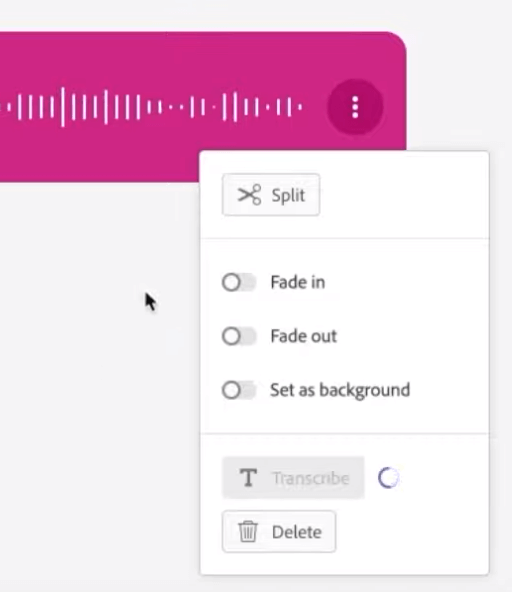 How to Enhance Speech
Another great feature Adobe Podcast has is the Enhance Speech. This tool automatically enhances your audio by using artificial intelligence. It's a very powerful feature that can clean up background noise, echo, and any audio problems.
I tried uploading two very bad audio files and though the resulting samples can be enhanced further, the Enhance Speech AI tool did a decent job. It made the audio files sound clearer and better.
To use this feature, find the Enhance Speech feature by scrolling down, and then click Try for Free.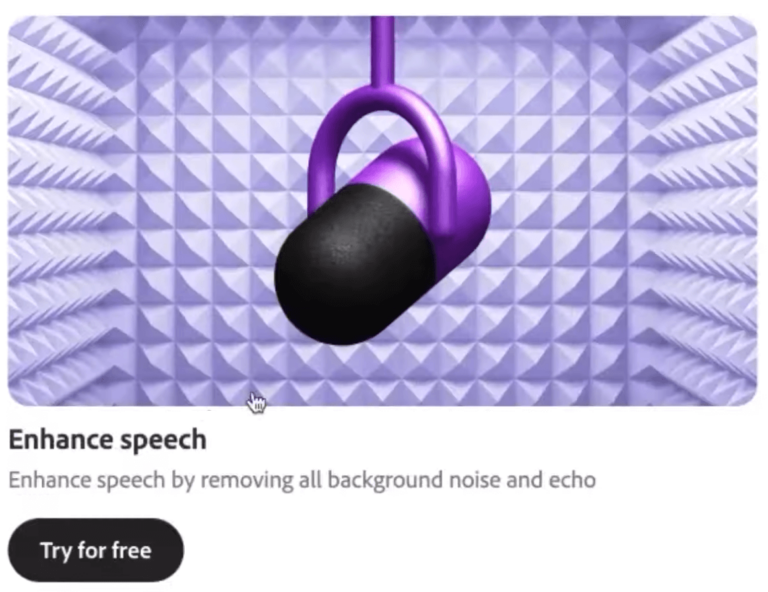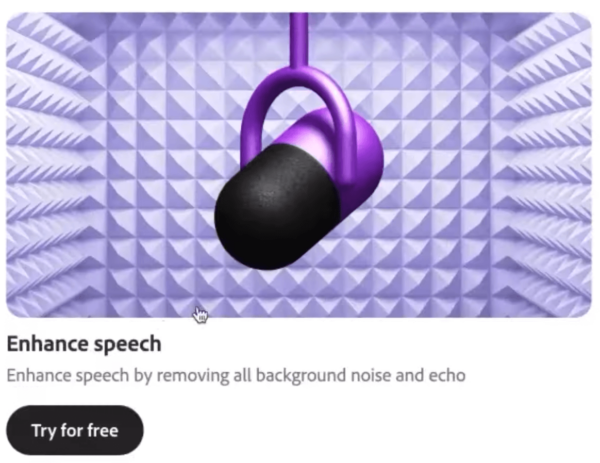 Next, upload your audio file by clicking the Upload button or by dragging and dropping the file directly from your computer.


Adobe Podcast will then analyze your audio and after a few seconds, you'll be presented with the enhanced version of the file. You can then preview and download the file, and you can also upload another audio to be enhanced.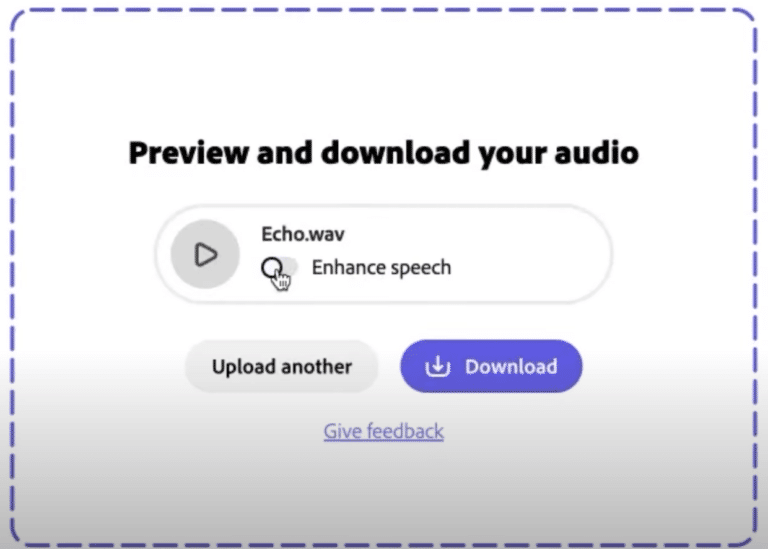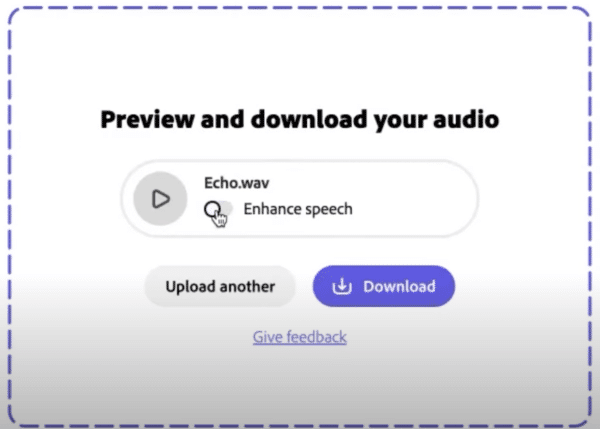 Overall, the Enhance Speech AI tool is beginner-friendly. It might not work for audio files that need professional editing touch but it is perfect for audio with minimal problems.
Final Thoughts
Adobe Podcast is the best and easiest tool for beginner podcasters and audio editors. Its powerful features such as Mic Check, Guest Invites, and Royalty-free Music collection streamline the recording process. In addition, the ability to edit words, not waveforms, and improving audio quality with the Enhance Speech AI tool make the editing process easy. Overall, it is an all-in-one solution for your podcasting production.
Voice Magic Awaits!
Dreaming of the perfect voice to elevate your content? Dive into bespoke voiceovers crafted by pros at Music Radio Creative. Your story deserves the right voice. Order now!
Further Reading