Choosing the right mixer is crucial for producing high-quality podcasts. This year, the two popular contenders for podcasters are the Mackie DLZ Creator and the RODECaster Pro II. Both mixers offer impressive features and capabilities that cater to most podcasting needs. In this blog post, we'll compare the two mixers by highlighting their unique offerings to help you make a decision on which to buy.
Short Introduction of the Two Mixers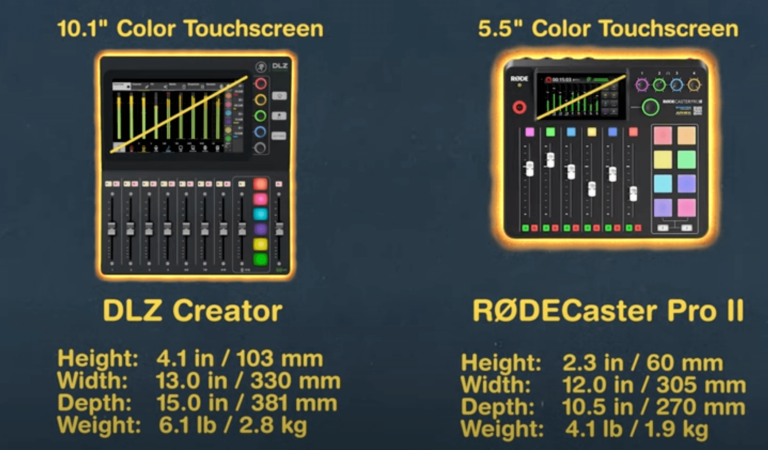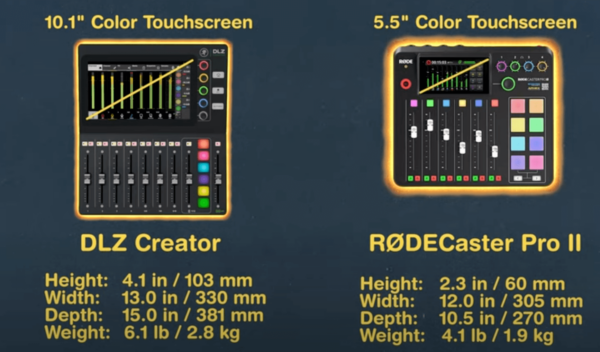 The Mackie DLZ is the newer and bigger mixer between the two. It was released last June and it has already become popular among content creators and podcasters. It is available on Amazon for $799.99.
On the other hand, the RodeCaster Pro 2 is a powerful audio interface kit that has been released last year. Since I bought it, it has become my integrated audio solution for all my production needs. You can purchase this on Amazon for $599.99.
Now, let us take a closer look at the strengths of each mixer.
Features of Mackie DLZ Creator
MIX AGENT
One of the great features of Mackie DLZ Creator is Mix Agent. This technology acts as a personal audio assistant that guides the user through setup and sound check. This built-in feature helps you to set up your mixer from start to finish.
The Mix Agent guided me when I first used this mixer. It told me what and where to plug in things and even gave me prompts as to how I set up my recording devices.
This amazing functionality of Mackie DLZ Creator is one thing to be highlighted. With this, even if you are a total beginner, you can assemble the mixer and get your levels set with ease.
AUTOMIX
The AutoMix is another feature that impressed me about the Mackie DLZ Creator. AutoMix manages levels for up to four microphones so everyone can be heard even when they speak at the same time. This is a big help when you're busy hosting a show with multiple guests or hosts.
I was so surprised that I could set priorities on microphones. With this, I was able to make my host microphone the main one, and my guest microphones do not pick up any microphone bleed. This can literally save me hours of editing time during post-production
HEADPHONE PRE-AMP
The final functionality I want to highlight on the Mackie DLZ Creator is the headphones pre-amp. Every headphone pre-amp on the DLZ Creator has its own assignable output. With this, you can send the whole mix to your guests on each different headphone output. In addition, you can also send something customized such as microphones only and no music, or the other way around.
Features of the RODEcaster Pro II
MIDI CONTROLS
One of my favorite RODEcaster Pro II features is the MIDI integration. This functionality allows you to connect external devices and use them to trigger sound effects, music, or other elements. For example, I was able to control my PTZ camera using my RODEcaster Pro II with just a press of a button. Truly, the addition of MIDI controls gives you the flexibility to add personalized touches and creative flair to your podcast.
VOCAL EFFECTS
Another standout feature of the RODECaster Pro II is the range of built-in vocal effects. These effects can be activated using the hotkeys on the right-hand side of the mixer for easier access.
With these vocal effects, you can change your voice to sound high-pitched, low-pitched, robot-like, or pixie-like. Furthermore, you can also censor your voice with just a press of a button.
FIRMWARE UPDATES
RODECaster Pro II has a great history of releasing firmware updates. These updates include bug fixes and new features, which ensure that the mixer remains up-to-date with the latest functionalities and improvements.
SEAMLESS INTEGRATION
The next functionality I love about RODECaster Pro II is the seamless integration with other RODE products such as the RODE Wireless GO. The RODE Wireless GO is an ultra-compact wireless microphone system that I am a fan of. And now, with the current latest firmware update, I can now connect this microphone to my RODECaster Pro II with a press of a button and without having to plug them in.
RODE CONNECT
The final feature I want to highlight on the RODECaster Pro II is RODEConnect. It is a simple and powerful software solution with the ability to connect up to four guests to a single computer. This comes with broadcast-style faders, level metering, sound pads, a mute button, multi-channel recording, and more. Moreover, it offers easy integration of external audio sources like chat applications, program sound, and mic audio.
Some of the things you can do with RODE Connect are change what's appearing on your hotkeys, record stuff, and upload new music and jingles — all these from the comfort of software on your computer.
Advantages of Makie DLZ Creator
Mackie DLZ Creator has PRO sound in mind even if you're just a beginner. If you want to get the sound dialed in with as little effort as possible, features like Mix Agent and AutoMix can do it for you. It also is a bigger piece of equipment with a larger screen so it looks bulky here in my studio in a good way. Finally, the ease of switching between modes from easy to Pro and the four individual headphone outputs make this mixer fantastic.
Advantages of RODECaster Pro II
If you're looking for more bells and whistles, RODECaster Pro II is the way to go. It integrates seamlessly with other RODE products such as the wonderful Wireless GO microphone. In addition, features like RODE Connect and MIDI integration make this mixer even better. Finally, RODE also releases many firmware updates, ensuring the mixer is user-friendly and easy to use.
My Overall Verdict
Overall, both mixers are excellent pieces of equipment from companies that have a real history in this space and are now making creation easy and even better day by day for content creators like you and me.
What do you think wins, is it the RODECaster Pro 2 or the Mackie DLZ Creator?
Final Thoughts
Choosing the best mixer for your podcast ultimately depends on your unique podcasting needs and preferences, budget, and goals. Regardless of your decision, either the Mackie DLZ Creator or the RODECaster Pro II will undoubtedly elevate your podcasting business.
Further Reading