Adobe Audition is a powerhouse when it comes to editing audio. Its features like the Multitrack editor allow content creators and editors to create projects efficiently. In this blog post, let's explore some game-changing editing hacks that will help you use the most out of Adobe Audition. Also, I'll discuss the difference between destructive and non-destructive editing. Furthermore, I will also provide instances when to use either the multitrack view or the waveform view.
What is a Destructive and Non-Destructive Edit?
Destructive Editing permanently alters the original audio file. Any changes made cannot be undone unless you have a backup. This is the case when you edit using the waveform view.
Conversely, Non-Destructive Editing allows you to make changes to audio without altering the original file. This enables you to revert to the original state if needed. This is the case when you edit using the multitrack editor.
Undoing Destructive Editing
Adobe Audition's History Panel is a lifesaver for undoing destructive edits. It keeps a record of all your actions, allowing you to backtrack step by step if you need to revert changes.
You can press Ctrl/Cmd+Z on your keyboard and it can undo the recent change you made to the file. However, this can be time-consuming and not ideal when you have to undo a change you made 10+ steps earlier.
Using Multitracks for Non-Destructive Editing
One of Adobe Audition's strengths is its Multitrack Editor. It enables non-destructive editing on a larger scale. Each track within the Multitrack Editor retains its original audio files, making it perfect for any audio project.
By making edits using the Multitrack Editor, you can layer effects, adjust volumes, and fine-tune individual elements without altering the original audio files. If you want to make changes, you can just disable these effects you added on the track. You won't need to undo and go back multiple steps.
For instance, let's say you have added Chorus and Echo effects to your recording. If you want to remove either the Chorus or Echo effect, you'll just have to disable it under the Effects Rack. This is easy to do even if you added the effect a few steps earlier.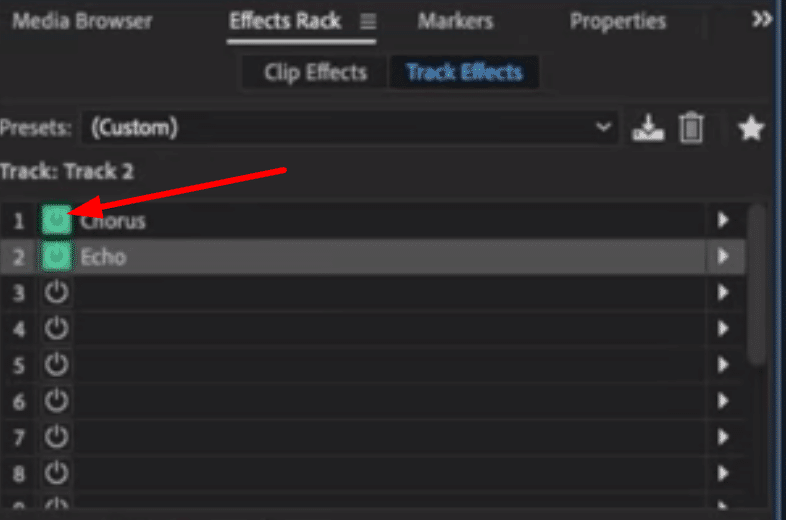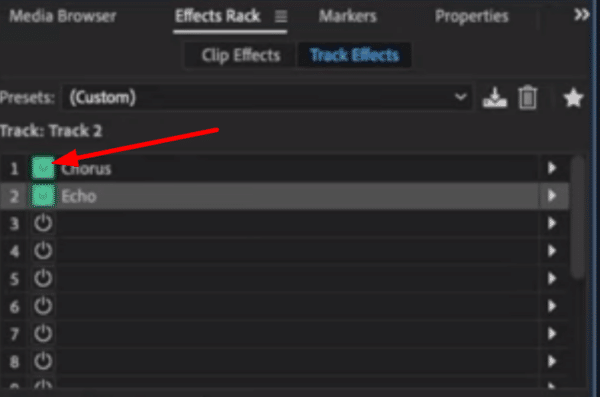 Using the Multitrack Editor is a game-changing editing hack. It literally saved my life on many occasions. Moreover, it saves me tons of editing time.
When to Use Waveform View and Multitrack View
There are instances when editing on the waveform view is recommended. One example is when you remove noise from a recording. Although you can remove noise using the Multitrack view, it doesn't have as many noise reduction effects as the waveform view.
Moreover, you can also pull up the spectral view when editing under waveform. If you are not familiar, the spectral view is a powerful tool in Adobe Audition that can help you identify specific frequencies that are causing background noise in your audio recording. In addition, with the spectral view enabled, you can use other noise reduction features such as the Spot Healing Brush tool.
In conclusion, editing on the waveform view is recommended when working with noise reduction and cleanup. On the other hand, the multitrack view is suggested for multiple and complex edits as this allows you to easily undo changes you made.
Final Thoughts
Adobe Audition's Multitrack Editor is a game-changing tool that offers non-destructive editing capabilities. On the other hand, the Waveform view is also a feature that is perfect for certain occasions. Knowing when and how to use either view, enables you to produce high-quality audio projects efficiently and effectively.
Podcasters, Level Up Your Sound!
Want that crisp, professional sound without the hours of tweaking? Enter our pro audio presets. They're your secret weapon for:
Speeding things up: Who has time for endless editing? Jump straight into quality content with quick settings for EQ, compression, and more.
Keeping it consistent: Build your brand and captivate listeners with a signature sound across all episodes.
Acing the audio game: Designed by top audio whizzes, these presets promise top-notch results.
Click, Apply, Done: No need to be an audio guru; achieve magic with a couple of clicks.
Budget-friendly: Dream sound, without breaking the bank.
Eager for a sound transformation? Dive into our presets here!
Further Reading