Radio interview questions can be tough to come up with. What do I ask my guest? Ben Adam-Smith reveals some of the best interview techniques in this episode and how you can apply them to podcasting.
Sung Jingles Make The Headlines
The day we launched sung jingles on the Music Radio Creative website they also made national headlines in the UK. The Guardian covered the story in depth by asking, "has Radio 1 killed the jingle?" BBC News, The Independent, Radio Times, Digital Spy, Music Week and radio industry website Radio Today also covered the topic and Twitter went mad with tweeters showing their passion for sung jingles. The radio guys are remembering what TV executives and advertisers have known for a long time. Sung jingles help people to remember your brand – once you have someone singing your station name or product the job is done!
School of Podcasting
Want to learn how to put together a podcast? Take a look at School of Podcasting. I met "personal podcast coach" Dave Jackson on the Podcasters' Roundtable a couple of weeks ago and he was kind enough to mention Music Radio Creative in his latest podcast.
Celebrity Radio Interviews
In the main feature I chat to a man, from the old school of radio broadcasting, who has interviewed The Wanted, Westlife, Emily Blunt, Pixie Lott, A-Ha, Paul Weller and Sir Michael Parkinson to name a few. Ben Adam-Smith is an expert interviewer and he's also the host of a new podcast called House Planning Help which offers great interviews and content to anyone looking to build their own house.
Radio Interview Tips
Ben Adam-Smith offers his top 3 radio interview techniques in this podcast:
Don't bother if you're not interested. You need to want to know more about the topic you're interviewing on otherwise it will be a very boring interview indeed!
Make sure you're listening. Don't think of the next question while your interviewee answers – let it flow – don't worry about umms and awkward pauses. You can edit those out later.
Make sure you ask a proper question – don't ask yes or no questions – otherwise it could be a very short interview. Try to ask open ended questions as often as possible.
If you'd like to get a complete guide to conducting interviews for your podcast or radio show you can buy a copy of Ben Adam-Smith's Radio Interview Techniques Revealed eBook. There are some great tips on prepping an interview and what to do when interviews go wrong. I have read the eBook myself from cover to cover and I picked up an amazing amount of tips and knowledge that I didn't have.
iTunes Reviews
This week there has been a flurry of reviews for the podcast from listeners in the United States. Thank you! Please head over and leave a review on iTunes if you haven't done so. In this podcast I discuss the fact that your podcast can rank differently in other countries depending upon the amount of feedback it receives (for example the Music Radio Creative podcast is featured on the front page ot the iTunes Lebanon store – thank you to my Lebanese listeners!)
Africa's Rapid Radio Growth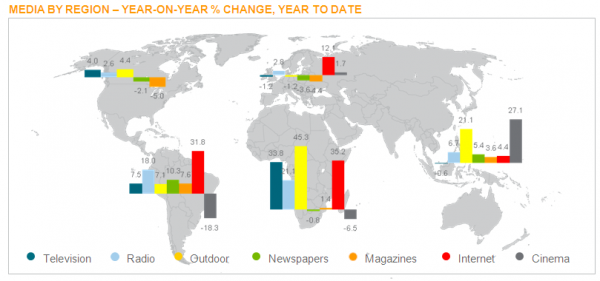 I mentioned at the end of this episode how radio is flourishing on the African continent. Quite the opposite of what appears to be happening in UK and US markets right now. A recent study from Nielsen has revealed that radio is growing in all corners of the globe but, most notably, in Africa where radio has seen a 21.1% increase in advertising spend. Here at Music Radio Creative I'm proud that we do so much work with radio stations in Africa like Star FM Zimbabwe and Smart FM Uganda to name a couple of recent clients. It's also worth to note Ghana is in 4th place right now on my global podcast listening stats!
If you're involved in radio in Africa do get in touch or leave a comment on this podcast episode.
Podcast: Play in new window | Download