Welcome to our monthly roundup of the latest news in the audio industry. In this blog post, we'll be covering some exciting new product launches, software updates, industry happenings, and other news that can challenge the world of audio creation.
Riverside Update
The first on our list is the update on Riverside. Riverside.fm is one of my recommended recording platforms for podcasts. It's a software that enables you to record crystal clear, uncompressed audio and 4k videos.
Riverside recently added AI transcriptions to their offers. With this, you can automatically transcribe your audio in up to 100+ languages. Not only that, but you can also search later on and look through that transcription to find, edit, and clip out any words you want to omit. Finally, with their automatic multi-track sync feature, you can ensure that all tracks are remained aligned when you edit your transcription.
Descript's Mystery
Next on our news list is Descript's mysterious holding page. The page says that they are adding GPT-4 to their suite of editing tools. I know very little at the moment about exactly what's involved but if this update will help content creators make stuff sound better, then I am all for it.
How about you, do you have any idea about what's coming on Descript?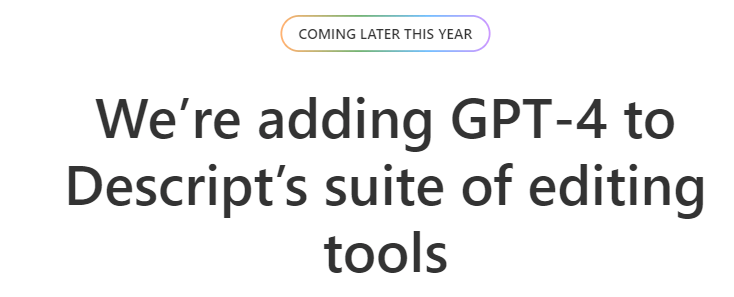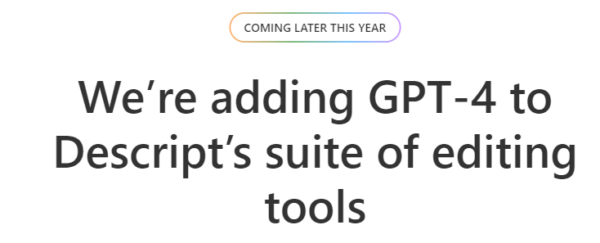 ChatGPT Prompting
ChatGPT has been the talk of the content creation industry since its release in November last year. It's an AI chatbot that can respond based on the prompts you input. It has a free version, which is already powerful, and a plus plan that offers a more advanced system (GPT-4).
I personally tried using ChatGPT-4 to make a set of 3 different radio station jingles. While some of the responses are cheesy, a lot of them are usable. If you want to make audio scripts for your radio station, podcast, or even an ad for your business, ChatGPT is worth checking out.
Beyerdynamic New CEO
The next news this May is that we have a new CEO of Beyerdynamic. His name is Andreas Rapp from Heilbronn, Germany which is the HQ of Beyerdynamic. In the press release, Andreas said that he will focus on strategic and sustainable growth goals.
If you are not aware, Beyerdynamic is a brand that is close to my heart. I love using their products in my business. In fact, their headphones and microphones are some of my most recommended tools for podcasters.
RODE Announcements
Another company that I love when it comes to audio-related products is RODE. And they have exciting announcements during the NAB Show in Vegas last month.
The first announcement is that they released a firmware update on both the RODE Wireless Go II and RODECaster Pro II. With these updates, you can now use wireless microphones with the RODECaster Pro II.
Next, is the newly released RODE Wireless Me microphone. If you are a fan of using wireless microphones, this $149 mic is worth checking out.
Other exciting announcements include RODE Streamer X, RODECaster Duo, PodMic USB, RODE Backpack, and Charging Case for Wireless Go II. All details of this release can be found here.
Is AI Replacing Human Voice Actors?
The final news this May 2023 is somewhat scary. The Washington Post featured an article titled "Their voices are their livelihood. Now AI could take it away.". This post talks a little about a voice-over artist who found an uncannily mimicked version of her voice on an AI website and is being sold online. In addition, it mentioned a few people including celebrities who have their voices being recreated and cloned by AI.
This story makes us think if Artificial Intelligence will really replace not just voice actors but anyone who offers services for a living. With that, I want to know your opinion about this. Do you think AI will take over human jobs?
Final Thoughts
May 2023 has been an eventful month for the audio industry. There are exciting updates and announcements but there are also somewhat scary news. We hope you found this blog post informative and interesting. Keep an eye out for next month's roundup, where we'll be bringing you the latest news from the world of audio technology and music.
You can watch our monthly round up of news on our YouTube channel:
Can AI Work For You?
Are you looking to take your audio content to the next level? Look no further than Music Radio Creative's AI Voice Overs! With the power of artificial intelligence, we bring you an innovative solution that can revolutionize your podcasting, radio, and DJ endeavors. Our AI voice overs offer incredible versatility, allowing you to effortlessly generate professional-quality voiceovers for your shows, intros, commercials, and more. You no longer have to rely solely on traditional voice talent; AI provides a cost-effective and time-efficient way to create captivating audio content in 8 different languages. Embrace the future of voice technology and experience the convenience and creativity that AI can bring to your productions. Elevate your audio game with Music Radio Creative's AI Voice Overs today!
Further Reading