Update – 2022
Since this article was written our presets have been updated too! To view the latest presets, releases etc make sure to check our Audio Presets page here.
Presets are here!
All the presets are now here and available for purchase.
Adobe will announce the release of new Adobe CC 2019 apps very soon. We don't have the exact date but we know that, in the past, releases usually happen around the Adobe Max conference. Due to the fact that Mike is part of the pre-release beta testers he has had the access to Adobe Audition CC 2019 for some time now and therefore has been busy working on new updated version of his presets and will bring them to you the very moment Adobe releases their software update.
What We Do Know
Adobe has announced many new features coming to Adobe CC 2019. Some of them include:
Brand New Presets and Reveal Live Stream
This Friday – October 12 at 14:00 BST Mike and I will be revealing the brand new presets, discussing their features and we will give you an opportunity to pre-order them at a live stream only special price. You will be able to grab them for less than half the usual price in that short window of time. Note – the presets will be sent to you once Adobe Audition CC 2019 is released and sent to you as a zip download file.
Win The Adobe Audition Presets v2.0 for Free!
That's right – you have the opportunity to grab one of the three new presets, coming soon, absolutely free. All you need to do is comment below with any question you may have about the presets, their functionality or use cases. You can also post ways in which you would find use for them. We will choose one winner on Friday, 19th October during our live stream at random from all the comments below.
---
Adobe Audition Presets 2.0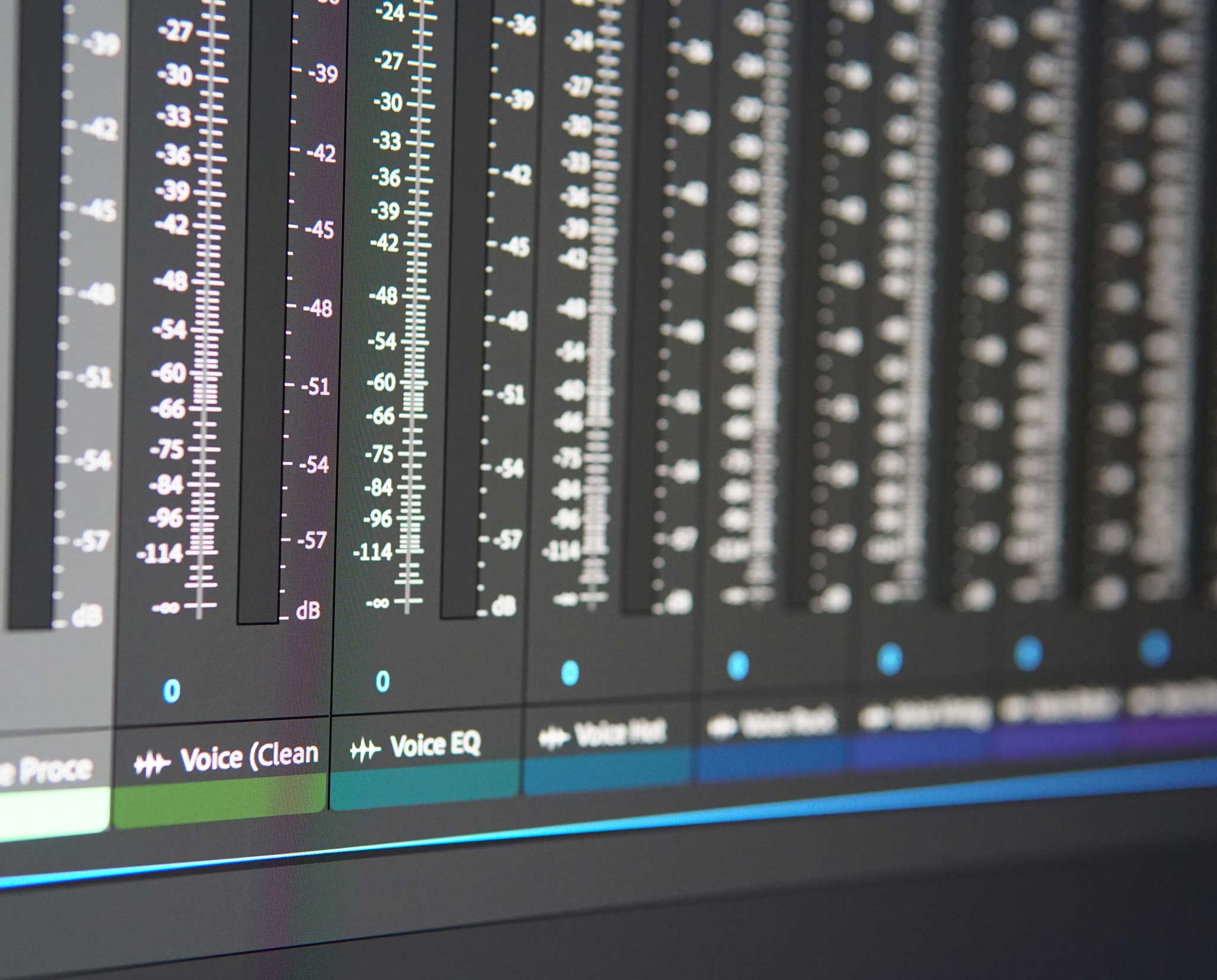 The presets have been designed from the ground up using only native Adobe Audition effects. We have worked on the colour scheme to fit Adobe Audition CC 2019 and beyond. New: 3 different modes. [SHIFT] + [1] for Adobe Audition Presets v1.0 layout. [SHIFT] + [2] for Adobe Audition Presets v2.0 layout (default). [SHIFT] + [3] for advanced mode. Hard Limiter:
Added to the Vocal FX bus to stop voice overs peaking.
Also Hard Limiter added to SFX channel to prevent peaks.
Hard Limiter on music channels to stop peaks drowning out voice overs.
Hard Limiter on Master channel allows no more than -1 dB maximum peak.
Auto Ducking
Auto-ducking added to both music tracks.
Auto-ducking now applies to ALL voice tracks.
New Features
New: Removed Scientific Filter from Vocal FX bus and perform HP filter in Parametric EQ to optimise vocal chain.
New: Reverb ending option on music tracks using light green automation lines.
New: Vocal Enhancer on music tracks. Enable and allow voice overs to be heard clearly over any music track.
New: Send Music and SFX tracks to a Post Mix bus with overall compression to keep the mix smooth.
New: Mastering effect setup on the master channel meaning no need to add final mastering after mixing down. Disable the effect while producing so you can clearly hear level changes then enable before final mixdown.
New: Individual Reverb and Delay effects for each voice track (in advanced mode)
New Tracks
New: Voice Hot effect for hot radio station imaging, promos and more!
New: Voice Rock effect added with edgy distortion perfect for that hard rock sound.
New: Voice Vintage drop a voice into this track and fly back in time.
New: Voice Robot sound like the next big AI robot using this track.
Updates From v1.4
Update: Voice EQ track drop off increased by 50 Hz to make the effect crisper and clearer.
Update: Voice Echo track delay increased to fit 120 BPM mixing. Delay and feedback slightly increased to make echo more prominent on mixes.
Fixed: Voice Darken switched to a handier Voice Deeper preset name. Crackle effect removed for a cleaner, deeper sound.
Fixed: Voice (Auto) track from v1.x removed as no longer needed.
Fixed: Clean up the multitrack. Voice (Clean) clean feed track hidden (in advanced mode).
Fixed: DeEsser was sometimes too harsh in v1.x reduced the threshold to fix this.
Pro Podcast Presets v2.0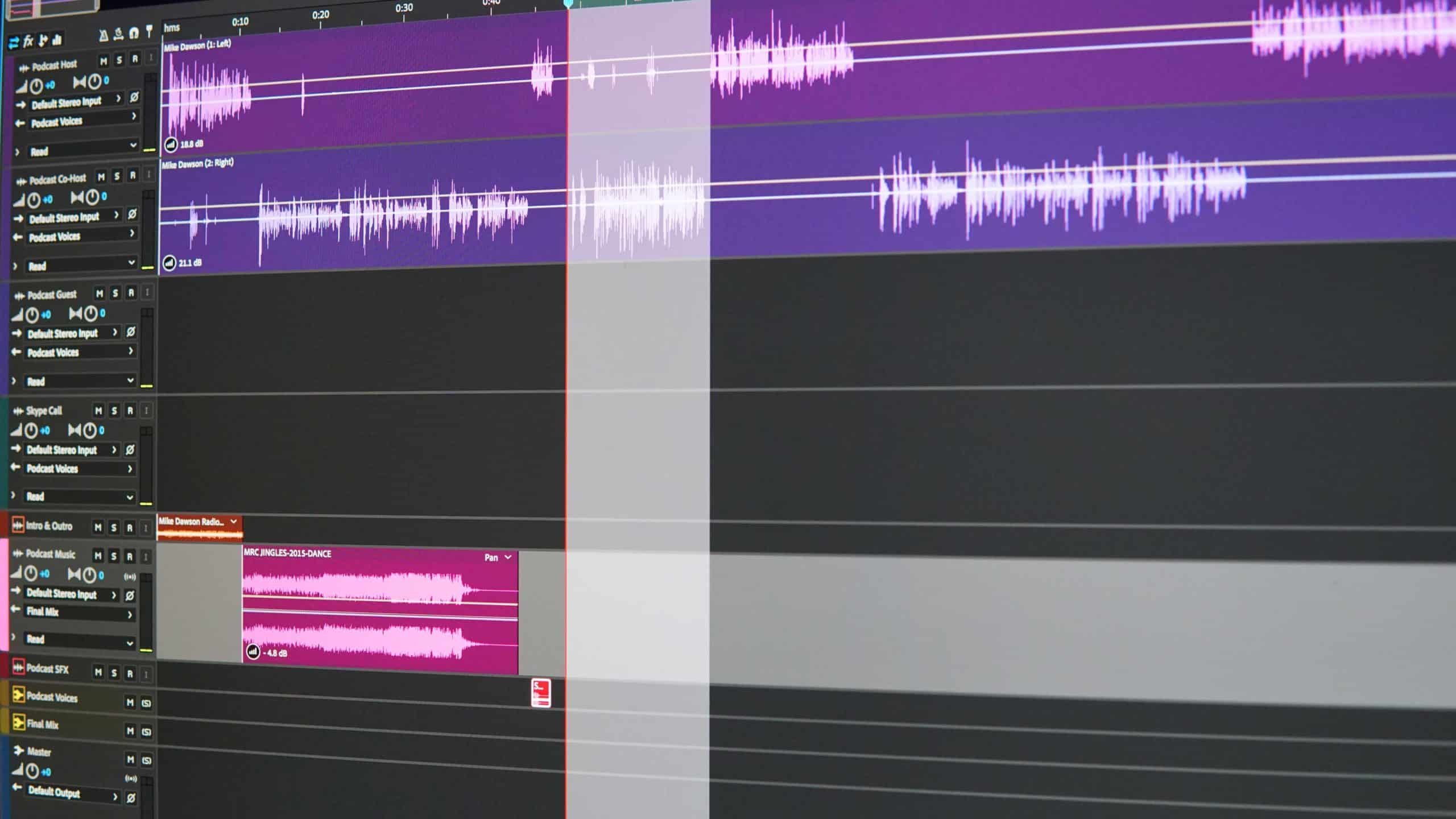 Those presets have been designed from the ground up using only native Adobe Audition effects. The colour scheme was chosen to fit Adobe Audition CC 2019 and beyond. Below you can see some of the main features and changes to the previous v1.0 New: 2 different modes. [SHIFT] + [1] for simple podcast production. [SHIFT] + [2] for noise fixing mode revealing 3 new tracks. Taking full advantage of effects such as DeNoise and DeReverb to fix issues such as room echo, fan noise and room noise. New: Set of full training videos for all features of the presets (v1.0 did not have the videos). Optimisations:
Parametric Equalizer greatly improved for dialogue tracks. Tested on hundreds of different podcasts to determine optimal EQ settings.
High Pass filter added to Parametric Equalizer to reduce bass rumble noises. This removes the need for Scientific Filter and optimises the effects rack for dialogue.
DeEsser optimised to catch more sibilance and leave everything else intact.
Dynamics Processing removed and replaced with the new Dynamics effect (introduced in Adobe Audition CC 2018). Allowing for use of all the great effects: AutoGate (silence out gaps in speech), Compressor (even out the level of speech), Expander (fade down audio during gaps), Limiter (stop audio peaking).
Double Hard Limiter and light mastering added to the Master track meaning there's no need to add any further effects after mixing down.
Brand New Features:
Added DeNoise (optional) to host and guest dialogue tracks.
Added DeNoise (enabled) at low settings to remove Skype Call hiss without reducing call quality.
Parametric Equalizer and Hard Limiter added to Podcast Voices bus which will help all speech hit the same level and similar sounds.
Added Dynamics effect to a Final Mix bus which will even out any music added to a podcast.
Vocal Enhancer added to Podcast Music Track meaning dialogue can cut through music with ease no need to worry too much about audio levels.
Fixes:
Removed Adaptive Noise Reduction effect entirely (old and clunky way of removing background noise) and replaced with the new, machine learning, noise reduction effects, available in Adobe Audition CC 2019 and beyond.
Breaths and background noise were getting amplified for some users. This has been fixed by reducing the intensity of the Speech Volume Leveler and placing it first in the dialogue effects rack.
Colour coding improved. Purple for dialogue. Blue for Skype. Red and pink for jingles, music and SFX. Yellow for mixing buses.
Brand New Presets? To Be Announced…
That's right! Brand new presets that have been developed on the back of one the most voted features for Adobe Audition. We will do a grand reveal and review during our live stream on Friday 12, 14:00 BST. You will have the opportunity to pre-order those presets for less than their usual price during the live stream ONLY.