Radio station logo design is an essential part of the branding and marketing for any online or terrestrial radio station so it's important to get the design right. In this episode Mike talks about sourcing multiple different logos from different designers.
Podcasts App vs. Stitcher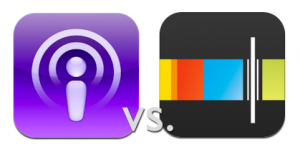 Downcast and Instacast are some popular alternatives to Apple's native podcast app but I finally decided to make the switch away from Apple's native podcasts app to the Stitcher Smart Radio app for all my podcast listening. I love Apple products (only this week I ordered my iPad Mini) but I'm finding the podcasts app more and more difficult to use. I hope this will improve in the future.
Why I Stopped Using the Podcasts App
It was marking hundreds of podcasts (that I'd listened to) as unplayed.
The app doesn't sync properly with iTunes.
It's slow to load on my iPhone 4 and occasionally force quits.
I click play on a podcast and they occasionally don't play and for no apparent reason.
Why I Love the Stitcher App for Listening to Podcasts
I can create continuous 'radio stations' based on my interests (podcasting, business, internet marketing etc.)
There's a 'smart station' that constantly introduces me to interesting new podcasts that I like.
It works well with Facebook and Twitter making my podcast listening experience social (I can share podcasts I like with friends seemlessly).
All my listening habits sync easily to 'the cloud'.
It's not a feature in Stitcher that I've seen widely used but you can also follow friends on Stitcher and discover more great podcasts.
Audio Quality
I mentioned a couple of emails I received via the contact form on this podcast.
The first was from Tom Wilson who was in touch about my comments in episode 3 about podcast audio quality being essential and ensuring you don't sound like you're on AM radio. Tom rightly points out that it's not the quality of the audio but the content and referred to the British pirate radio stations like Radio London and Radio Luxembourg. He says, "yes, I'd have loved to have listened to these stations in the quality of today but it wasn't possible". Tom does go on to day that, "today's listeners would not want to listen to music in AM quality".
dbx 266XS vs. dbx 286s
My second email in this episode is from Amnon Nissan who hosts his own radio show at Nissan Communications. Amnon asks about the differences between the dbx 266XL and the dbx 286s (which I recommend on my resources page). He uses the dbx 266XS and wanted to know if there are any reasons why he should use the 286s instead.
The 266XS has two channels (good for voice over and an instrument like a guitar) and no enhancer which allows you to tweak the voice to sound great, as I explain in episode 3 of the Music Radio Creative podcast, it's got some great compression and gating features on it if you're looking to reduce noise on different sources.
The 286s is a popular mic preamp/processor amongst voice over artists and I recommend it even if you're hosting your own radio show or podcast as it can add extra power to your voice. The dbx 286s has one dedicated channel and the enhancer dials are well worth using to improve the crispness and clarity of your voice.
Radio Station Logo Design
My internet radio station is in the final stages before I do a soft launch (should be later this week that it goes 'on air' subject to the licenses going through).
This week I had a logo designed for my internet radio station and decided to try out fiverr as a way of sourcing multiple designs that I could then present to you and select the best from your suggestions.
Premium Radio Station Logos
MycroBurst – I have used MycroBurst in the past to run a crowdsourced logo design contest. You enter a budget (minimum $199) and then post your brief and within a short period of time you should have many different logo ideas to choose from. You can then work with that designer to get the logo looking exactly the way you'd like it and finally approve and pay the designer upon which you'll receive all the high quality files and rights to use your new logo.
I used MycroBurst in the past to have the Music Radio Creative logo designed and I've been extremely happy with the results. I'd recommend MycroBurst if you have a logo budget to play with.
Budget Radio Station Logos
I ordered 4 'gigs' each costing just $5 dollars on fiverr from different designers that had good standing profiles and that were able to deliver my logo in a reasonable time.
This method of outsourcing is somewhat a shotgun approach as you get some gems along with some really awful results but overall – for the price you pay – it's a good way to get started. The first designer sent average designs back to me and only slightly modified the mock logo I sent to them. The second designer followed my brief and produced outstanding logos to choose from. The third designer completely ignored my brief and set something that I couldn't consider using… two out of three ain't bad?  The fourth designer hasn't got back to me and I've heard nothing from them even though the work was 'guaranteed' within 24 hours.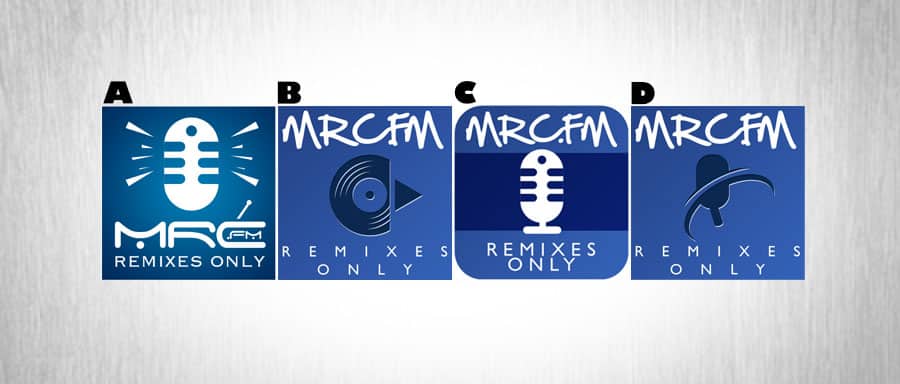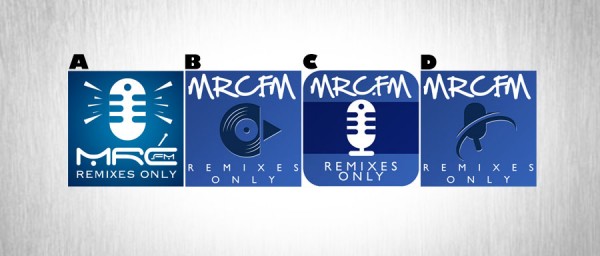 I did manage to pick some logos I liked and ask for suggestions on our Facebook page with some great feedback. Which design do you like?
Logo Design – Beware of Extra Costs and Time Constraints

Now that I've chosen my logo to get it in 'high quality' (bigger than 300 x 300) I needed to pay a 'gig extra' to the designer of $10, which I have done three days ago, but again no communication after the payment and follow up emails so I hope the logo I would like to use is with me soon. Also, be aware of time constraints as logo design is an extremely popular service some of the more talented designers can have wait times of over half a month and longer if you need revisions.

In the end the logo final logo will probably end up costing me a total of $30+ (not bad for a budget logo but not $5). If I was creating a logo for my main business or personal brand I would go somewhere like Mycroburst for the maximum chance of getting the logo I desire, with high quality files all included in a timely manor.
How to Make Your Voice Sound Epic
I recently created an Adobe Audition tutorial on YouTube showing exactly how I make my voice sound big and epic in a radio sweeper. The effect is especially good if you'd like to highlight a point.
Your Thoughts on Outsourcing?
Have you had a logo designed online? What have your experiences of outsourcing projects been? Leave a comment and let me know your thoughts.
Podcast: Play in new window | Download