By using only the Generate Noise feature in the Effects menu, there are many great noises you can create inside Adobe Audition.
If you're not using Adobe Audition, this is an amazing VST, VST3 and AU (for Mac) audio plugin: MNoiseGenerator MeldaProduction.
Here are a few of my favorite noises:
Vinyl Crackle Effect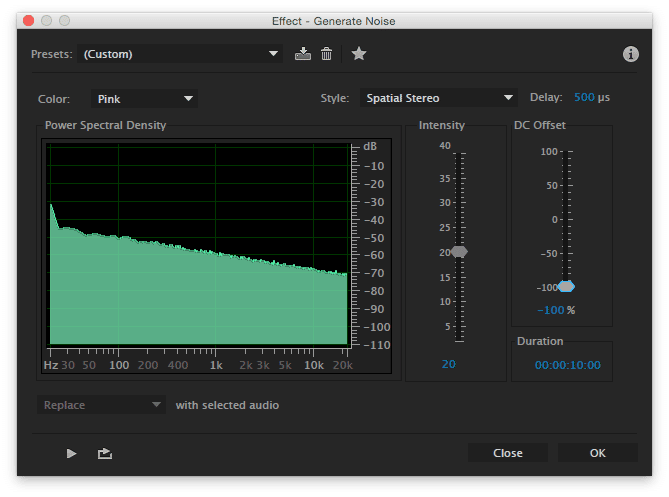 You'll get that authentic sound of crackling vinyl. Usually we would like to remove crackles and pops from audio, but perhaps you're producing an old-fashioned podcast promo or radio sweeper. Then this effect becomes ideal!
Pink Noise
Intensity: 20
DC Offset: -100%
Waterfall and Outside Atmosphere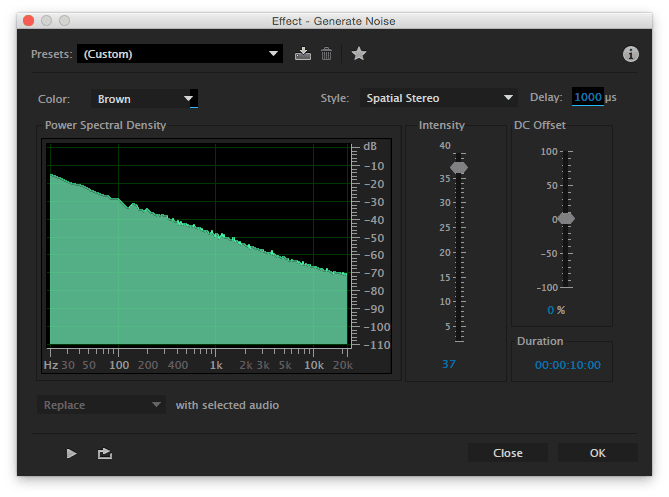 Want to sound like you're outside even when you're not? This can create the perfect outside atmosphere and if you listen for a long amount of time, it could send you into deep relaxation. Waterfalls, streams, wind and more can all be heard using this effect.
Brown Noise
Spatial Stereo – Generates a noise that sounds like it's coming from everywhere in your headphones.
1000 microsecond delay for the ultimate surround experience!
Radio or TV Dead Air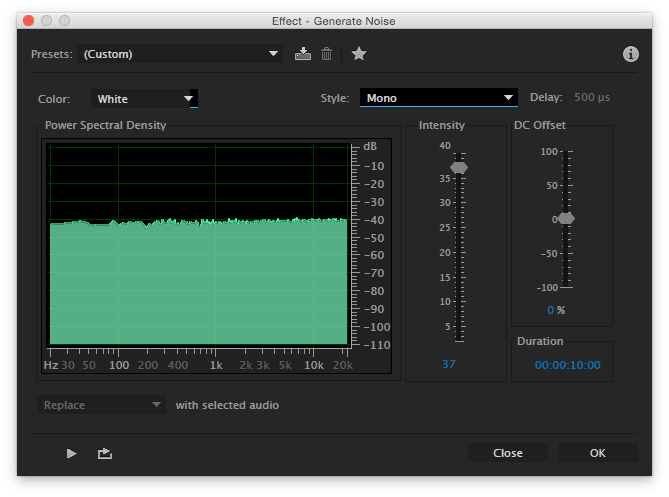 White Noise
Mono
Mono white noise sounds just like the crackle we're used to hearing when a radio station or TV station is not tuned in. The typical 'dead air' sound that is generated by all frequencies playing randomly at the same time. Enjoy creating static bursts and more with this. You can even manipulate it to sound like a spaceship taking off, and more!
Spaceship Taking Off

Edit > Time and Stretch > Pitch Bender (process)
Grab the white noise effect you just created and change it with this effect. Start with Turntable Losing Power, now draw the effect you'd like on your waveform! You'll hear a spaceship or perhaps even a thunderstorm. Have fun with this process!
NASA Released Sounds for Free
NASA has issued a public domain license on some of their old space missions, and you can get them all here.
Noise Generation – It's Over To You
What effects have you created with the noise generation feature in Adobe Audition? Let me know in the comments!
Podcast: Play in new window | Download