USB microphones, love them or hate them are here to make your life easier. Despite my love for XLR connected microphones the majority of online creators will find a USB mic does the job perfectly fine. During my testing of seven of the best and most popular USB microphones I was actually blown away by the quality that some of the microphones could produce. That's pretty impressive considering they're squeezing a mic capsule, mic pre-amp and audio interface all into the body of a tiny microphone.
Listen to the audio quality of each mic yourself by downloading the raw and unprocessed audio files:
Here are my definitive USB mic reviews, raw audio along with my raw thoughts. Enjoy!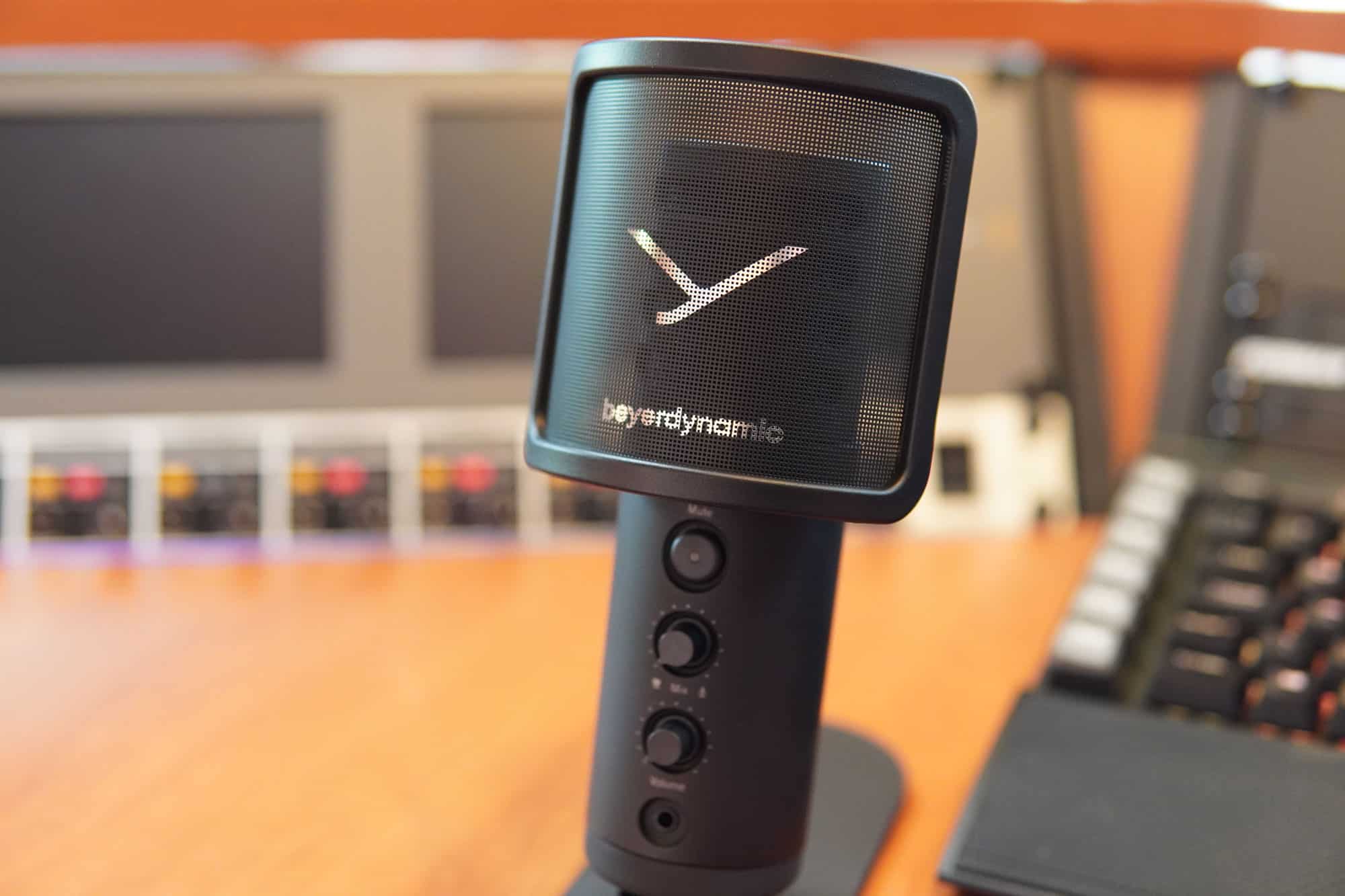 This was the first USB microphone that I put to the test and, in my opinion, it was a great all rounder. I was really happy with the way this microphone made my voice sound. It feels like it is the most unaltered and natural sound of the bunch. I may go so far as to say it had the flattest sound and that's not a bad thing!
I'd far rather EQ the mic the way I'd like in post using Adobe Audition or add some VST filters to OBS Studio rather than have to over compensate for a muddy sounding mic or correct sibilance on a mic that't too bright. If I was Goldilocks testing microphones this one would be "just right".
The audio quality is up to 24-bit / 96 kHz so perfect sound is always possible. There is a pop shield included to stop any mic popping. The desktop stand was a little basic and I'd perhaps swap that out in favour or mounting it on a boom arm. Finally there is a high / low switch on the back. If you're close mic for podcasting or tutorial videos you'll want the low setting. The high setting adds quite a bit of gain and it's easy to distort if you're too close to the mic. I'd use the high setting for online calls and perhaps live streaming and webinars where I'd like the mic on my desk out of sight.
The Beyerdyanmic FOX performed well in both a studio environment and my big, open reverb heavy living room.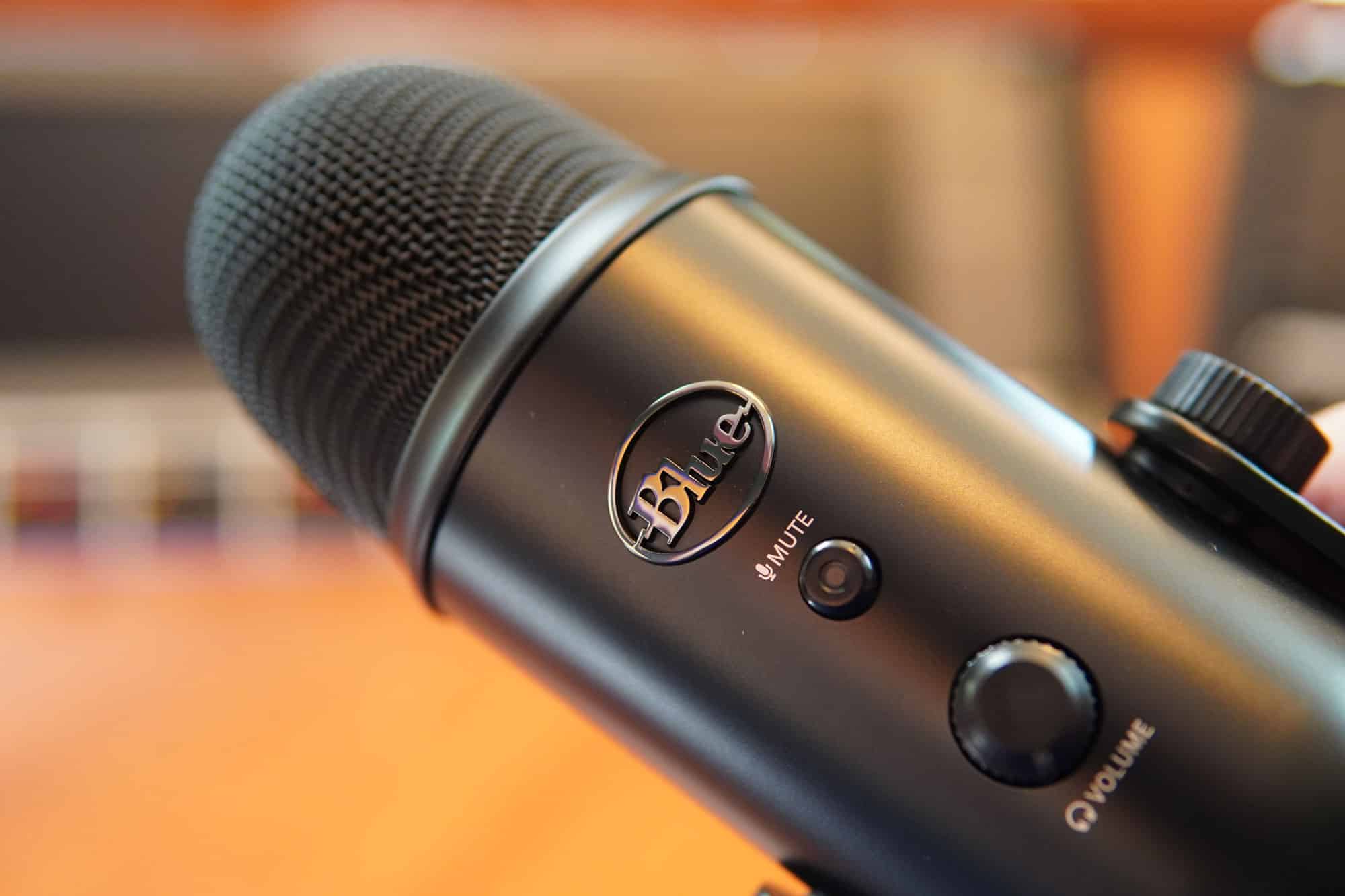 If you haven't heard of the Blue Yeti microphone you've been living under a rock. The Blue Yeti USB microphone originally launched in November 2009 and has since come out in a variety of different colours such as Aztec Copper and Blue Teal (which I wish were still available as they'd suit MRC brand colours perfectly!) They've also created spin-off versions of the mic such as Blue Yeti Nano and Blue Yeti Pro. The latter comes with the option for XLR connectivity – yay!
Enough about asthetics… how does the Blue Yeti actually sound? Just like all the other USB mics in the selection I reviewed it has a decent sound and can be post processed to sound even better. The Yeti comes with a rather large and substantial desktop stand meaning it's designed to sit on your desk. You could mount it to a boom arm if you wanted too.
The audio quality only goes up to 16-bit / 48 kHz which is not a deal breaker if you're working with spoken word content creation. I'd have like to have seen a pop filter included, like some other USB mics, as it did pick up a few pops in my testing. This is something I could improve with my mic technique or by purchasing a cheap pop shield online. You have a multitude of different polar patterns making the Blue Yeti ideal if you're recording many different sources (voice, music, interviews and more).
The Blue Yeti was solid performer in both my recording studio with a little extra room reflection picked up in my living room test.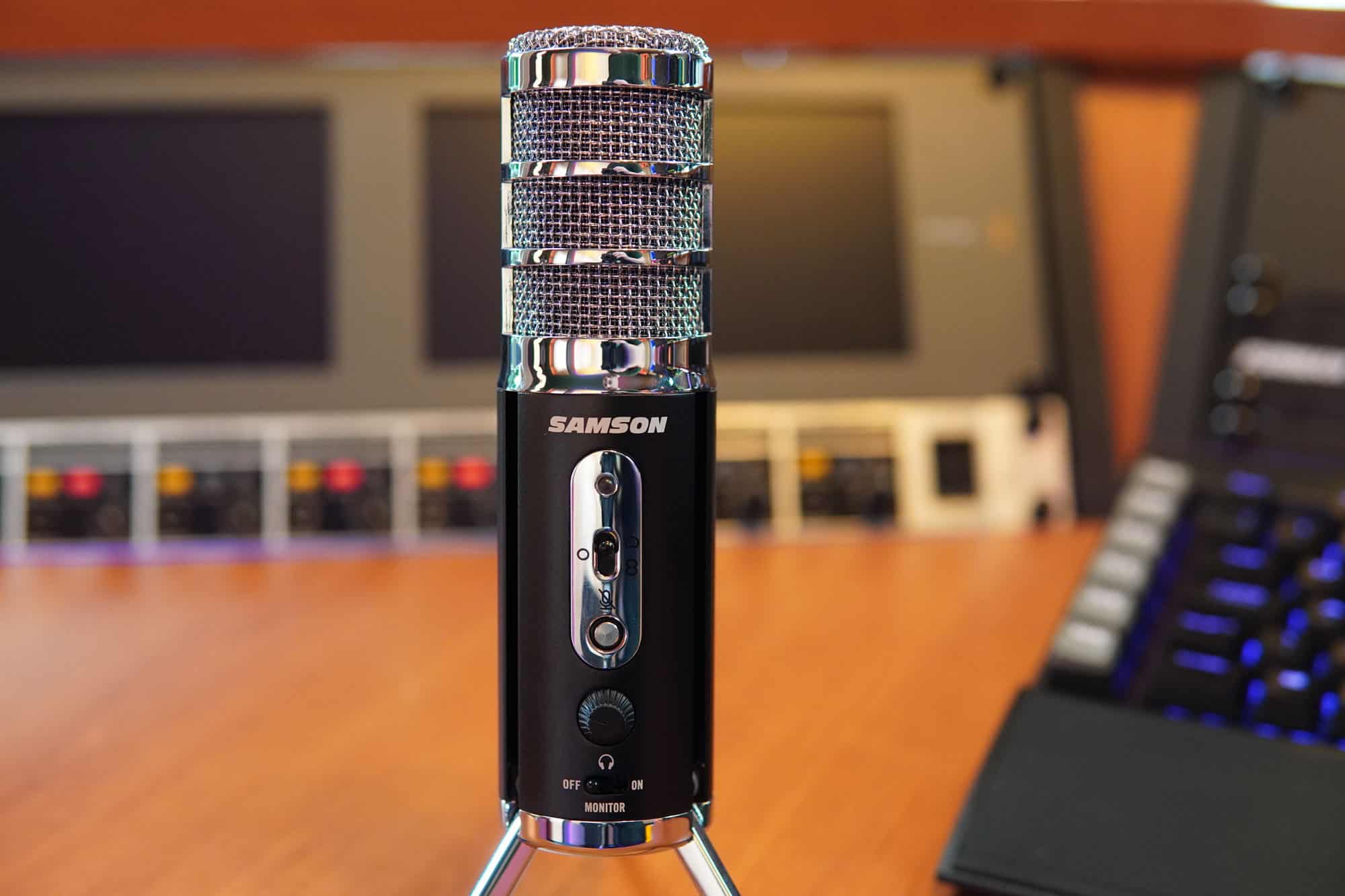 Wow, the SAMSON Satellite is LOUD! I found that it would distort like crazy if I spoke at a normal speaking volume in close proximity to it. This is something I can of course fix by going into my computer's settings and lowering the volume and not a dealbreaker at all. It was simply louder than the other USB mics I tested which I delierately made sure where all at the same volume settings.
It has a slick fold out tripod on the bottom making it ideal for travelling and quick setup. There are a few different polar patterns but I'm focusing on the content creator friendly cardioid pattern for my test. The light on the front was helpful as it remains green when the mic is on and powered, red when you clip and orange when the mic is muted.
It had an interesting and perhaps slightly processed sound to it overall. It performed satisfactory in my recording studio and terribly in my living room (echo picked up and very prominent). I'd likely recommend this microphone if you'll have it on a desk a distance away from you making it perfect for conference calls and working from home where you simply need better audio than a computer internal mic can provide.
This USB mic is part of the Elgato family so if you're already heavily invested in the Elgato Stream Deck, Elgato Key Lights and more this will OCD your live streaming setup. It is one of the more minimal mics too meaning it won't look too bad on screen. The most impressive features for me on this mic are the Stream Deck intergration (via software) and unique 'tap to mute' button on the top.
The sound of this USB mic is also pretty decent and I'd expect that as Lewitt mics (awesome company) designed the mic capsule. The one thing I noticed, in my testing of all the mics, is that this mic is very top end heavy leading to potential issues with sibilance. Something to bear in mind yet nothing that can't be fixed with a good de-esser in post.
This microphone worked well in my recording studio but picked up a little too much echo, in my opinion, in the living room test. It's also the highest priced microphone in this list and probably priced a little on the high side for what it does compared to other mics. It feels like you're paying a premium for software integration here. All in all it's a great mic if you can get your live streaming studio just right for it.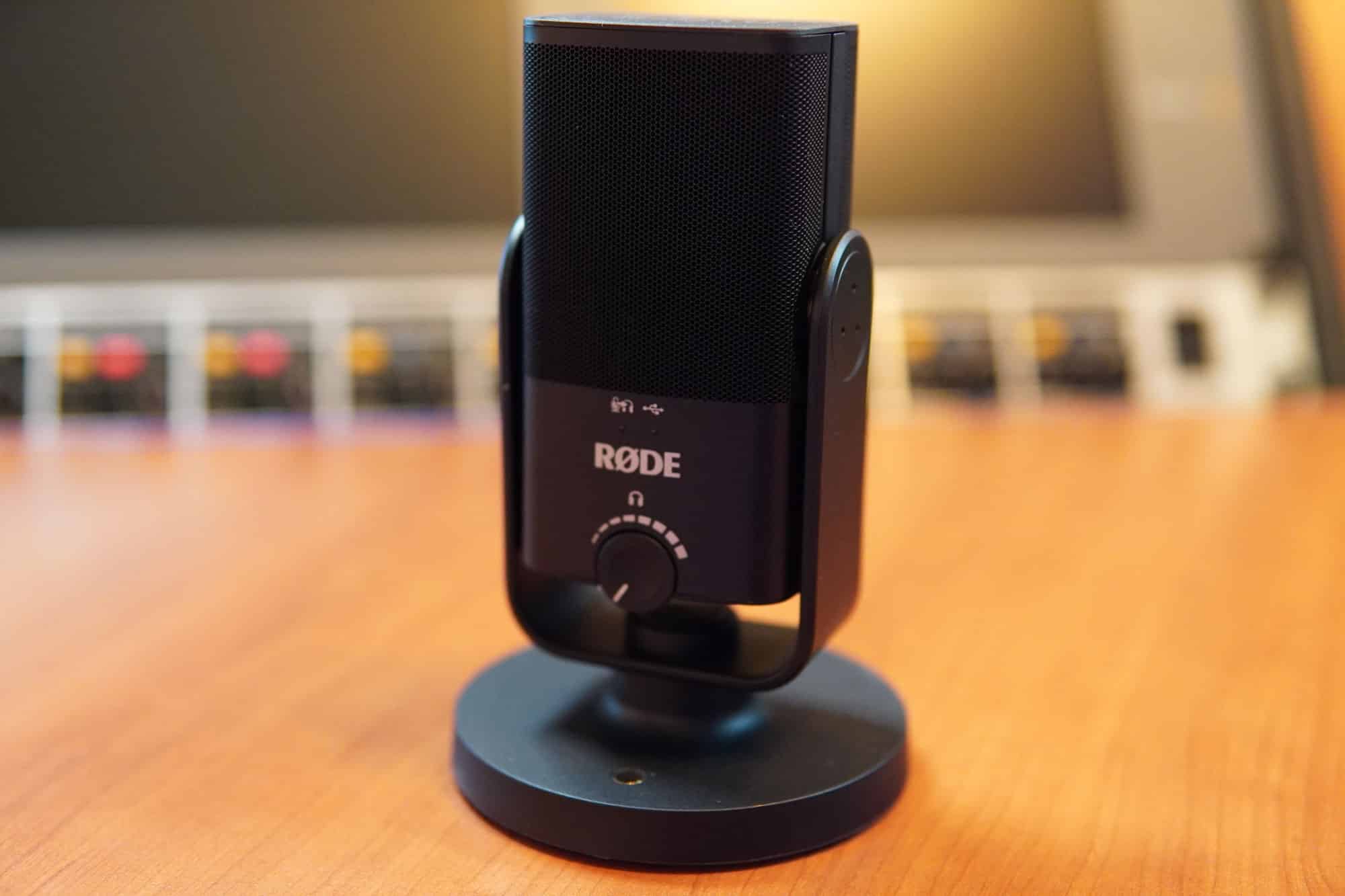 This microphone is so tiny and cute! If you're looking for a microphone that won't invade your mouth on YouTube videos or while live streaming this is it.
RØDE make great microphones and this one is no exception as it has a good and rich sound. A couple of points I picked up on is that this mic is not very forgiving if you go "off mic" you'll quickly hear your voice dip in volume. It also picked up more echo than I was comfortable with in my living room test.
The magnetic mic stand is a really cool add on and the fact that RØDE are building pop filters inside microphones is a real plus. You don't need a huge shield or lollipop pop filter in front of that tiny microphone. The price point (low end of the scale) also hits the sweet spot if you want a USB microphone and will be in a room with fairly good accoustic treatment.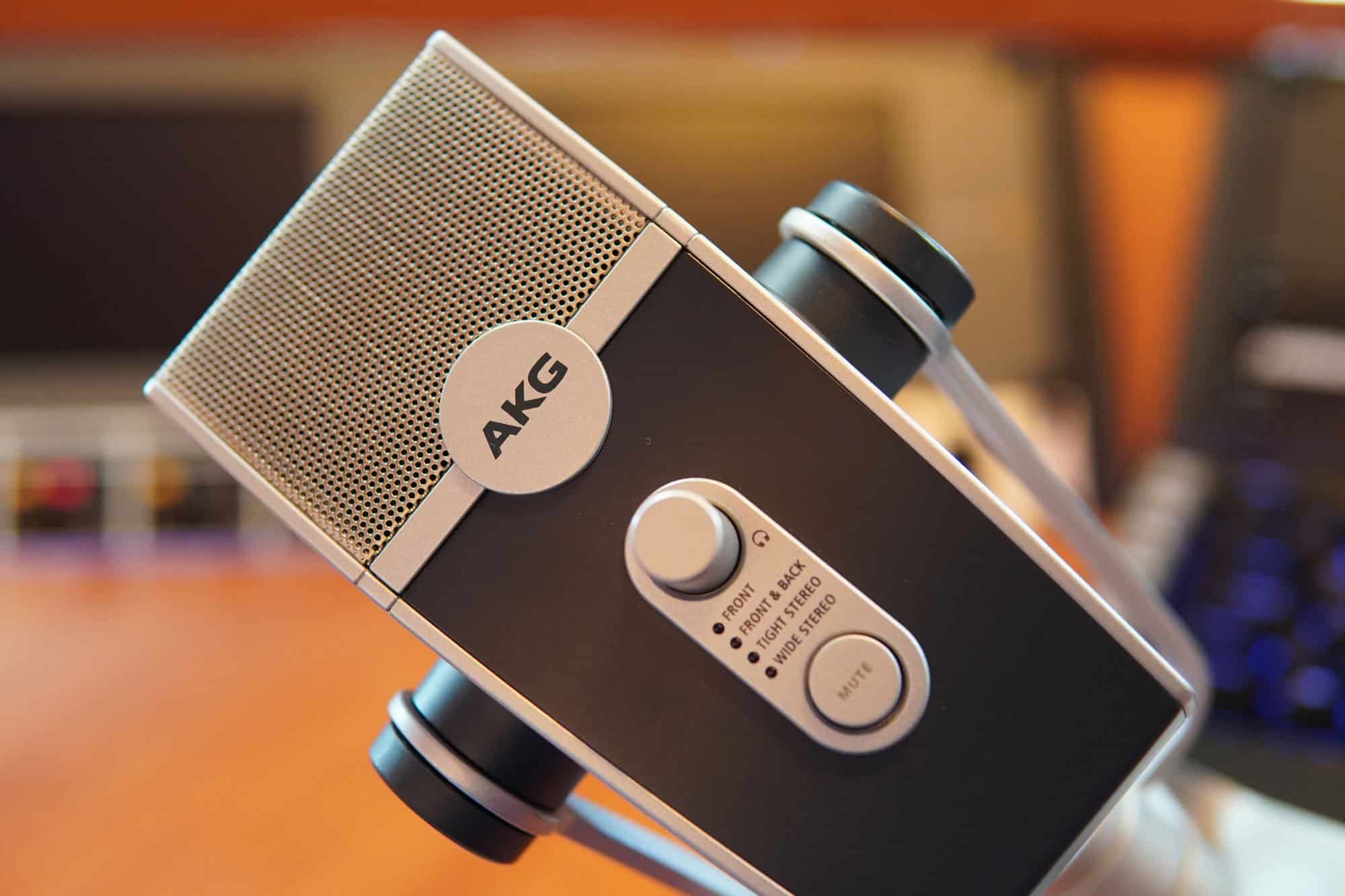 I used this microphone before when I was travelling. It performed well in all kinds of different spaces with little background echo picked up. AKG have been in the microphone making game for a long time so they know what it takes to make a great sounding mic. This is their first attempt at creating a USB mic.
It looks and sounds good in my opion and if you want a retro look on screen the Lyra microphone does this in style. The switchable polar patterns are easy to understand with language like "front" and "front & back" instead of "cardiod" and "figure of eight" which you only really understand if you're an audio nerd!
The only thing I found a little inconvinent was the stand (which is detatchable) as it was hard to pack easily into a case or backup. If you're going to have this mic on a desk in your studio then travelling is not an issue.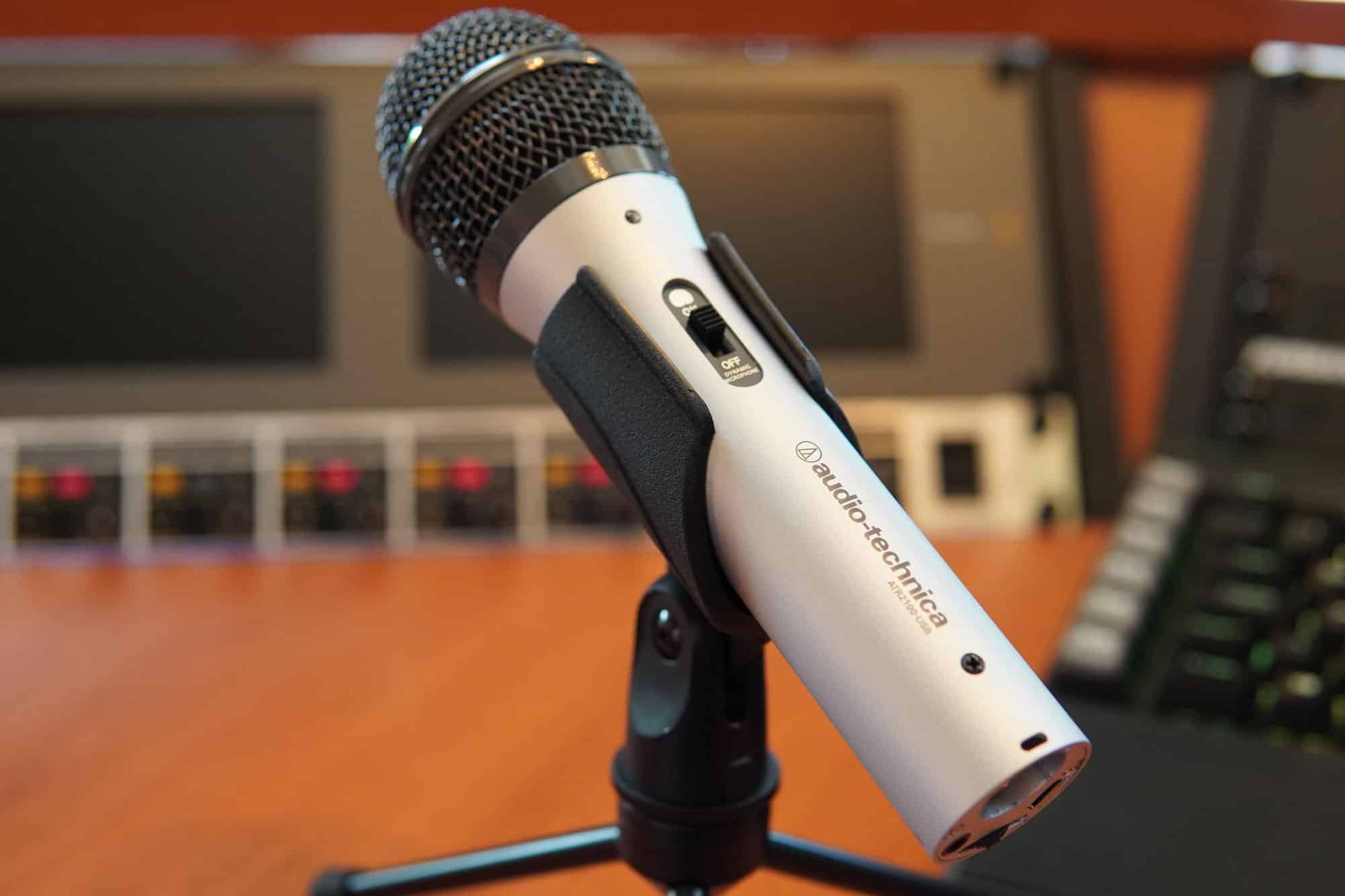 A final test went to the "cheapest USB microphone" which is now known as the Audio-Technica ATR2100x. It was a mic I wanted to test as so many podcasters use this model when they're getting started and the budget is tight.
The sound quality is not great but, at the price, that's to be expected. You'd need to do a little bit of post processing in order to make it sound great and compete on a level with the other microphones in the list.
The benefits of this model are that it is very portable and has an optional XLR cable connection too. The sound in both the studio and living room test was fine with little echo in the latter test. If you're working in this (around $100) budget the RØDE NT-USB Mini is around the same price and sounds much better.
USB Mic Conclusion
When you've read this far you'll want to know which mics I like the best. Here they are with a few different use cases covered as a mic that is ideal for one situation may not work in another environment.
Best USB Microphone All Rounder
After all these tests if you're looking for a USB mic that will sound great in a number of different locations at a decent price point the Beyerdynamic FOX is it.
Best USB Mic for Background Noise Rejection
Some USB mics were really poor at background noise rejection. Beyerdynamic FOX, AKG LYRA and Audio-Technica ATR2100 were the best for background noise rejection. The ATR2100 had a very tight pickup but also lower quality audio than the FOX and the LYRA.
Best USB Microphone for Conference Calls
The Beyerdynamic FOX has a high gain setting on the back of the microphone which makes it perfect for placing on your desk and out of sight for online calls. It also feels like the SAMSON Satellite was designed for online conference calls (as the gain is very high). The SAMSON mic comes with a lightning cable meaning you can use it for calls on iOS too. Both the Beyerdynamic and SAMSON mic will work well for online calls from a home office.
Best USB Microphone on a Budget
The three budget mics in this list are the RØDE NT-USB Mini, SAMSON Satellite and Audio-Technica ATR2100. If I had to choose between the three and needed a USB mic for under 100 dollars I'd pick the RØDE NT-USB Mini.