Once you have your own web radio station on air the next question you'll ask yourself is, "how do I get more listeners to my internet radio station?" There are plenty of directories that will list you and in this episode Mike provides a rundown of the biggest and best along with bonus social media promotion tips.
Podcast Artwork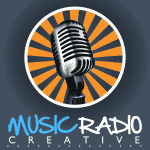 A big thank you to Stu Ritchie of graphic design company Perfectly Individual. Stu worked with me to get brand new podcast artwork designed for the Music Radio Creative podcast. Now that I've hit episode 20 and the response from you, my listener, has been great I'm really starting to take putting the podcast together very seriously. Eye catching artwork from Stu is just another way to help get your podcast noticed in an iTunes store full of great podcasts with super artwork. Stu reached out to me after I created a podcast episode talking about radio station logo design and he was a joy to work with.
Promoting Your Internet Radio Station
Big Internet Radio Directories
Here are some directories you should get listed in. This is my experience with getting my internet radio station listed online and do note that your own experience may vary. The first are the big players in the internet radio world and the good news is that most of them are pretty easy to get listed with too.
TuneIn Radio – This is the ONE to get listed in and I'm pleased to report that within 10 minutes of filling in and submitting an online form I had an email back to say I was listed. Impressive! The radio station was showing up right away at the URL I was provided and within around 12 hours mrc.fm became searchable on TuneIn's websites, apps and many third party devices. TuneIn works with Sonus, Roku, Squeeze Box Radio, in-car radio and also has apps for Android, Blackberry, iPhone & iPad so it really does get your radio station everywhere.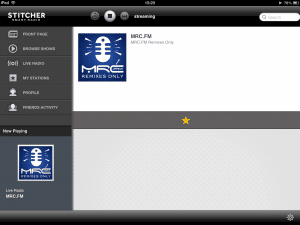 Stitcher Smart Radio – You may consider Stitcher to be a platform to submit new podcasts to but Stitcher does maintain a 'live radio' tab and I had an extremely straight forward experience of submitting my radio station to Stitcher. I'm already signed up to Stitcher as a content provider for this podcast so all I needed to do was drop an email to their content partnerships address content@stitcher.com and I found mrc.fm listed in under 24 hours – it appears in my partner's portal but no statistics are provided for live streams – this is not a great worry as I can monitor listening figures in my web radio host control panel. Many radio stations listed in the 'live radio' tab of Stitcher appear to be commercial radio stations in the US (not many internet broadcasters have cottoned on yet) and some categories seem quite sparse which could be an advantage in terms of traffic if you get your station in there now. Electronica, where mrc.fm is listed for example, only has 10 other live streams.
iTunes Radio – I found it amazingly difficult to find up to date guidelines on how to submit my internet radio station to iTunes radio so that it may be enjoyed on Apple products such as Apple TV and iTunes. I looked for the most up to date guidelines on the internet, submitted, got a reply back and found those guidelines to be out of date! I then re-submitted my radio station details following the instructions in the auto responder from Apple exactly. I'm still awaiting a listing and will contact Apple as they say to email if there is no response within 5 business days. If you're looking for up to date information on how to submit your internet radio station to iTunes Radio simply copy and paste the details below (changing them to match your radio station details) and email to itunesradio@apple.com. Also, note that stations must be at 128k bit rate or higher to get listed unless you're broadcasing speech such as news, talk, comedy or business where a bit rate of 64k or higher will be acceptable. Details I sent on 6th November 2012:
To: itunesradio@apple.com
Subject: Station Submission: mrc.fm
iTunes Store login account/email address: <insert your ID here>
Station Name: mrc.fm
City/State/Country of Origin: United Kingdom
Language of Broadcast: English
Stream Type (MP3, AAC or AAC+): MP3
Station genre: Electronica
Explicit material? No
Website for station:http://mrc.fm
Short station description: Remixes Only
Contact name, email and phone number: Mike Russell, podcast@musicradiocreative.com, 020 8099 7796
Bitrate: 128k
Audio Stream IP/URL:stream.mrc.fm:8014
Cover Art: attached
Windows Media Radio Guide – This one takes a little while and some effort but is worth it in my opinion – after all it is Microsoft's internet radio directory. You start by sending an email to tuner@microsoft.com with these details adapted to match your own radio station.
To: tuner@microsoft.com
Subject: Station Submission: mrc.fm
Your station name: mrc.fm
Your business name: Music Radio Creative
Your web site address :http://mrc.fm
Your country or territory : United Kingdom
Please confirm that your station complies with your applicable territories' (country's) laws: YES
Please confirm your station is 24×7: YES
What is your current user traffic to your station(s)? 20-30 listeners daily (hard to tell it's just started)
How many stations do you currently have and what genres? ONE – THIS ONE – Genre: Electronica
A direct streaming link to the station you are submitting: http://listen.mrc.fm/playlist.asx
Your streaming link must be an asx (Windows Media compatible file) to be accepted but this is not too hard to achieve if you have the media buttons plugin installed on your WordPress website that I mentioned in the last podcast episode.
After submission to Microsoft they will send you an 8 page contract to read, sign and return by post to their US headquaters before listing your internet radio station. There are many Windows users and I certainly want mrc.fm to be listed on Windows Media Player so I'm happy to go along with this process.
Media UK – A big thank you to James Cridland of Media UK for getting mrc.fm listed so quickly. If you have a fully licensed internet radio station based in the UK you can apply for a listing in the radio section of Media UK. It is the go to site for British media websites, jobs and news. You can contact Media UK here if your radio station is eligible for listing.
Radio Directories with Traffic
SHOUTcast – I've noticed that streaming on SHOUTcast instead of Icecast seems to bring you plenty of random listeners (even before I listed my station anywhere else) due to the fact you'll automatically appear on the SHOUTcast directory about an hour after you start you internet radio stream.
Delicast – This is a site worth getting a listing on. It was about 4 days before mrc.fm was approved to appear in the listings but I'm glad I applied to Delicast. The mrc.fm website now gets plenty of traffic from Delicast and the best news is it's easy to submit your station to Delicast.
Easy Sites To List Your Internet Radio Station On
Other websites that I had quick and easy listening experiences with included:
RadioTuna – Easy to use, clean website and great integration with social media.
Tuner24 – Quick listing (within a week) and another source of free traffic to your radio station's website.
Web Radio Central – I went for the free listing but you can pay to upgrade your visibility.
Radio Directories I'm Having Difficulty Getting Listed In
I still await a (hopefully positive) response from Apple regarding a listing on iTunes Radio and I'm sure it will be a great source of traffic once mrc.fm is listed. Other websites I tried to list on included TruMix (the website seemed to be down when I checked) also StreamingThe.net and Streema are two websites I submitted mrc.fm to but heard nothing back from yet. The final website is internet-radio.com which you can list your internet radio station with. The only thing they ask for in return is a link exchange back to their website. As Google don't see this as a best practice I decided against swapping a link for a link.
Social Media Tips for Internet Radio Stations
Facebook for Internet Radio
Let's face it – most people are on Facebook for leisure – it's the perfect place to ask them to tune in to an internet radio station while they enjoy perusing the rest of their news feed. I posted a quick status update on my personal timeline to say I was happy to have my radio station live and within minutes I had replies asking for the link. I posted a link to listen live and you can see what happened to my stats (zero to hero) after posting just ONE link on Facebook. I'm sure the power could be greatly magnified if it was posted on a Facebook page with large following or if you paid for Facebook to promote your post. The options are endless!
Twitter for Internet Radio
Gavin Harris, of Onslaught Radio and Reading 107, gave this great Twitter tip on a recent Audio Production Mastermind. Twitter is realtime so a great place to get new potential listeners from. Use Twitter search to find relevant searches related to your radio station's niche and engage Twitter users to attract more potential listeners.
Online Radio Directories
Is there a directory or website I've missed out? What has your experience of promoting an internet radio station been? Leave a comment and let me know!
Podcast: Play in new window | Download