How to Make a Siri Voice Over – Free Siri Voice Generator
Siri is one of the most known virtual assistants on macOS devices. In 2022 TikTok is leading the trend of using auto generated voices for content creation. There are many memes available of accidental typos that make the content ten times more fun and engaging. In addition to this Siri voice overs can be used for YouTube videos, educational video content and more. Best bit? It's free! Many content creators choose this over paid human voice overs.
Looking for login/registration free way to download siri generated voices? There is a way (more than one in fact!) If you're using macOS the process to make Siri say whatever you want is easy and below we will show you detailed step by step guide on how to do that. For PC users Adobe Audition is required – the results are by far the best, so keep reading on.
Default Siri Voice
In the past Apple would default to specific voices on their devices. This was different for US and the UK. The default Siri voice, in the UK, was a male by the name of Daniel. The US had a female Siri voice enabled by default. This has changed as of iOS 14.5 – now during the setup process users are prompted to choose their preferred Siri voice assistant. In addition Apple runs all their voices through Apple's Neutral text to speech engine – making the voices flow more organically through words generated on the fly. In other words – very clever AI stuff! The news also has it that big tech companies are trying to remove any gender association from their digital voice assistants. Studies show that female sounding voice can reinforce bias and negative stereotypes for example.
Make Siri Say Anything on macOS – Free, No Logins, Registrations!
The easiest way to get started is by loading the Terminal app on macOS. You may do this by searching for "Terminal" in Spotlight (cmd & spacebar) or head to Applications > Utilities > Terminal.
Once Terminal is launched simply type say followed by the text you'd like Siri to speak back to you.
say Hello from Music Radio Creative
Changing default voice inside your Mac System Preferences will not change the voice inside the terminal. You get the male default Siri voice. Keep reading on for details on how to select a different voice for terminal recordings.
Record Siri Generated Voice on Mac For Free
You can use default QuickTime Player on your Mac.
Open Quick Time Player app.
Choose File > New Audio Recording
Options menu will allow you to choose a different microphone (if applicable) and specify quality of the recording (always select Maximum!). By default you will get compressed file – for best quality change this to Maximum. Although note that this will result in files being much larger. File specification below:
| | |
| --- | --- |
| High | 44100 Hz AAC audio |
| Maximum | 44100 Hz, uncompressed Linear PCM 24-bit AIFF-C audio |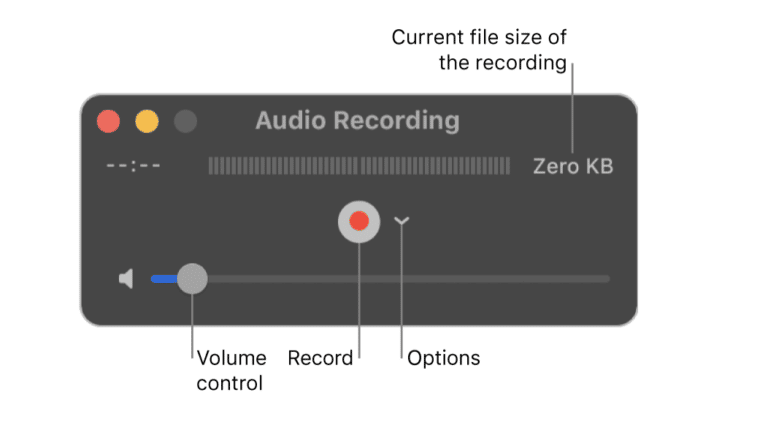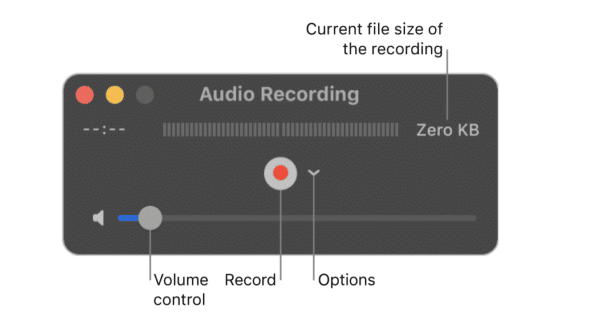 All you have left is click the record button (red circle) and play the audio from the terminal. Note that you will need to play the entire thing to record it. This can be time consuming if you have put Siri Voice Over to some serious work.
How to Create a Siri Voice in Adobe Audition – PC & Mac Compatible
Adobe Audition CC and above comes with a cool generate speech feature. This isn't free (as you need to have Adobe Audition license) but compared with the above method it can save you a ton of time!
Access it from Effects > Generate > Speech…

Now you can type the text you'd like generated into the text box. There are other settings such as speaking rate and volume. Once you're happy hit the OK button and you'll end up with a waveform that you can save as an mp3, wav or other audio file format.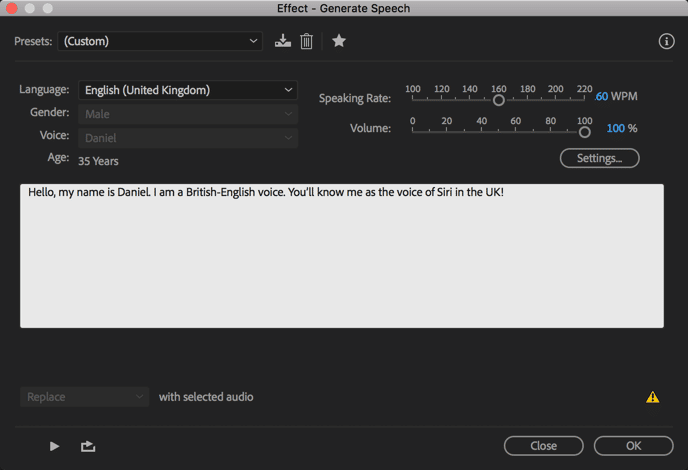 The audio file will be automatically generated in seconds and ready for you to use in your audio and video projects. This is quite special considering how easy it is!
Siri Voice Generator – Female Voice, Different Languages & More
If you'd like to make a Siri voice from another part of the world speak to you via the Terminal – you can download and switch voices easily on macOS. Head to System Preferences > Accessibility > Spoken Content where you can choose a different system voice.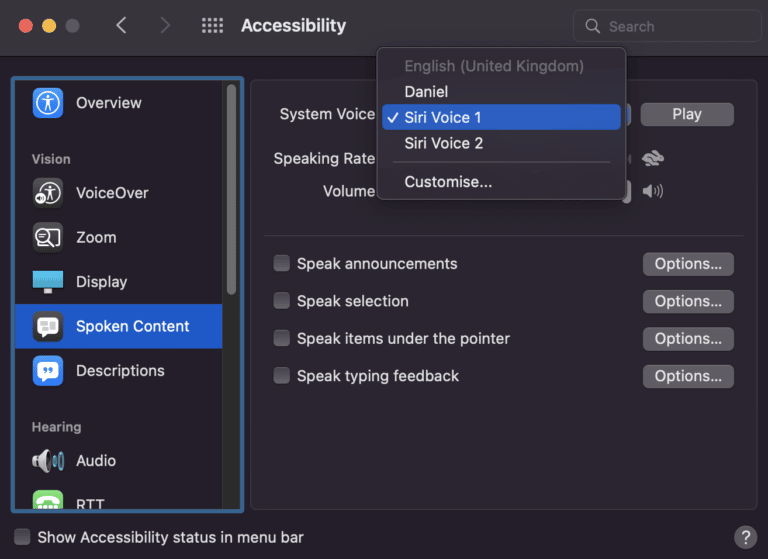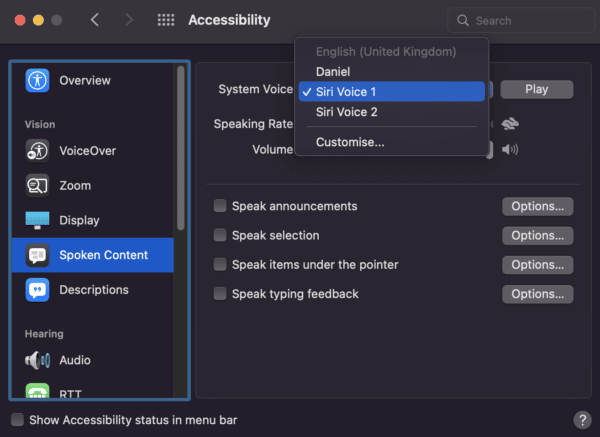 The default Siri voice for the UK is Daniel. By clicking Customise you will be presented with a ton of different options and voices. Multiple languages are now also available. You can also tinker with the speaking rate and volume to suit your requirements. Once you've chosen a different voice you can activate it with the say command in Terminal (as described above).
say Hello, I'm Samantha, the voice of Siri

Siri Voice Generator Online
If you're looking for an online Siri voice generator your options are limited. There's no official site from Apple to create the Siri voice using their official text-to-speech. We have previously talked about Top Text To Speech Tools here. You'll need to use a text to speech website online to create your own fake Siri voice. Here's a look at one of my favourite free text to speech generators.
httpv://www.youtube.com/watch?v=MjR6wrB1Luo
Text to speech may not be the answer for your project. If you are looking for genuine, high quality, professional voice overs – we have a team of over 150+ voices in different languages to help with your next project. Get a quote easily online now!