How to Make a Siri Voice Over
If you're using macOS the process to make Siri say whatever you want is easy. If you don't want to dig into code you can use Adobe Audition as a Siri voice generator. There are also third-party sites that come close to generating a Siri voice over. Read on to find out how!
Male Siri Voice Generator
The default Siri voice, in the UK, is a male by the name of Daniel. The US has a female Siri voice enabled by default and I'll cover how to generate the female Siri voice later in this article.
Make Siri Say Anything on macOS
The easiest way to get started is by loading the Terminal app on macOS. You may do this by searching for "Terminal" in Spotlight (cmd & spacebar) or head to Applications > Utilities > Terminal.
Once Terminal is launched simply type say followed by the text you'd like Siri to speak back to you.
say Hello from Music Radio Creative


How to Create a Siri Voice in Adobe Audition
Adobe Audition CC and above comes with a cool generate speech feature. Access it from Effects > Generate > Speech…

Now you can type the text you'd like generated into the text box. There are other settings such as speaking rate and volume. Once you're happy hit the OK button and you'll end up with a waveform that you can save as an mp3, wav or other audio file format.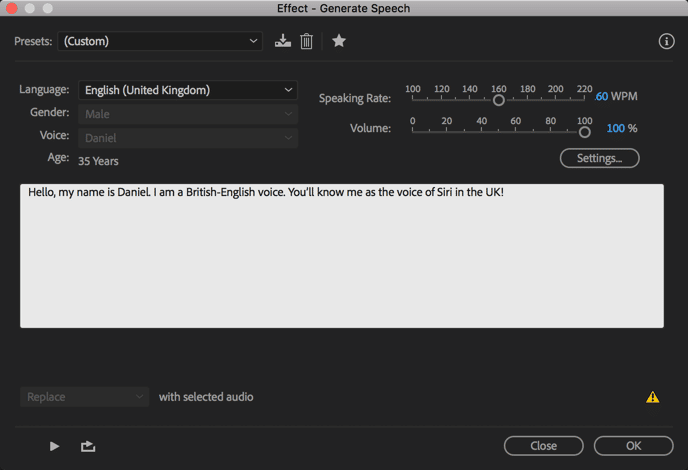 Female Siri Voice Generator
If you'd like to make a different Siri voice from another part of the world speak you can download and switch voices easily on macOS. Head to System Preferences > Accessibility > Speech where you can choose a different system voice.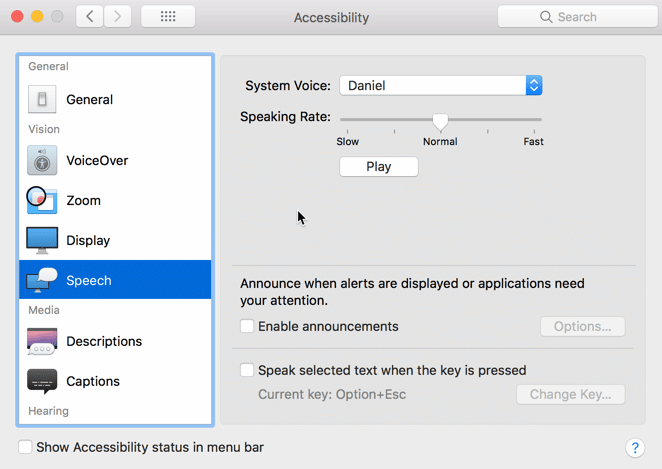 The default Siri voice for the US is Samantha. Once you've chosen a different voice you can activate it with the say command in Terminal (as described above).
say Hello, I'm Samantha, the voice of Siri


Siri Voice Generator Online
If you're looking for an online Siri voice generator your options are limited. There's no official site from Apple to create the Siri voice using their official text-to-speech. You'll need use a text to speech website online to create your own fake Siri voice. Here's a look at one of my favourite free text to speech generators.