Today we're going to dig in to those cute little 60 to 90 second videos you see when you visit a website and how it can help your own business.
What Are Explainer Videos?
They're basically the small videos that pop up when you go to websites. They're very common especially in the startup world, usually light hearted in nature, featuring a cartoon character welcoming you to a website normally accompanied with background music and a voice over explaining basic information on how to use the product or service you're selling. It is essentially there to make you feel good and make you feel confident about their website and tell you that this website is the website you're looking for.
Why Have An Explainer Video On My Website?
Often it is the case that website visitors don't want to read through much of your website content anymore. That's when an explainer video will be helpful. Perhaps you want to make the first sale to a new customer and you want to convince them of the product you're selling as fast as possible. Particularly for radio broadcasters, podcasters and the businesses in general, the purpose of explainer videos is giving a face to the voice.
Voice Overs For Explainer Videos
Adding a visual element to voice artists may be a good selling point for some. It's important to make the company more human and social, to show that the company is represented by real people and somehow establish a connection and bring your website visitor closer to you. Even the most prominent companies have faces, Microsoft has Bill Gates and Apple has Tim Cook.
However, some voice artists are not really comfortable appearing in front of the camera. For this reason, a good solution would be to use a cartoon character, perhaps a caricature animated face of the voice actor as a replacement for appearing live.
Do People Watch Explainer Videos?
Just to show a demonstration of how explainer videos may be helpful, we've used Crazy Egg, a web service that identifies where visitors click most on your website. As of this moment, the most clicked location on our website is the video. So people are clicking it, they are using it and that just shows you the importance or the possible reach and influence an explainer video may give.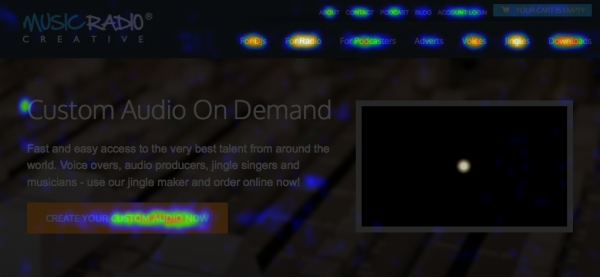 Tips On What To Look For In An Explainer Video
First you have to consider your audience. Who frequents the website? The demographics, male or female, age group and the like and then you can adjust accordingly. You may want to use a more mature voice to cater to certain audiences or a fresh and younger sound for other types of audience, or use a female voice for male audiences and vice versa. In this case, a professional voice over would be better and more beneficial as it will give you that natural sound which is better when it comes to explainer videos. In general though, there's no set rule as something may work for others but not for you so what is important is trying to make it relevant to your own audience and your product.
What Content Should The Video Have?
Choosing the right style should reflect your brand. Whether you use real people or a cartoon, how much budget you are willing to spend for the video, you have to consider the value that an explainer video may give to your business and how helpful it can be. In your explainer video, you have to make the visitors feel confident that you're the right company for them, the right product or service when they go to your website. In the end you have to tell the visitors what they need to do next through a call to action. For example you can tell them to click here, email, message or contact you.
Podcast: Play in new window | Download