According to Podcast Insights, 44% of podcast listeners are women. As more women embrace podcasts, the number of women podcasters/podcasters who identify as women continue to grow. In fact, women have been spearheading movements that encourage podcasting and connecting with your community.
Podcast Communities
Elsie Escobar and Jessica Kupferman started the She Podcasts Facebook group in 2014, so aspiring and current women podcasters could have a place online to get quick podcasting answers, tips and resources from one another. It now has nearly 14,000 members. Elsie and Jessica also host the "She Podcasts" podcast, which has almost 10000 downloads per month. Plus, the first annual She Podcasts Live conference, aimed at professional as well as hobbies podcasters, took place in Atlanta this October. "We want to host this first event to provide a space for all of us side-hustling podcasters navigating our work in a male-dominated industry," according to their website.
"The vision for She Podcasts is to support and nurture as many female-lead podcasts as possible, and to encourage knowledge sharing without excessive promotion. … "Through the podcast, group coaching, workshops, webinars, and other educational materials, Elsie and Jessica hope to grow the number of successful woman-hosted podcasts, thereby giving light and voice to the millions of messages that need to be shared with the world."
Another "podcaster whisperer" is Jennifer Navarrete, who in 2017 started National Podcast Posting Month aka #NaNoPodPo. The goal is to jumpstart or revitalize your podcast by posting an episode every day in November as a form of podcasting boot camp. Jennifer will host her first annual PodCon the end of October in Texas.
Other women-focused podcasting groups worth mentioning include:
Women in Recorded Sound: An informal collective designed to empower and provide support to women working with or having a general interest in recorded sound, as well as networking and social opportunities, and a platform for the free exchange of ideas/information.
Women Who Pod: A community of women podcasters, sharing thoughts, ideas, and tips of the trade for podcasters at all levels. "Our credo is helping each other, and everyone wins."
WOC Podcasters: An inclusive group for women of color podcasters or aspiring podcasters. It's a place to connect, learn about podcasting, and share resources, as well as to find potential guests and talent.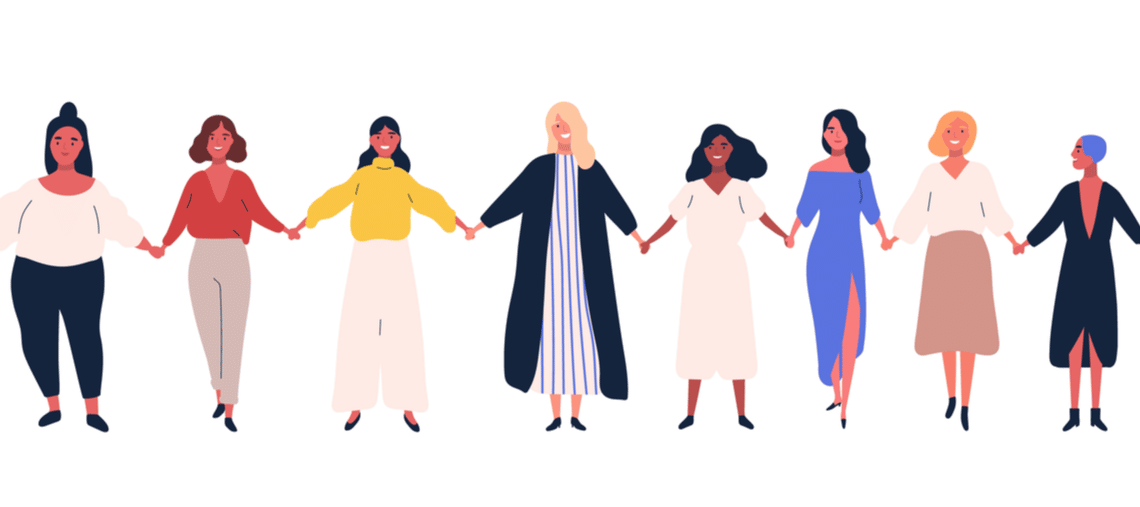 Podcasts for Women & Women Podcasters
While there are fewer women podcasters than men – a 2018 Infinite Dial Study says women host only 22% of podcasts – the number continues to grow. Plus, women seem to be podcasting in all genres, from business and health to lifestyle and pop culture.
Since there are so many women podcasts lists available, here's are some of the most comprehensive lists of the best women podcasts/podcasters:
Their Top 5:
So Money Podcast. Host: Farnoosh Torabi. So Money brings inspiring money strategies and stories straight from today's top business minds, authors and influencers.
Girlboss Radio. Host: Sophia Amoruso. Each week on Girlboss Radio, you'll hear honest conversations with trailblazing women.
Brand New Nation. Host: Danielle Leslie and Krystle Rowry. Dani & Kriss interview content creators doing what they love for a living.
Creative Empire Podcast. Hosts: Reina Pomeroy & Christina Scalera. Each week, Reina + Christina bring you up close with the influencers you dream of meeting at conferences and workshops, but maybe don't have a budget to attend yet.
The Strategy Hour Podcast. Hosts: Abagail Pumphrey and Emylee Williams. Get actionable strategies and killer marketing tips to grow your creative business.
Their Top 5:
Final Thoughts
Whether you are a podcaster, podcast fan, or both, there are plenty of women podcasting resources at your fingertips. Like with women, podcasting for women is only going to get better with age.
Do you have an excellent resource for women podcasters? A favorite female-fronted podcast? Please share in the comments.