The best Adobe Audition effects are often those that you create yourself using your ears. I reveal my best presets, vocal settings and give them away free!
I talk about the best Adobe Audition presets to use on radio sweepers, DJ drops and for podcast intros. Adobe Audition CC has been announced and will be available to download from 17th June 2013 onwards. The Adobe Creative Cloud announcement has been met with some controversy but I'm fully embracing the fact that my creativity is in the cloud and that I can start learning other Adobe software as part of my membership.
My Best Adobe Audition Effects
This is a great vocal effect for any voice that you'd like to stand out and sound stereo. The effect (or similar) has been used on many a radio ID not least because it sounds great on car stereo systems and helps to highlight a message. It's a simple chorus effect with some of my own tweaks, compression and a little studio reverb for sparkle.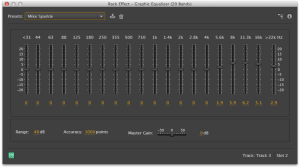 I add some of my own custom EQ to voice overs, like my own, and other voice over artists that perform work for Music Radio Creative. I push up the high range frequencies to give a little sparkle to the voice. Some voice artists don't need this process but in many cases sessions come in dry and need a little brightening up.
This is not something I would apply in the waveform view of Adobe Audition rather the multitrack as it involves a number of different effects (including Dynamics Processing, Graphic Equalizer and Studio Reverb). A little wetness on the reverb adds a great sound to audio production although other radio imaging producers may argue that reverb is old fashioned and that you should knock out low and high frequencies on a voice over so that it cuts through anything – just like those fancy men's razors you see advertised on TV!
There are many echo presets in Adobe Audition some of which are really decent and others are not designed to be used on vocals. I have created my own custom echo that works great when you mix vocals with music and imaging sfx. Echo is great for when you end a radio jingle or DJ drop so that the radio station name or host name echoes away into a music track. Listen to some examples in the podcast audio.
There is a really cool multiband compressor integrated from iZotope into Adobe Audition CC but I find the native Audition 'Dynamics Processing' perfectly fine for compressing voice over sessions. It's not too heavy and this is important especially if you're going to compress the voice again when you drop it into the multitrack. The compression is simply a light 2:1 setting above -20dB but it makes a difference to raw voice sessions.
Free Adobe Audition Presets
I promised you an easy way to download all of the presets I've spoken about in the podcast and here it is! Get your free Adobe Audition presets.
Podcast: Play in new window | Download