Many podcasters have been playing with the idea of doing live podcasts. Podcasting live can be effective, so long as you have the right equipment, the right guest, and the right audience. Sharing your podcast live on IGTV, Facebook, YouTube, and other platforms is a great way to involve your listeners and break up the monotony of pre-recorded content.
If you would like to offer the listeners the opportunity to engage with you and your content, go live! Your listeners will feel like you're there and you can capitalize on the opportunity to interview a whole different set of guests, face-to-face. We've pulled together the best equipment for live podcasting, discuss the mechanics of it, and then dive into the strategy of why you may want to.
Recording Equipment
We've discussed podcast equipment and podcast recording tools you need in our series of previous articles, but that list changes slightly when you add in video. For instance, if you don't have a built-in camera on your computer or laptop, you'll need a new recording device. Upgrading your camera may be a good idea – as video quality matters hugely! To make matters easier we have divided our recommendations into various budget brackets for you.
High-End
This is the recommendation list for those taking things seriously. This is a high end equipment that will enable you to look great, make your video professional and also usable on a variety of different platforms.
Cannon EOS M50 – one of a very few mirrorless cameras that give you the option to be used as a webcam on your computer. The quality is absolutely stunning, you also can accessorize with various lenses. We have added EF-M 32MM lens to our setup. Yes – this nearly doubles the cost but oh my is it worth it! The lens gives the effect of wonderfully blurred background and pops the object (you) right up against any background. We have recently added this camera to our own live streaming setup and so far we have nothing but good things to say!
MEVO – The MEVO Plus camera is light, portable, and has one of the best cameras in the list. The software provided allows you to edit while live and the light correction keeps everyone looking great, even in the dark. This camera is designed for those who would like to maintain a mobile friendly set up. You literally turn your mobile device into personal video editing suite. Compatible with both Android and iOS devices.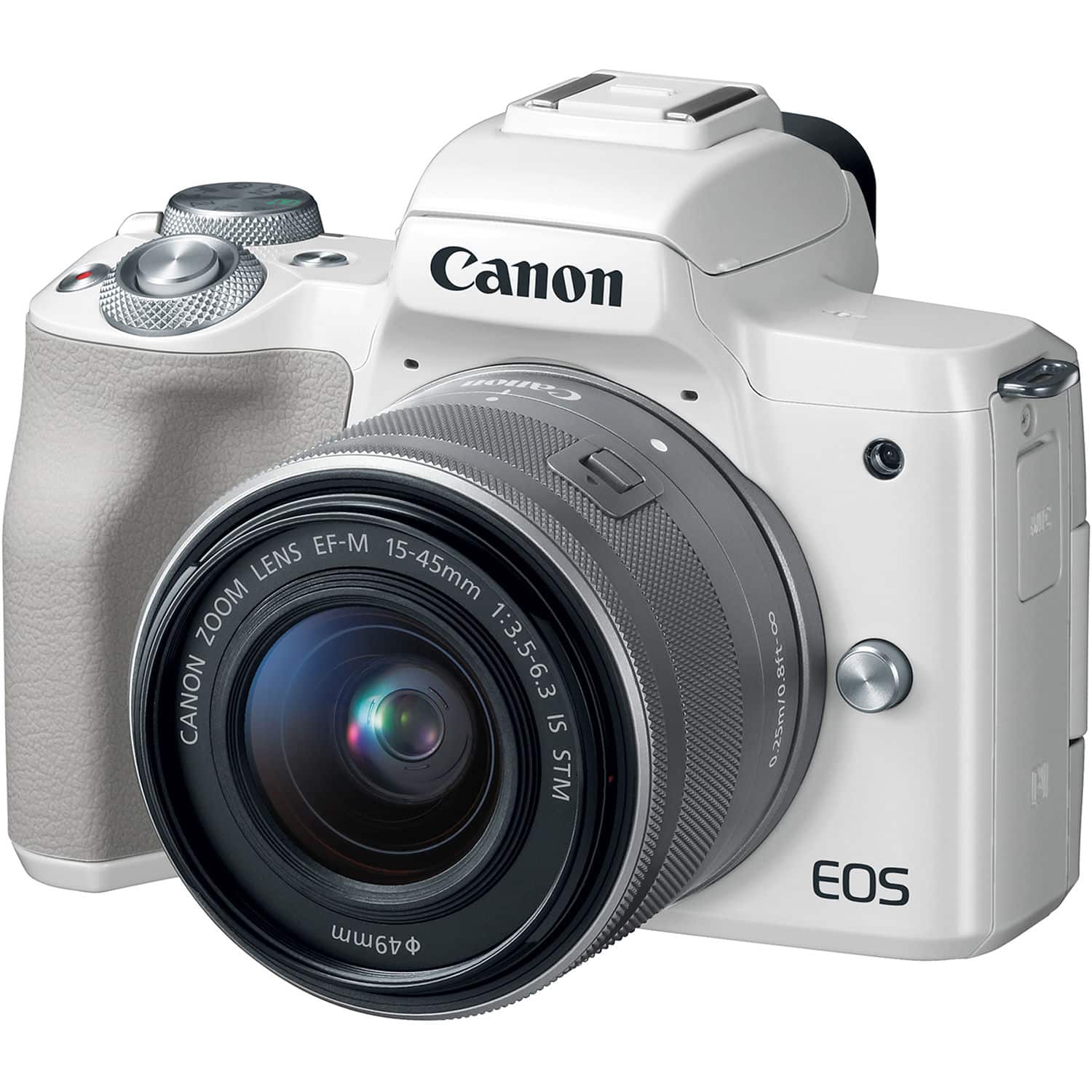 Mid-Market
Logitech BRIO – BRIO is the top of the line webcam available right now if would like to record in front of your computer with relatively minimal requirements. It has 4K UHD resolution and HD recording capability. This camera is likely most optimum for a solo host – as you would need to get close and intimate with your guest otherwise 😉
Logitech C922x – This is a less full of version from Logitech. Comes at under $100 and provides users the ability to remove the background, record in low light conditions, and stream in HD. You have a standard HD recording quality. In our opinion it is worth to spend a little more and get the BRIO – the 4K recording quality is superior and having used both in our studio we can 100% recommend it.
Low End
The low end solution is simply using the tools you already have. Your build in camera on a computer or laptop or even your phone. If you have the latest iPhone or Android device, your built-in camera is the perfect one to use for live stream. The quality isn't going to be great – but often we need to progress over perfection. Get started with what you have and then work your way up to a pro setup once the budget for it becomes available.
Streaming Software
The goal of going live with your podcast is to reach more people across multiple platforms while allowing your audience a chance to interact. To do this, you have to push your stream to multiple platforms at once. The MEVO camera allows you to do this with their provided software, but for your other recording devices, you'll need a separate streaming software. Several are free but they do require a bit of setup and skill. Check out our preferred options below.
OBS — Open Broadcaster Software is an open source streaming software that is regularly updated and maintained by a dedicated group of developers. OBS has a pretty high learning curve if you want to use ALL of the features, but it is also great to set up and stream quickly.
Wirecast — This is a per year paid software that allows you to broadcast your live stream to multiple platforms. The base price is $249/year, but this does not allow for remote guests on your live stream. The software is great for a variety of live productions and is designed for radio productions, social media marketing, as well as live in-person events.
Castr — With Castr Simulcast technology you can push your stream to over 30 platforms at once (with the pro plan). The product starts at $9.99/month and starts with up to 5 social platforms. This software also supports restreaming and streaming pre-recorded videos.
Social Platforms
Unless you've been living under a rock, and if you have you're likely not reading this article, you'll know that social media is where everybody hangs out at. There are many platforms and lets face it – using every single platform is impossible. Before choosing which ones you want to use with your podcast, do some research and find out where your listeners are likely to spend most of their time.
YouTube — YouTube is the number one repository for videos anywhere on the web. Officially the second largest search engine in the world (after Google). If you have fewer than 1,000 subscribers, YouTube will not allow you to go live on your mobile, but you can still go live with your laptop or desktop.
Facebook — Facebook allows you to stream to multiple pages and groups at one time which is handy if you have multiple audiences you're looking to reach at one time.
Instagram — Instagram recently introduced their live stream option and it has become a great way to reach your audience. Because Instagram is a very visual platform, podcasting live on this platform affords you the capability to reach your audience in a completely different way. Many podcasters use IGTV for promoting their podcasts, it is a great way to reach an entirely different subsect of your ideal audience
Periscope — Platform owned by Twitter. It gives you the ability to go live with audio or audio + video. Many people use Twitter for bite-sized pieces of content, but the number of people using the platform for marketing is huge.
Twitch — Twitch is a well-known gamer platform where gamers record themselves playing to create walkthroughs and share gameplay. Recently however Twitch has broadened its horizons with categories that are not specific to gaming.
**Please note that every social platform reserves the right to remove your live streams and all content that is in breach of copyright laws.
Why Go Live?
Even if the overall structure of your podcast does not lend itself to live streaming, occasionally doing a live show is a way to increase your following and engage your existing audience. You can go live to celebrate special moments, run exclusive competitions, share a story about your journey and so much more. With the right research you can make the most out of the time and investment needed for podcasting live. You can be going live on multiple platforms at the same time, enhance exposure and also split test the engagement created on each platform.