The choice wasn't random for us, as Kyran Mountain has been working at Music Radio Creative for a good 3 years now:
He's an absolutely amazing audio producer and has been involved in many audio productions from Music Radio Creative.
A very good podcaster and has worked in so many different places all over Canada, such as Kraze 101.3 (as Commercial and Imaging Producer), GX94 and Fox FM (as Production Assistant).
He was a finalist at the 2012 Radio And Production Magazine (RAPMAG) Awards.
Kyran is also a father – to a 1-year-old son! He's got quite a few stories to tell about Music Radio Creative and what it's about.
When was the first moment you knew you wanted to play with audio?
I was a little kid and Mom and Dad had put a Ghetto Blaster in my room, playing tapes (Sesame Street tapes). When I found out that this Ghetto Blaster had a microphone in the corner, labelled 'mic', I was amazed to learn that I could record on this thing! I would take this Ghetto Blaster, plug it into a TV while a cartoon was playing, and I would hit 'record'. Then later I'd take it back to my room, sit down and listen to the TV show; dramatisation wasn't a big thing at that time. So I would sit there in my room and imagine what was happening on the show. I also played with the baby monitor that works on an FM frequency. I'd crank up the FM dial on my radio and discovered that I could hear my mom from the kitchen. Just playing with audio and FM, I realised that this is cool.
Let's talk about working in Canadian radio. What's it like? Where have you worked? Is there a future in the medium?
We're pretty lucky in Canada, because there are a lot of whole streamline stations, but there are also those that are privately-owned stations – local radio families that exist in radio. The only thing that's different from the UK, that I can think of, is that when I'm doing productions, when a DJ gets off their shift, they come see me and ask what voice production we need to do for the day. Then I'll voice them and that will be the commercials that play the next day.
I've always thought that terrestrial radio would never die as long as it's willing to adapt and move forward. Things like local news, local traffic and weather are things that satellite radio couldn't bring; that's why it didn't kill radio like people thought it was going to do. I think there is a future for radio, but as long as it sticks to its local roots, it will never go away.
Now you produce podcasts for a living. What's that like? What is involved in the process?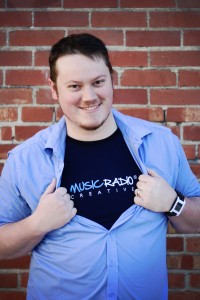 Podcasts aren't very different to radio. I approach them about the same way. Like radio and podcasts both need to have a nice polished sound. Podcast formats are a lot more fun I can say. If we're talking about tools and such, I use a MAC and Adobe Audition CC, just like Mike, and I love the new CC and the updates.
What are the top 3 podcasts you have on your device right now?
So, you're taking over the Audio Production Show by Music Radio Creative. This is Season 2! What do you want to do with it?
I'm very excited to bring in some really interesting folks. There are some people that I would have never thought I'd be able to interview. I thought I'd be digging into the trenches through assistance and trying to get interviews with these people – and they just volunteered! It's really exciting and I really want to bring a different look at audio and stuff. The challenge would be trying to give diversity to the podcast, but still keep it focused enough for those who really get audio.
What kinds of guests will you have on?
I want to meet a couple of DJs, station managers, and definitely learn from them. Radio people have the coolest stories. I'd love to pick up some tips and tricks from audio producers and talk to podcasters who are so much fun to talk to.
Will there be any jingles / imaging / sound effects in the show?
There's going to be some fun things. I've been given some audio elements from Mike and Izabela, which I've already been playing with. I think there are going to be some cool sounds coming from the show. We're going to have transitions between interviews. We would love to have any producer – that comes on the show – to share something that they made and they're proud of, so that the listeners can get an idea of who this person is, but also know what they do and sound like – because every producer has their own unique sound identity.
In what capacity have you worked with Music Radio Creative?
I was in Kraze and was working with Chelsea Bates, who is one of the most talented voice artists I know. She is voicing a couple of audio packages for Music Radio Creative, and once in a while she would ask if she could record an audio clip for an urgent order. I was so curious about what she's been doing, so she told me to check out MRC's website. From that point on, I just wanted to be a part of MRC. I listened to Mike's podcast (which had just started out), and subscribed to his YouTube channel, where I get tips and tricks for audio production. Eventually, you guys posted for a producer job, and I applied and even tweeted to Mike that "I want in!"
How can people look you up personally online?
The best place to find me is on Twitter: @kyran; Kyran Mountain on Facebook; and my website is: mntnmedia.com (still in progress).
Podcast: Play in new window | Download