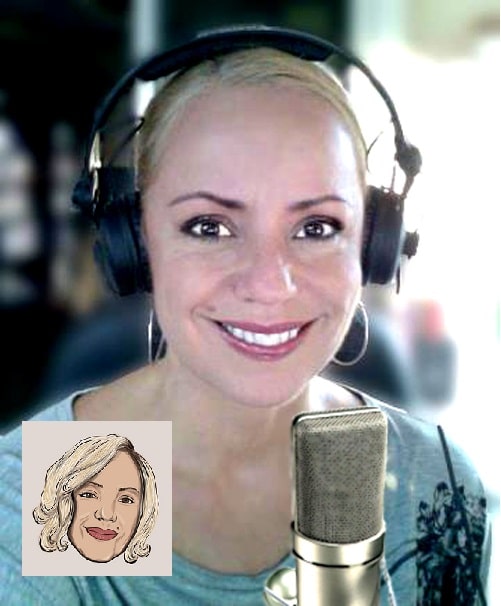 Music Radio Creative's Voice of the Month for February 2017 is Rebecca Haugh! As Music Radio Creative's Voice of the Month, all orders with Rebecca's voice get her full session file as a Special Bonus – at no extra cost! Rebecca is one of our female North American voice talents. She is popular for her classy, smooth, positive, and memorable voice. Her experience includes performing as an actress and host for television, indie film, and regional theater in California.
Rebecca's dedication to her craft is evident in her pursuit for improvement. She continuously trains and practices her art in workshops and workouts – groups, one-on-one or solo. She also studies the art with various references in books, film and the internet. In 2013, she founded an on-line voice-over improvisation workout group.
Listen to Rebecca's classy, smooth, and positive voice in her demo here:
Interested to learn more about Rebecca? Read her answers to our questions about her life and work below:
What is the most exciting project you EVER got to work on?
So far in my career it's doing a little skater boy voice character who was fighting monsters.
What is the most exciting project you worked on last year?
A comedic, national (USA) TV campaign with Pella Shades.
Can you give us a short history of what you do?
I've worked with international brands and many regional brands for a variety of categories voicing hundreds of projects for commercials, local television, documentaries, audio books, web videos, animation, e-learning, podcasts and phone systems.
How did you get into voice acting?
Slowly but on purpose, I guess! I've always played with audio and acting and producing since I was a kid. I started my adult career life in video production and eventually, after years in corporate jobs, left that to do VO full time.
Who is your role model in the voice over/acting industry?
Living or dead – I'll mention a few… Mel Blanc, June Foray, Daws Butler, Nancy Cartwright, Jean Vander Pyl… Obviously, these are famous names of cartoons but they are absolutely role models.
How do you warm up to record each session?
That varies. I have a list of warmups I'll go through that includes physical as well as vocal activities. Sometimes I'll sing and dance a little, too!
What is your favorite piece of audio recording kit and why?
My Neumann U87 because it's a precious, beautiful workhorse mic and that sound fits for all jobs.