Do you use Instagram to promote your podcast? How about Instagram TV, aka IGTV?
It's been about a year since Instagram announced IGTV in June 2018, and nine years since Instagram launched. With more than one billion active users, Instagram is the second most popular social network (after Facebook) and is the perfect place to share your podcast with people on-the-go.
As video continues to rise in popularity and consumption, now is as good a time as any to use IGTV to promote your podcast.
Instagram vs IGTV
First of all, if you are using Instagram to promote your podcast, keep doing it. There are, however, advantages to add IGTV to your promo mix.
Instagram videos are capped at one minute, whereas IGTV videos run between 15 seconds and ten minutes. Larger and verified accounts can upload videos up to 60 minutes in length from a computer. IGTV videos show in its own app, as well as on the Instagram platform.
Instagram TV videos are also full screen and vertical, making for a much more user friendly experience. Just like a television, IGTV has channels, but the creators are the channels. Think of your IGTV channel as the perfect extension of your podcast persona.
Broadcasting on IGTV
To get started with IGTV, install the app on your smartphone. After you connect your IGTV with your Instagram account, it will automatically begin showing the videos of people you follow on Instagram. Share a video you have saved on your smartphone by clicking your profile and then upload.
You can also upload videos from your computer, by clicking the IGTV tab on your profile. Upload or drag and drop, and add a cover photo, title, and description. If you want, connect your Facebook page to share there too.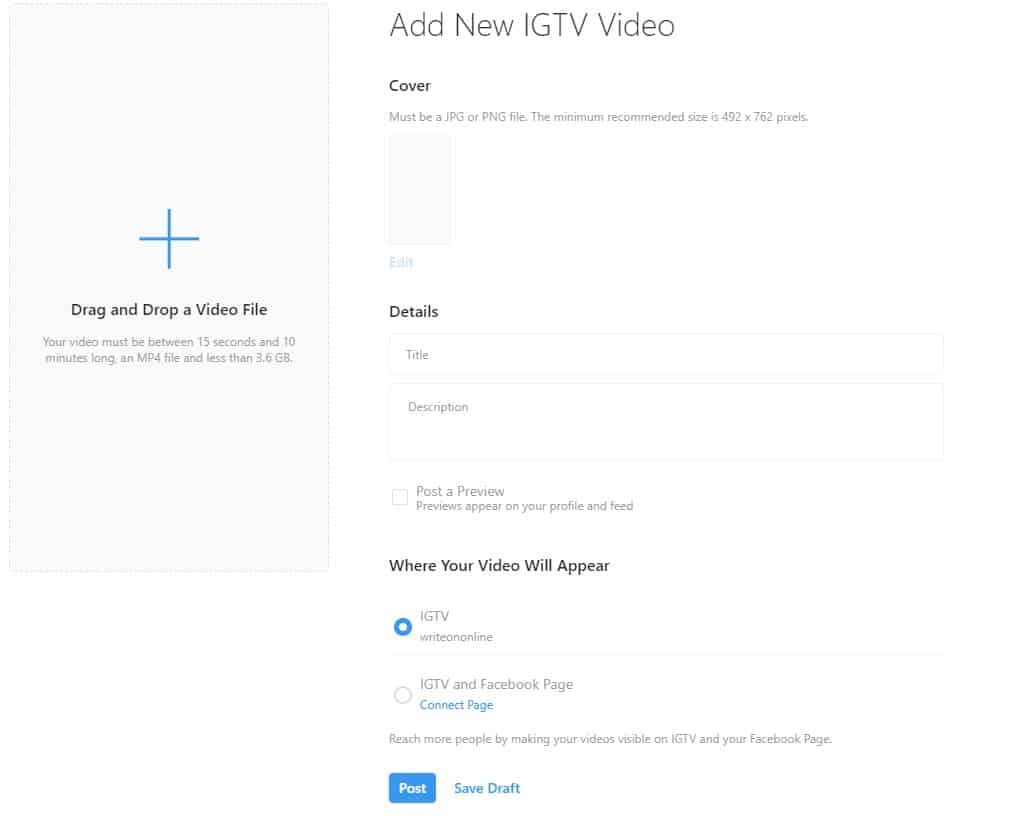 Note: Videos should be vertical (not landscape) with a minimum aspect ratio of 4:5 and maximum of 9:16. The maximum file size for videos, 10 minutes or less is 650MB; the max for videos up to 60 minutes is 5.4GB.
How to Promote Podcast with IGTV
Whether your podcast is audio-only or audio and video, you can use IGTV to promote it. We have some ideas for you to start working with right away:
Record a Trailer
Just as you might record a promotional trailer – think YouTube cover video – create a trailer for your podcast and upload it to IGTV. You can create something similar to promote each episode, too. Once you have a format you like – intro, outro, topic, and perhaps a clip from your guest if you have one – it should be easy to customize for your episodes.
Share Audiograms
You don't need to be on camera to use Instagram TV. A customized image with an audio clip from your podcast will also do the trick.
Jamie Holloway of the Just Do You podcast creates 1-minute audiograms from of each podcast to post to IGTV.
"I have found that I receive so many more views there than on Insta Stories," she said.
Tease the Episode
Why make more work for yourself. Take a few minutes from your video podcast and share to IGTV.
The Sisterhood of S.W.E.A.T. podcasts run about an hour. However, Linda Mitchell's ten-minute teases give the viewer enough information to know whether to invest in the whole episode.
Take Listeners Behind the Scenes
Use IGTV to introduce your audience to … you. This mini-video platform gives you the opportunity to offer your listeners a glimpse into how you prepare for a show, which could range from choosing theme music to audio-set up.
Going to an event? Testing out a product you may review on your show? Meeting a potential guest? Take your listeners on that journey with you.
Multitask
Podcast production takes time and enengy. Save some. Why not record the audio and video at the same time, and post it to both IGTV and your podcast feed?
For instance, Taylor Proctor of the Happiness Abound Podcast records her podcast as audio and video, and then published the video to IGTV. She also takes the first minute of the video and shares it as an Instagram Story with the swipe up links to IGTV.
Create your content once, and share it in the different formats on each appropriate platform. If you have the audience, why not embrace them all.
* * *
Just like your podcast, your IGTV channel should be informative and entertaining. Be creative and have fun with it. Your viewers—and your podcast audience—will be happy you did!
Do you use IGTV to promote your podcast? In what ways? Please share, along with your Instagram link, in the comments.